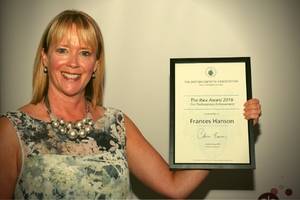 The BDA Honours recognise and reward BDA members who go above and beyond, those who inspire others and are making a real difference.
Fellowship is the highest honour which the Association can bestow upon a member in recognition of their achievements. Fellowship of the Association was first awarded in 1979 and more than 100 Fellowships have been awarded since. Fellowship is nominated by peers and reflects personal commitment and significant contribution to the profession of dietetics and to the activities of the BDA.
The Ibex is an honour for Professional Achievement created to thank individuals who have made significant contributions to the profession either locally or in a dietetic specialism.
Find out how to nominate someone for a Fellowship or an Ibex.
Recent award winners
Below is a list of all past winners:
Fellowship past awardees
2022
2021
2020
2018
Francesca Annan
June Copeman
Dr Fiona McCullough
2017
2016
Anne Holdoway
Mary O'Kane
Sian O'Shea
Dr Clare Shaw
Dr Carina Venter
2015
Sue Kellie
Marjory Macleod
2013
Helen Barker
Helen Davidson
Diana Markham
2012
2011
Dr Joan Gandy
Rick Wilson
2010
Pauline Douglas
Michele Mackintosh
2009
Catherine Collins
Pauline Mulholland
Isabel Skypala
2008
Susan Acreman
Judith Catherwood
Judyth Jenkins
Alexa Scott
2007
Susan Shandley
Vanessa Shaw
Di Talbot
Jane Thomas
2006
Dr Jacki Bishop
Professor Anne de Looy
Susan Jones
Dr Angela Madden
Gillian Pearson
2005
2004
Sylvia Butson
Luci Daniels
2002
Loretta Cox
Diane Spalding
2001
Susan Roberts
Dr Margaret Lawson
2000
1999
1998
1994
Neil Donnelly
Christine Morley
Dr Briony Thomas
1993
Sally Day
Carole Middleton
Gwyneth Statham
Pamela Williams
1991
1990
1989
Irene Mackay
Margaret McCloskey
1987
1985
Christine Clothier
M Pamela Rose
Greta Walton
1984
Gillian Cave Brown
Anne Taggart
Elizabeth Wilson
1983
E Carol Bateman
Alison Black
Margaret Cameron
Patricia Crooks
Dorothy Francis
Sheila Hardy
1982
Elizabeth Booth
Muriel Westland
1981
1980
Edith Elliot
Phyllis Newland
1979
Margery Abrahams
Florence Acheson
Elspeth Averill
Margaret Bowley
M Alison Boyle
Pamela Brereton
Ann Brown
Augusta Fox
Dorothy Hollingsworth
Barbara Jamieson
Norma Lauder
Christine Lee
Jean Marr
E Murland
Gwen Powell
Ella Scott
Veronica Scott-Carmichael
Ethel Skinner
Barbara Stanton Jones
Noreen Thomson
Patricia E Torrens
Ibex past awardees
2022
2021
2020
Melanie Baker
Sue Brierley-Hobson
Elaine Gardner
Chris Jarvis
Dr Jacklyn Jones
Sue Perry
Pete Turner
Maria Tynan
2019
Carole-Anne Fleming
Frances Hanson
Sian Lewis
2018
Lisa Cooke
Alison Culkin
Kirstine Farrar
Helen Ream
Laura Stewart
Lynne Thomas
2017
Dr Stuart Galloway
Marion Harvey
Jennifer McBratney
Julie Royle
2016
Mandy Gilmore
Nicola Henderson
Ailsa Kennedy
Pamela McIntosh (posthumously)
Najia Qureshi
Ella Segaran
Dr Sara Smith
Louise Sutton
2015
Anne Holdoway
Anne Lamb
Sian Porter
2014
Debbie Provan
Candice Ward
2013
Maxine Cartz
Dorothy Hopwood
Hilda Mulrooney
2012
2011
Sian Burton
Judith John
Marjory MacLeod
Dympna Pearson
2010
Muriel Gall
Susan Stocker
Nia Rees Williams
2009
Janet Curwell
Alison Shakeshaft
2008
Elizabeth McKnight
Sue McQuire
2007
Helen Davidson
Morag Wilson (posthumously)
2006