This award is to celebrate an individual or group who have been particularly influential on social media. It could be across a range of social media channels or just one, and could be a specific campaign or a range of activities.
This award is open for applications and nominations.
Open to BDA Members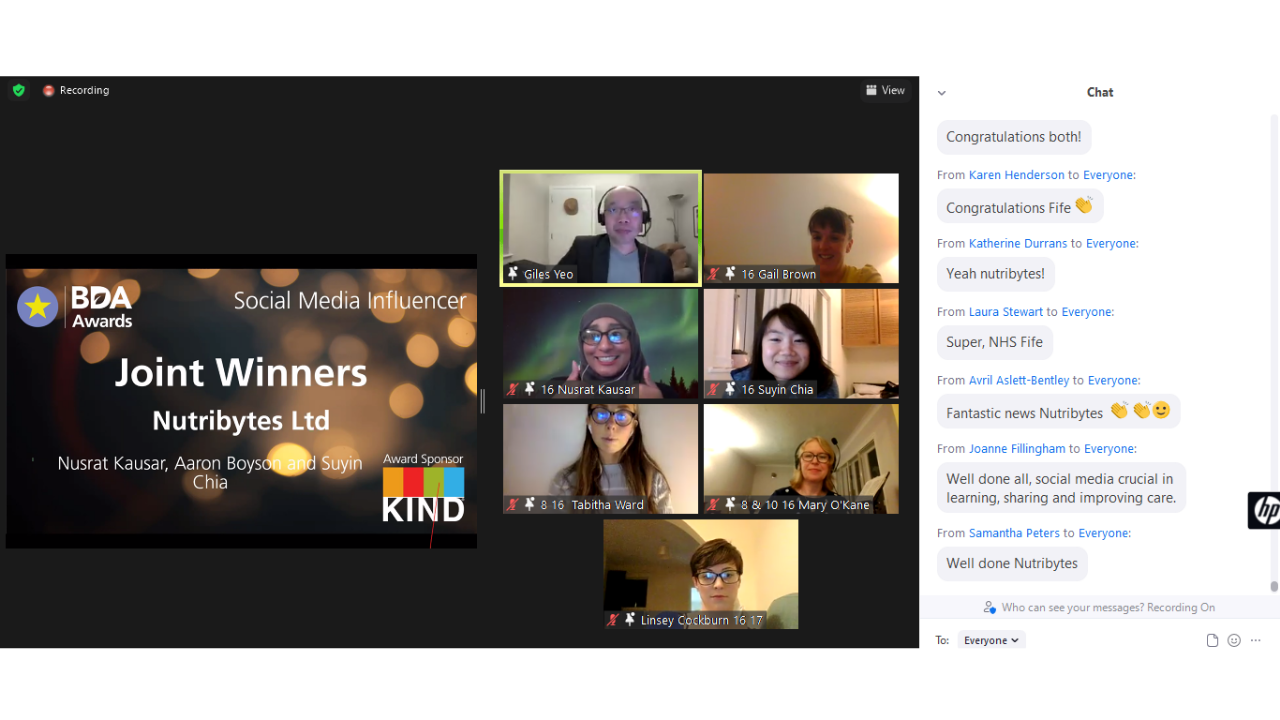 A social media group within NHS Fife Nutrition & Dietetic Department was established in November 2019 to allow for the development of their digital platforms, their Facebook page was launched in June 2020 aiming to engage with the public and other professionals.
The judging panel on 2021 joint winner NHS Fife Nutrition & Dietetic Department
Nutribytes is a creative media company founded by a group of registered dietitians - Nusrat Kausar, Aaron Boyson and Suyin Chia. Nutribytes produces patient explainer videos on various health and dietary topics, and creates online educational webinars and workshops to facilitate better learning for all healthcare professionals on evidence-based nutrition related topics.
The judging panel on 2021 joint winner Nutribytes
Entry Criteria
To apply for Social Media Influencer of the Year
The receipent of the award must be a Member of the BDA
Choose one main category and submit a clear 500-word summary of the activity and its success, with details on how the criteria has been met
Provide a maximum 200-word summary of the activity in relation to any of the remaining categories
You may submit up to four pieces of supporting material as evidence to support your nomination
Deadline for submissions are 10am on Wednesday 25 May. The awards will be presented at our awards ceremony on the evening of Tuesday 5 July 2022 in Birmingham.
Past Winners
2021 - Jointly awarded to NHS Fife - Nutrition & Dietetic Department and Nutribytes Ltd
---
Apply or nominate a social media influencer