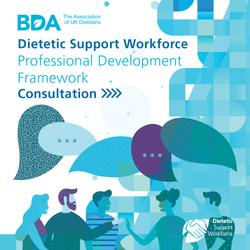 As part of our Dietetic Workforce Development Programme, we are undertaking a project focused on our support workforce. One of the key deliverables of this project is the development of the BDA Dietetic Support Workforce Professional Development Framework; produced to allow our support workforce, managers, teams, and service leads to identify the knowledge, skills, and behaviours, which are collectively described as competencies, required at two levels of practice.
This framework mirrors the BDA's Post Registration Professional Development Framework and is based around the four pillars; practice, evidence based practice and research, facilitated learning and leadership.
The draft framework has now been produced and we are consulting our membership to gather as many views as possible on whether the framework:
Covers all the professional competencies the support workforce requires
Is applicable to all settings that the support workforce are employed in
Is clear and accessible.
We have compiled a dedicated survey for comments or feedback which can accessed via the link below:
BDA Support Workforce Framework Consultation survey
You can view the draft BDA Support Workforce Professional Development Framework by clicking the link below. We have also separated out each capability for ease of reference below:
DRAFT BDA Dietetic Support Workforce Professional Development Framework
The closing date for submitting comments is Monday 20 February 2023. Please share this consultation widely with your colleagues.
As a thank you for completing the survey all respondents will have the opportunity to be entered into a prize draw to win a £50 high street voucher.
This prize draw is being conducted by the British Dietetic Association (BDA). Respondents can choose to enter by adding their email at the end of the survey. By entering your email you give the BDA permission to contact you about your entry. Email addresses will only be used to contact the winner. The draw will take place using a randomiser within 7 working days of the consultation closing date and the winner will be notified by the BDA within 2 working days of this date. No cash alternative to the named prizes is available.