Sustainable September is a great opportunity to promote the benefits - both for health and the planet - of a sustainable diet and highlight the small steps we can all make to do our bit.
This year we're excited to introduce 'Small steps to eating more sustainably' in partnership with our corporate members Oatly who will be providing prizes throughout the month.
Join us in sharing our resources, using #BDASustainableSeptember and let us know what you are doing to embed environmental sustainability in your practice.
We are really excited to be supporting BDA's Sustainable September Campaign with this activity. For over 25 years, we have exclusively focused on developing expertise around oats: a global power crop with inherent properties suited for sustainability and human health. We aim to help drive a systemic shift in society to a more plant-based food system to tackle climate change and public health challenges.
Shaunagh Duncan, Head of Sustainability, Oatly UK
Check out and download the calendar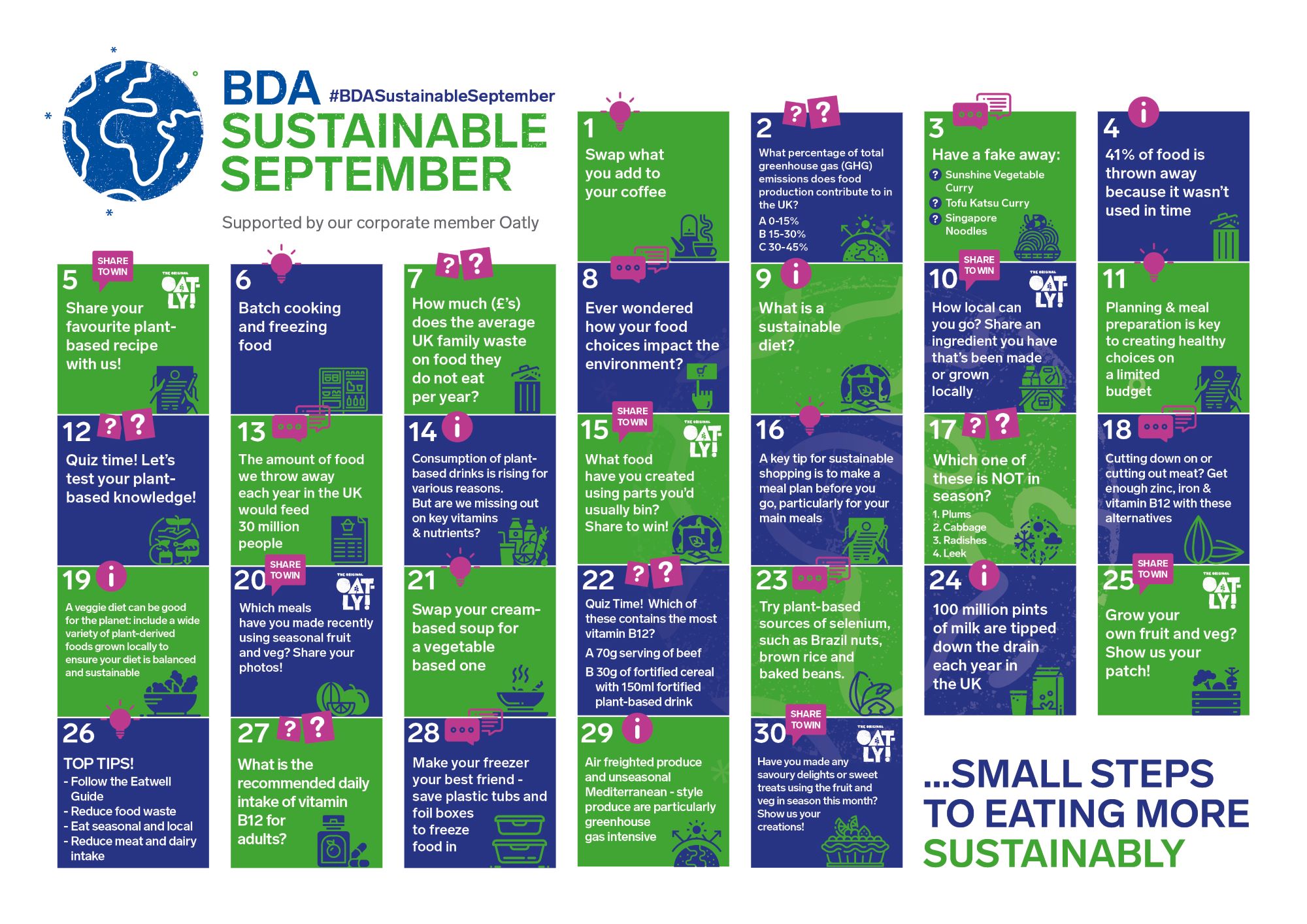 On the 'Share' days we'll be posting the challenge across our social media channels, be sure to interact, reply post your content on the various channels, tagging BDA and Oatly in.
Terms and conditions
One (1) winner will be selected from all entrants and across all platforms for each competition day: 5th, 10th, 15th, 20th, 25th and 30th September.
Entries that are posted on Twitter, Instagram, Instagram Stories, Facebook and LinkedIn as replies to the BDA competition posts and/or using the hashtag #BDASustainableSeptember and tagging @BDA_Dietitians and @Oatly will be counted.
By entering you agree to the BDA sharing and reposting your entries/content throughout the month via social media and the BDA website.
The winner's name and social media username may be posted on the social media profiles of BDA and Oatly account after the winner has been selected.
Winners must be UK residents.
Winners' details will be shared with Oatly so they can send the prizes.
---
Links and resources
Articles and blogs
Web resources
Organisations promoting sustainable eating