06 Apr 2021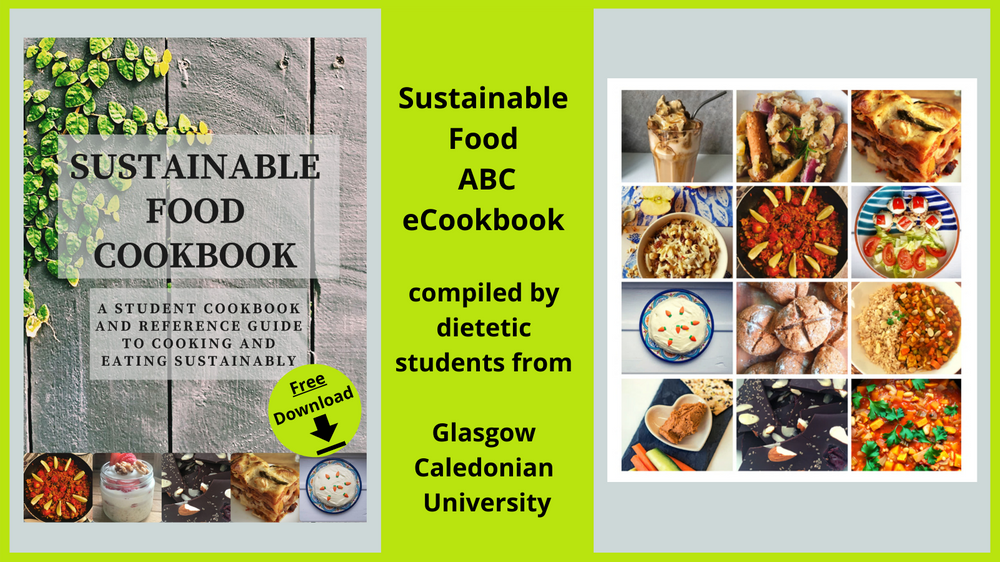 It has been a year! On the 23rd of February 2020 the Sustainable Food ABC team, made up of dietetic students from Glasgow Caledonian University, put a call out to students and faculty of Scottish Universities to submit recipes for our sustainable cookbook (part C of our ABC). It has been a very trying year for all of us but the silver lining of being confined to our houses for the past year is more people are turning to cooking to keep themselves busy. A recent article by Vox highlighted the substantial increase in demand for plant-based alternatives. This is great news for the sustainability of the planet and with COP26 being held in Glasgow, sustainability is moving up the agenda.
The cookbook started as a response to an idea that was formed from the BDA September 2019 conference hosted in Glasgow that myself and Elaine Penman attended. The conference featured a call for dietitians to "lead the conversation on sustainability and the sustainable diet". Our original idea was to hold a Facebook campaign to start the conversation on sustainability and this was an incredible success. The conversation was started with posts such as the BDA's 12 Days of Sustainable Eating in the countdown to Christmas, and linking in with local sustainable, zero waste stores to show where to shop in an environmentally friendly way.
Next, we hosted a sell-out event where ex-GCU Lecturer Dr. Jennie Jackson and sustainable cooking-school owner Sumayya Usmani gave talks on sustainable diets and demonstrated sustainable cooking methods. However, Elaine and I agreed that this wasn't enough, we needed to give people something they can take away, add to and grow; and so, the idea for the cookbook was born.
By the summer we had gathered a group of likeminded students and recruited the help of Louise Symington RD, sustainable dietitian, to be our guest editor. Here, though regular remote rendezvous, we worked on the best presentation of recipes but also how to best help people first engaging in a plant-based, sustainable diet. We agreed to remove any kind of paywall and, as sustainability was foremost in mind, we kept the cookbook as an electronic resource. This allowed us to signpost further reading through external links. We were delighted to include two OBD champion recipes: a blended burger courtesy of Elaine and vegetarian-mycoprotein shepherd's pie by Tabitha Ward RD.
The West of Scotland Sustainable diets event on the 24th of February this year was the perfect platform to announce the release of the cookbook. It's been almost a month since release, and from the moment it was unveiled until now it has received some very positive reviews and support. The project has been nominated for a Star Award by the Nutrition and Dietetics lecturing team. The GCU student association, who granted us funding to host the event, have been amazingly supportive with raising awareness across the student body. Finally, the BDA have been incredibly encouraging throughout the whole project and the award from the Alpro Sustainable-Hacks competition helped fund the cookbook project into the polished product it is.
We look forward to hearing how this cookbook inspires and grows a passion for sustainability among our readers. We hope that dietetic students out on placement and, of course, dietitians in the workforce, can use this resource to keep their patients informed. So far, we have had feedback on how it has made our readers think and adapt, with one reader even making their own sustainable calendar for their local region!
Author

Douglas Livingston
BSc(Hons) Nutrition and Dietetics – 3rd Year, Glasgow Caledonian University