16 Mar 2022

Update: Ready Steady Blend is now launched - watch it here and check out the Dietitians Week competition.
An exciting new activity with Wiltshire Farm Foods to produce an engaging video demonstrating considerations around cooking up meals to the correct texture, nutrition & consistency for people who need softer foods.
Since the launch of the IDDSI framework, there has been a significant focus in helping healthcare professionals to understand the new descriptors and some welcome practical focus on how to achieve them for patients in health or care settings. However we recognise that there is still an opportunity to explore what help patients and carers need and value to support people with swallowing difficulties at home.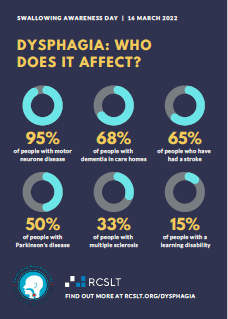 According to Royal College of Speech and Language Therapists Dysphagia (medical term for swallowing difficulties) affects
95% of people with motor neurone disease
50% of people with Parkinson's disease
68% of people with dementia in care homes
33% of people with multiple sclerosis
65% of people who have had a stroke
15% of people with a learning disability
Consider how many patients you have seen with these conditions in the last week? For many members it's part of daily working life and therefore significantly impacts on assessment and treatments.
Historically dysphagia has been seen in terms of the Speech and Language Therapist role, however many other health care professionals such as nurses and physios are dysphagia trained, and it's clear more awareness and information is required for dietitians to work as part of a multi disciplinary team as 'Dysphagia Practitioners'.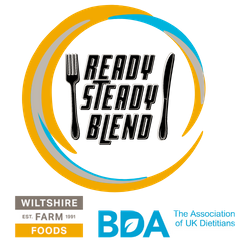 To explore this topic, the BDA are partnering with Wiltshire Farm Foods to create an educational video package called 'Ready Steady Blend'.
The video package will introduce what dysphagia is and the involvement of Dietitians in supporting the patient. We'll be inviting a Speech and Language Therapist to talk through the diagnostic phase. It will involve a demonstration of how to modify a meal to achieve an IDDSI standard texture, as well as some context to why the IDDSI standards exist.
Preparing modified texture diets for oral intake can be really challenging. There will be a practical demonstration to highlight challenges and how modifying meals can affect caregivers, patients, families. Itt will also invite Dietitians to take up the challenge themselves to try out modifying a meal.
Look out for updates this summer for the launch! The video will be made available for members via the BDA website.
References
https://www.rcslt.org/speech-and-language-therapy/clinical-information/dysphagia/?&utm_source=swallowing-awareness-day-2022&utm_medium=poster
Other useful links
Webinar -Blended Diet in Clinical Practice
Practice Toolkit: The Use of Blended Diet with Enteral Feeding Tubes is available for dietitians to download here.
Author

BDA Partnership Officer and Work Ready Programme Coordinator, British Dietetic Association