09 Jun 2020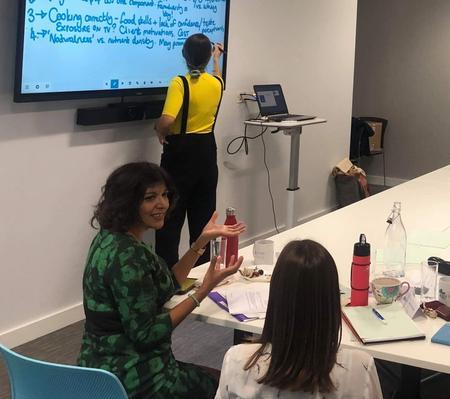 Diets are shifting under waves of cultural and environmental pressures, policy recommendations and a proliferation of new foods.
Changes to our food system cause uncertainty yet there seems to be more choice than ever. This is despite growing inequities and frequent bursts of unsolicited nutrition advice on our social media feeds, particularly related to 'plant-based', vegan, and 'clean eating' trends.
Nevertheless, quality evidence exists for some of the popular products attached to these trends, but how can individuals navigate the 'fad foods' from the 'future foods' which hold genuine promise for human and planetary health[1]?
Healthcare professionals, who are under more pressure than ever in the wake of the COVID-19 pandemic, may find it challenging to keep up with trustworthy science behind popular foods such as meat alternatives, without easily finding new sources of evidence.
Here's where the BDA partnerships with industry can really help. Through dietitians engaging directly with major food companies, the best quality research and insights can be unlocked, distilled and effectively and appropriately communicated using brand power for a wider healthcare professional audience, their clients and the general public. The opportunities to co-educate and empower through evidence-based collaborations for healthier and more sustainable diets are incredibly significant, and worthy of celebration.
Over the past year, BDA partner Quorn Foods has sought the input of RDs across a range of topics including protein quality, sustainable nutrition and healthy ageing in order to find new, engaging and authentic ways to communicate the company's vast science and sustainability agenda. These inputs have taken the form of a roundtable in October 2019, presentations to the dietetic community at BDA research events, member surveys, and direct consultation on information and resources developed by Quorn Foods. The partnership has enabled Quorn Foods to tailor its science communications towards a healthcare professional audience and last month saw the launch of a brand new website, Quorn Nutrition, as a one-stop destination for HCPs to learn about the unique benefits and research behind the one-of-a-kind ingredient common to all Quorn products – mycoprotein.
In an era where it is more important than ever that the food industry and health professionals are able to work together to deliver the best quality information to communities, we are thrilled to be able to offer you this new resource, and look forward to further exciting projects with the BDA and its members as we enter a second year of partnership together.
BDA Chair Caroline Bovey said of the BDA's work with Quorn. "We are delighted to be in partnership with Quorn Foods. It is great to see food manufacturers presenting high quality evidence-based material on their website and including Registered Dietitians in the process."
Engaging with so many skilled dietitians has been transformational in how we intend to showcase our fascinating research agenda going forwards. Healthcare professionals are on the front line of a global mission to deliver healthy diets for people and the planet. We proudly support that mission through our continued partnership with the BDA to deliver the latest evidence, research and resources about Quorn's unique ingredient mycoprotein.
If you would like to be notified about any further updates to this partnership, including calls for participants please contact Christina Titlow at c.titlow@bda.uk.com
---
About Quorn:
Quorn Foods is the UK's largest manufacturer of meat alternative products, and Quorn is the 39th biggest grocery brand in the country[2], offering a range of frozen, chilled and ambient meals and ingredients. The British food manufacturer sold its first products in 1985 and still ferments its unique ingredient, a fungi-based mycoprotein found in all Quorn products, in the North East of England, now supplying to 20 markets around the world. Mycoprotein is a complete source of protein, high in fibre, low in fat and contains no cholesterol. Quorn Foods partners with world-class researchers to conduct extensive research into the benefits of mycoprotein on human health and environmental sustainability. Find out more at www.quornnutrition.com
---
[1] Willett, W., Rockström, J., Loken, B., Springmann, M., Lang, T., Vermeulen, S., ... & Jonell, M. (2019). Food in the Anthropocene: the EAT–Lancet Commission on healthy diets from sustainable food systems. The Lancet, 393(10170), 447-492.
Author

Sustainable Development Manager, Quorn Foods