Update to SENR Code of Conduct
The updated SENR Code of Conduct was approved at the SENR Board meeting on 11 January 2018.
During 2017, it was highlighted that some of the wording in the professional section of the SENR Code of Conduct did not clearly set out the expectation of registrants with regards to working with brands. The SENR Board has developed and agreed new wording and the updated SENR Code of Conduct (2017) which is now available on the website - Stuart Galloway, SENR Board Chair
SENR Clean Sport Commitment Statement (UK Anti-doping)
The Clean Sport Commitment Statement demonstrates SENR's alignment with the principles of Clean Sport as articulated by UK Anti-Doping and outlined within the WADA Code.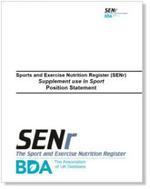 SENR Supplement Position Statement
Fantastic Infovideo produced by Liverpool John Moores University Sports Nutrition Group

Other key documents
Useful links / guidance
WADA talks with Ron Maughan on supplements and associated risks