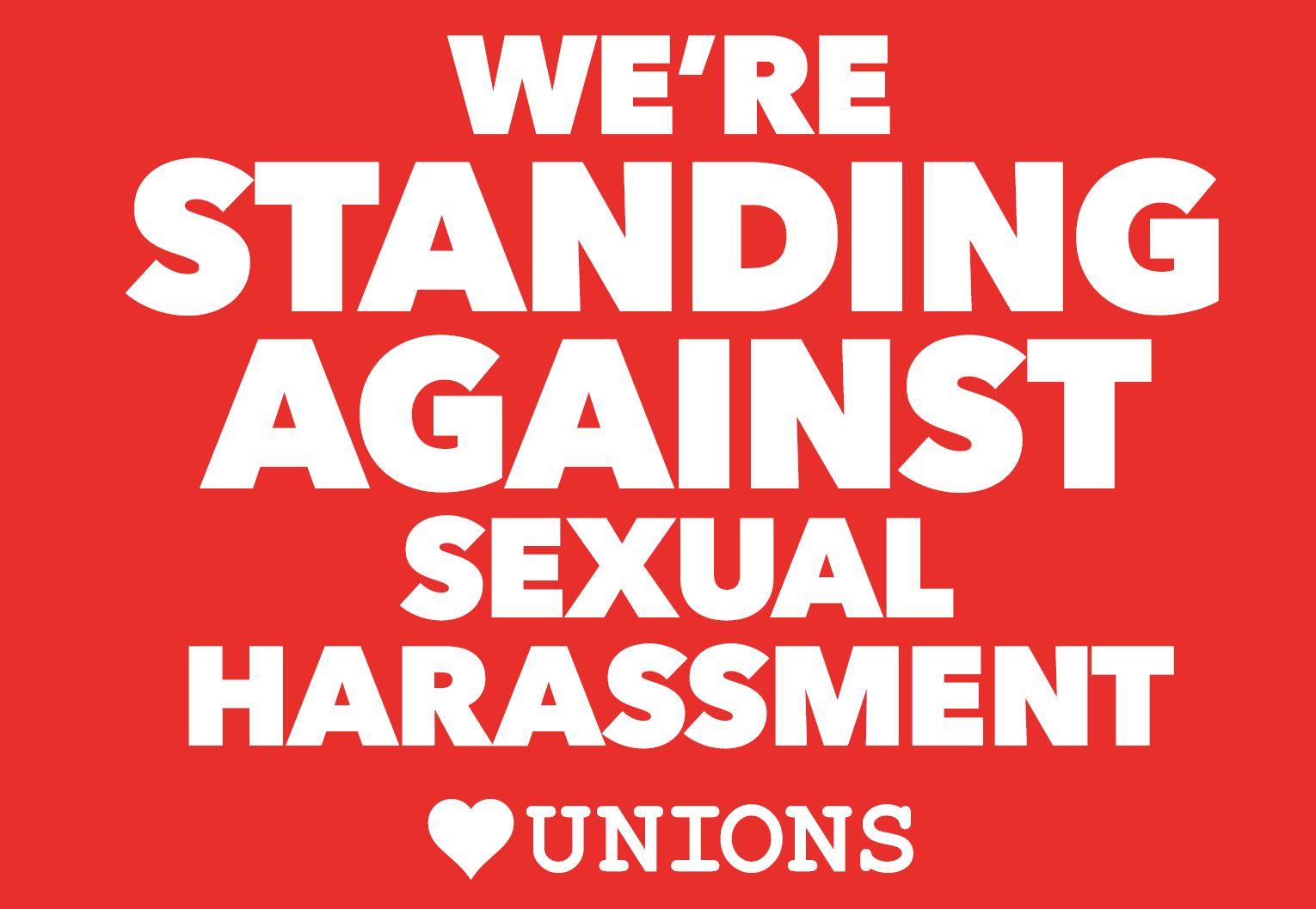 ❤ Unions ❤ Dignity
In 2020, the campaigning theme for Heart Unions Week is stamping out sexual harassment at work.
The TUC-led alliance against sexual harassment is campaigning for a new law that means employers need to take steps to prevent sexual harassment at work.
1 in 2 women and 2 in 3 LGBT+ workers
experience sexual harassment in the workplace.
This is a shameful reality in the year 2020.
In most workplaces it is up to the victim to report it - which can be isolating, confusing and traumatic.
4 out of 5 people don't feel able to report sexual harassment to their employer. Employers need to change their approach.

Our objectives
We call on the government to take immediate action. We demand a new, easily enforceable legal duty requiring employers to take all reasonable steps to protect workers from sexual harassment and victimisation.
We demand:
Compulsory guidance to explain exactly what employers need to do to prevent harassment – things like mandatory training
Ability to report anonymously to the regulator, bypassing toxic workplace environments that leave victims unable to speak out
Consequences for employers who don't comply with the measures, making sure the onus lies with employers and not with the victim.
What to do if you have been sexually harassed at work
You are protected from sexual harassment in the workplace by the Equality Act 2010.
It does not matter how long you have worked for your employer or whether you are a permanent employee, an apprentice or trainee, on a fixed-term contract or supplied by an agency, you are still protected by this legislation.
Click here for TUC's Know Your Rights guidance which describes the offence, its impact and the rights you have to fight back if it happens.
Who to speak to for support if you have been sexually harassed or experienced sexual violence
For women:
Women's Aid Federation – www.womensaid.org.uk / 08457 023 047
National Sexual Violence Helpline: 0808 802 9999
London Black Women's Project – http://www.lbwp.online/ / 020 8472 0528
Latin American Women's Rights Service – http://www.lawrs.org.uk/ / 020 7336 0888

LGBT specialist support: Galop – www.galop.org.uk / 0800 999 5428
Men's specialist support: Survivors UK – www.survivorsuk.org