Thank you for taking part in Dietitians Week 2022 and helping us celebrate #WhatDietitiansDo! As always the week was a positive and inspiring one, with more than 5,000 posts shared on Twitter alone from more than 1,600 accounts, and more than 700,000 impressions across the BDA social channels for this year's campaign. Catch up on what we shared on Twitter with our Moment here and our Instagram highlight here. Remember, you can still access lots of the resources and elements from the week below, and keep using them to promote dietetics!
---
Celebrating the impact and value of Dietitians
This Dietitians Week (20-24 June), we encouraged BDA members to talk about their role, what they do and how they make a difference. The aim was to raise the voice and visibility of Dietitians to show the value and impact you make every day.

Doing a great job is important, and letting people know about it is equally important. Why should people trust a Dietitian if they don't know what they do? This is why I always get involved with Dietitians Week — we are amazing and I want people to know it.
Long Li, Teaching Fellow in Dietetics at University of Surrey and Treasurer of BDA Parenteral and Enteral Nutrition Specialist Group
Know your worth. Show your worth.
These were the key messages we shared:
Dietitians and the dietetic workforce make a vital contribution to health across many different specialisms and healthcare settings

There is no 'average' Dietitian

Those working in the dietetic profession provide care and support for patients with long term and chronic conditions, as well as playing a significant role in prevention and public health

Dietitians and the dietetic workforce support patients at every life stage from paediatric to older people and everything in between

Through evidence-based research Dietitians and the dietetic workforce contribute to our understanding of health conditions and health improvement

There is greater understanding of how Dietitians and the dietetic workforce contribute to patient and population health but there's still a long way to go
Last year during Dietitian's Week I was active on social media viewing content shared by Dietitians and students which inspired me to begin my own Dietetics journey. I am now a first year RD2B and have recently created the Nutrition and Dietetics Society at Leeds Beckett University. I hope to work with my peers for Dietitians Week 2022 and raise more awareness of the profession through our social media platforms to inspire others.
Fatimah Khathun, First Year BSc Dietetics Student at Leeds Beckett University
A massive thank you to you all for the thousands of posts across social this Dietitians Week. It's been incredible seeing the diverse range of roles, settings and specialisms we have in our wonderful profession. This video shares just a small selection!
#DW2022 #WhatDietitiansDo pic.twitter.com/mRa6h4CLGT

— BDA British Dietetic Association (@BDA_Dietitians) June 24, 2022
Dietitians Week is always a monumental week in our calendars as it gives our profession a fantastic platform to highlight the important work we do all year round. In University Hospitals of Leicester we have a large team working across many specialisms, we feel it is imperative to highlight that we do not work in isolation but recognise that we are part of a much wider MDT family to provide first class patient care. With our population facing the biggest cost of living crisis potentially of our time this Dietitians Week we will focus on eating on a budget, cost effective meal planning, myth busting fad diets as well as promoting the amazing work our team do on a daily basis.
Cathy Steele, Dietetic Manager, University Hospitals of Leicester
Catch up on Dietitians Week content
We shared lots of content during the week, including:
Love this slogan! I say it to my patients ALL the time! #DW2022 #nhs #WhatDietitiansDo #dietitiansweek2022 pic.twitter.com/tgqcjxo5gE

— Jen (@jenthedietitian) June 23, 2022
Resources
2022 saw the return of branded packs - you can download the printable versions of some of the resources included here:
Logos
Printable resources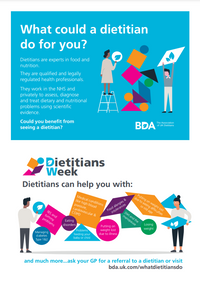 Social media graphics