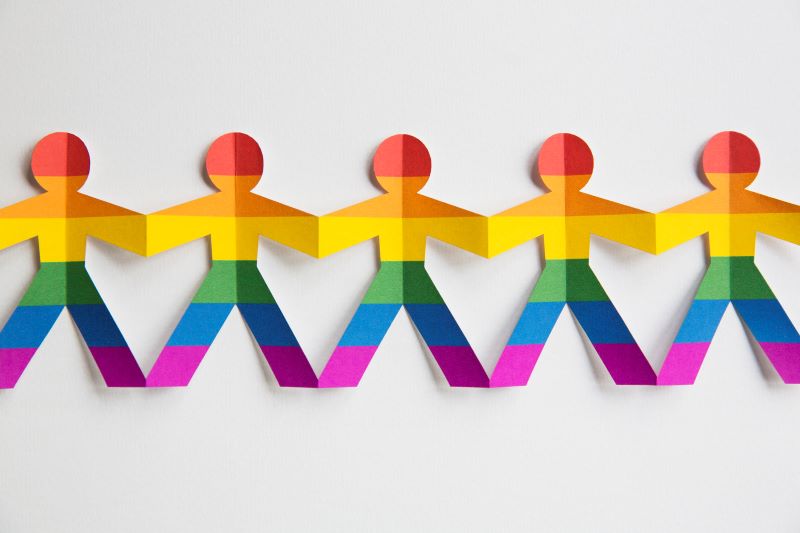 Every year, across the globe, June is dedicated to celebrating the LGBT+ community, to promote messages of equality, love and friendship, empower LGBT+ voices but also recognise the ongoing struggles for many.
What is Pride?
Pride started as a political movement in the 60's and is now in its 51st year.
The Stonewall Riots in 1969 were a key catalyst for the movement, triggered when a bar in the gay district of New York was raided for the second time in a week. 200 people were thrown out and some were beaten in the street. The gay community had had enough and decided to fight back against their harassment.
A week of protests followed and inspired people across the World to hold their own. The first openly gay march in New York was held a month later and the first Pride festival was held in the UK in 1972.
Since then, the movement has grown and grown, with millions taking part every year.
Pride in dietetics
A word from Susan Price and Martin Jones Co-Chairs of the BDA's EDI Committee:
"As Co-Chairs of the EDI Committee we are committed to fostering a diverse and inclusive dietetic workforce where everyone feels that they belong and have a place. We celebrate the contributions of all of our members and in particular for Pride 2023 our LGBT+ members and people we work with.
"As a profession the BDA is dedicated to promoting and improving awareness of equality, equity, diversity, and inclusion among our membership. We firmly believe in ensuring diversity throughout the BDA, while actively developing and implementing policies, strategies, and action plans that promote equality and inclusion. But, we also know that it is truly our actions that will demonstrate what we can achieve.
"Through the oversight of the EDI Committee and the development of a comprehensive equality and diversity work programme, we strive to use evidence and data to identify opportunities and monitor progress. The activities of the BDA, led by our CEO, Chair and EDI Committee, serve as a catalyst for raising awareness about EDI issues, not only within our organisation and membership but also among employers, patients, and the general public.
"Furthermore, the EDI Committee remains committed to reviewing and monitoring the development and implementation of our new Strategic Plan in relation to EDI. We stand ready to provide guidance and direction on any matters arising from the plan's execution, ensuring its alignment with our mission and vision.
"At the BDA, we believe that by fostering a supportive and inclusive environment, we can not only protect and support our LGBT+ members but also champion the rights and wellbeing of those in the LGBT+ community receiving treatment. Together, we celebrate the rich diversity within the dietetic profession and acknowledge the challenges that lie ahead. It is through our collective efforts that we will create a future where equality, diversity, and inclusion are the cornerstones of our practice and our society."
Education
As a dietetic workforce we are proud to deliver values-based care - acting with integrity, self-management and self-awareness. The BDA Curriculum 2020 outlines the expectations.
With reference to behaviours & values, the workforce must have the ability to demonstrate a critical, integrated and applied understanding of professionalism, with the ability to:
Act with integrity in all aspects of behaviour and practice.
Act in accordance with current legislation applicable to Equality, Diversity and Inclusion.
Deliver values-based care; acting with integrity, self-management and self-awareness.
Take an objective approach to meeting people's needs at all times, irrespective of personal beliefs and values.
Discuss openly what constitutes professional behaviour, actively contributing to ongoing debate, sharing ideas whilst respecting the views of others.
Act in a manner consistent with the values and priorities of the organisation and profession
And in terms of knowledge, the workforce must have an understanding of:
The role of dietetics in public health and public health nutrition:
How social organisation including inclusion, exclusion, health inequalities, social injustice, social inequality and different cultural belief systems impact on health and disease.
Broad knowledge and understanding of the roles of dietetics within the health and social care sector, third sector and industry.
The legislation applicable to Equality, Diversity and Inclusion and the important role registrants play in challenging discrimination and ensuring EDI is respected in the workplace.
We acknowledge comments made by member Rosa Jozefowicz, who wrote an article earlier this year about the need for improved curriculum provision in higher education to better support the health and nutrition of LGBT+ people.
One area Rosa noted was that whilst equality and diversity procedures are in place and professional codes followed, many professionals still struggle with the evolving practices to support health and nutrition within the community. There is work still to be done.
You can read her article and recommendations here.
Support and learning
Whilst Pride is a celebration, there is also an important message underpinning the month. Many people across the world still face persecution for who they are.
As a trade union that is part of the TUC, we wanted to share some of their useful advice for any of our BDA Trade Union Reps, related to LGBT+ issues.
You'll find supporting materials here on:
Supporting non-binary workers
Good practice criteria for employers
How to be a good trans ally at work
LGBT Equality at Work Guide
You'll find some valuable advice for LGBT+ workers from the TUC, in particular FAQs on discrimination linked to sexual orientation.
As always, if you have any concerns, please contact your BDA Trade Union Rep in your workplace. If you aren't sure who it is please email tusecretary@bda.uk.com