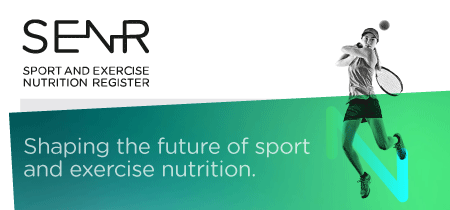 Purpose of the Register
The Sport and Exercise Nutrition Register (SENR) is a voluntary register designed to accredit suitably qualified and experienced individuals who have the competency to work autonomously as a Sport and Exercise Nutritionist with performance oriented athletes, as well as those participating in physical activity, sport and exercise for health.
The register is expected to help in:
Public protection, namely the sport and performance focused exercising community;
Setting, protection and promotion of standards of professional practice and education;
Professional development of individuals;
Developing the profession and its knowledge base.
The SENR outlines professional standards and competencies for Sport and Exercise Nutritionists. In so doing it guides the development of Sport and Exercise Nutrition curriculum, provides career development pathways for aspiring Sport and Exercise Nutritionists and promotes the recognition of registered individuals as professionals within a valued specialism. Registrants must agree to abide by an SENR Code of Professional Conduct.
Setting and Maintaining Standards
SENR is concerned with setting, maintaining and enhancing professional and ethical standards in Sport and Exercise Nutrition.
High standards are promoted in two particular ways:
Through the SENR Registration process, which serves as a quality assurance mechanism. Assessment of qualifications and competencies helps to ensure that the level of service received by a particular client is based on the best available knowledge and practice.
Registered Sport and Exercise Nutritionists must adhere to a strict SENR Code of Professional Conduct. Violation of this code of conduct can result in removal from the register. The code of conduct serves to ensure a minimum level of service to individuals or groups who make use of services offered by a Registered Sport and Exercise Nutritionist.
Scope of Practice
The scope of practice of Sport and Exercise Nutrition includes supporting excellence in sport performance as well as in physical activity, sport, and exercise for health.
Application of Sport and Exercise Nutrition in professional practice involves the translation of knowledge about nutrition and sport as well as exercise and physical activity, into practical advice for individuals and groups of individuals.
Professional application of Sport and Exercise Nutrition requires integration of scientific knowledge with understanding of the social and psychological aspects of motivation and human behaviour. Professional Sport and Exercise Nutritionists require proficiency in communication and education about their subject in order to be able to give and formulate advice that is appropriate and relevant to an individual or group.
Partners/History
The register is a joint initiative of three professions: Dietitians, Nutritionists, and Sport and Exercise Scientists.
Work on the development of the SENR has taken place over a considerable period of time and has been led by the SENR Board which is made up of representatives from the professions involved.
The register is currently administered by The British Dietetic Association, on behalf of the SENR Board.
SENR has representation from many industry experts on its Board, Committees, and Quality Standards Panels. The Board includes Lead Performance Nutritionists from all four UK Institutes of Sport.