The BDA's Nutrition and Hydration Digest is a fundamental resource, providing expert knowledge and support for all involved in the provision of food and drink services in healthcare.
The Digest directly influences the standard of food and drink offered to patients across England, helping them to access to safe, nutritious and appropriate options that meet their dietary requirements.
The full, printable PDF version is available here. You can use these webpages, which are separated into the Digest's chapters. Use the links below or the sidebar navigation (at the bottom on mobile) to navigate between sections.
You can also use the search box at the top of the website. If you tick the 'Search this section only' box beneath the search box, this will filter your results to within the Digest webpages.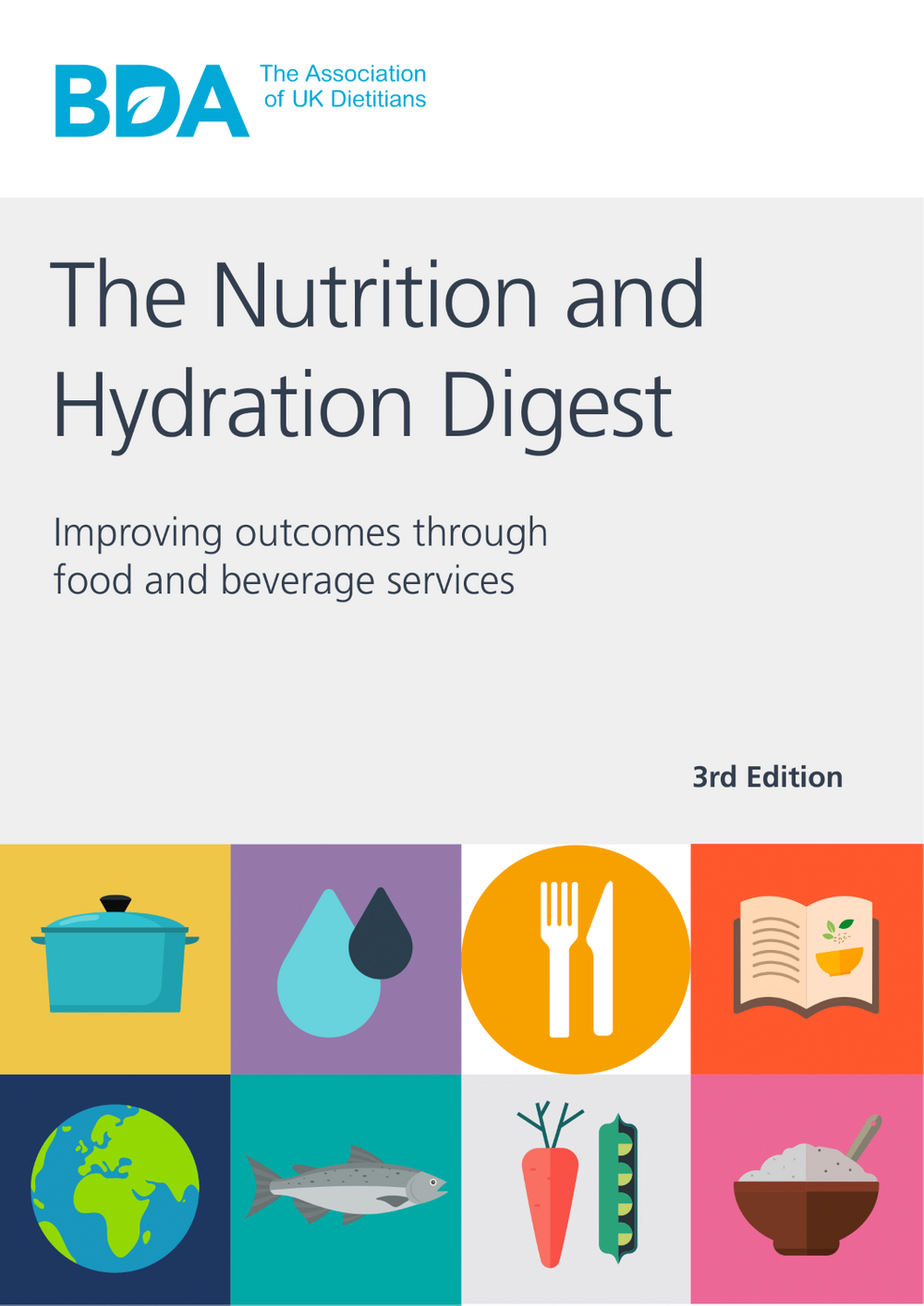 ---
Many patients are at risk of malnutrition and dehydration, which adversely impact their health outcomes. Food service provision in the healthcare setting is essential in the prevention and treatment of malnutrition and dehydration. This chapter highlights the causes and effects of malnutrition and includes strategies to ensure optimal provision of nutrition and hydration to meet the needs of patients.
Food service dietitians drive improvement through food and drink services that are good quality, safe, nutritionally adequate, patient-focused and represent good value for money. They are the link between the many stakeholders involved in healthcare food service. This chapter covers the multitude of responsibilities held by a food service dietitian, including staff training, menu planning, service provision and procurement. It also provides support and practical advice for all healthcare settings to access input from a food service dietitian.
Healthcare food and drink services are influenced by a broad range of legislation and standards, which are outlined in this chapter. Understanding these influences supports effective planning of appropriate patient focused nutritional care. Recent significant developments include the 2022 National standards for healthcare food and drink, which now form part of the legally binding standards in the NHS Standard Contract. The BDA Nutrition & Hydration Digest is a core part of these standards.
This chapter provides an overview of environmental sustainability, the role of the multidisciplinary team and some practical guidance for hospital food service to make impactful changes. Sustainability should be considered in all aspects of healthcare food service due to the environmental impact of the whole food supply chain. Food service dietitians and catering teams have a unique opportunity to be agents for change.
Over half of all the food provided in NHS hospitals is served to staff and visitors, providing a prime opportunity to support staff and visitors to make healthier choices. Having access to healthier food options in the workplace has many benefits for staff, including reducing the risk of developing multiple lifestyle related diseases and improving physical and mental wellbeing. A healthier, happier, more engaged workforce leads to better performance for both individuals and the organisation. This chapter outlines the benefits of providing healthier options for staff and visitors, some potential barriers to making changes and key recommendations based on national standards.
Food is a precious and expensive commodity; therefore, it needs to be used efficiently and wastage minimised. Dietitians have a crucial role to play in food procurement, service systems and waste management, and should be actively involved with colleagues in providing expert advice. This chapter outlines the key aspects for consideration.
This chapter defines how to ensure the catering specification meets the nutritional and wider needs of patients, staff and visitors in the healthcare setting, the dietitian's role and relationships in a contracted-out catering service and the tender process. It also explains how to interpret the documents and processes involved.
Nutrition and allergen information must be readily available for all items on a healthcare menu, regardless of whether they are bought in or prepared on site. A nutritional analysis of all food and drink items on a menu is the crucial first step in analysing the capacity of a menu to ensure it can meet the nutritional needs of patients. This chapter explores the different methods used to complete a nutritional analysis, what a food supplier is expected to provide in their product specifications and other food labelling requirements.
Catering and food services must be capable of providing food and drink suitable for all patients in their care. This chapter focuses on the process of planning a menu. It also looks at menu design and food-based guidance to create menus that meet the dietary needs of patients and the nutrition standards outlined in this document.
All healthcare menus must meet the nutritional requirements of and provide choice for both nutritionally well and nutritionally vulnerable patients, who may have very different needs. This chapter outlines the nutrition targets that must be met. It also explains the concept of menu capacity and the application of the 'day parts' model which is used to ensure patients' nutritional needs are met over the entire day.
A menu capacity analysis provides evidence that a healthcare menu can meet the needs of both nutritionally well and nutritionally vulnerable patients outlined in this document. The step-by-step methodology in this chapter can be used to evaluate the range and capacity of menus used in a healthcare setting. Worked examples are also provided.
This chapter provides specific guidance on meeting the nutritional needs of patients with special dietary requirements. It covers menu coding commonly used on a standard healthcare menu to help patients make an appropriate meal choice. It also details the considerations for providing food that meets different religious, cultural and lifestyle-based dietary requirements, catering for different therapeutic diets, and the dietary requirements of specific patient groups.