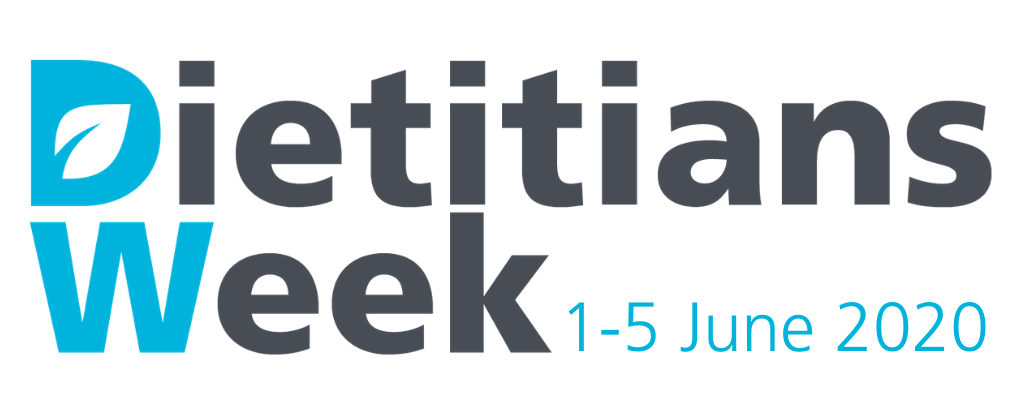 Dietitians Week is the BDA's annual celebration of dietitians, dietetics and those that work to support them. Dietitians Week 2020 will run from 1-5 June 2020. For Dietitians Week 2020 we will once again by focusing on #WhatDietitiansDo - looking to explain the diversity within the wider dietetic profession, making the case for more investment in dietetic services.
We recognise that as a result of the COVID-19 pandemic face-to-face events and meetings will be impossible for Dietitians Week 2020. We hope to continue with social and media activity for the week and hope members will be able to join in that way. We are of course keeping everything under review. Find more information about COVID-19 guidance here.
Social Media calendar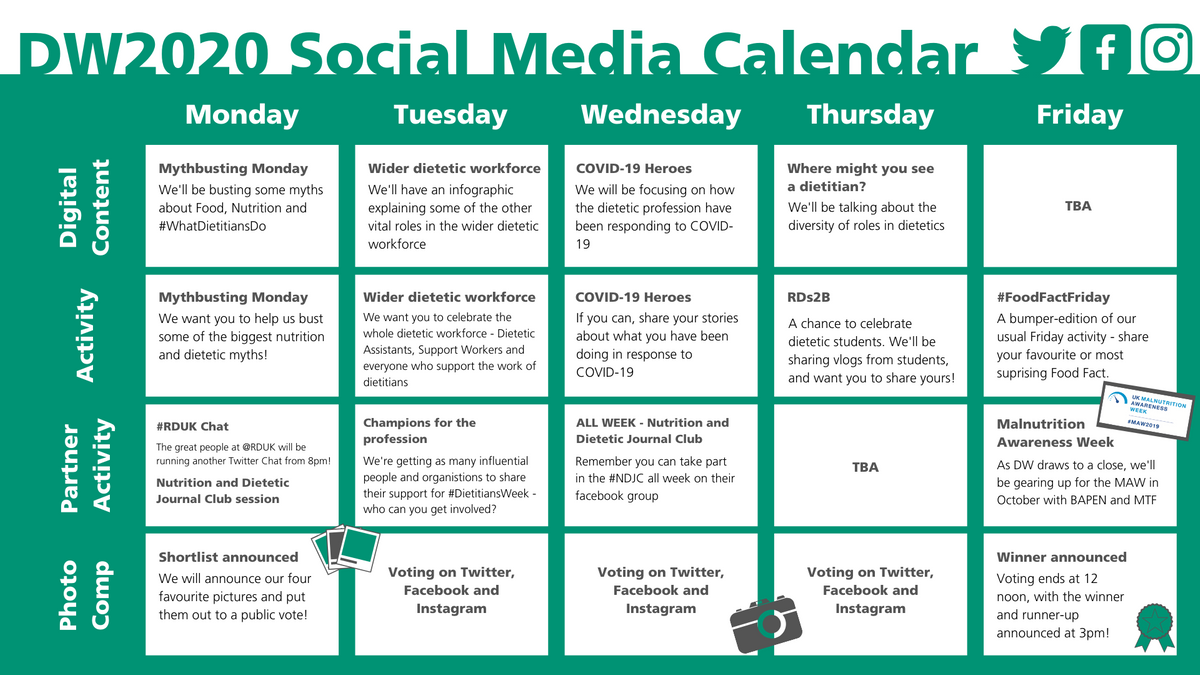 Resources
We have taken the decision to cancel the delivery of our packs because it increasingly likely that no face-to-face events will be able to take place as a result of COVID-19. We hope that we will be able to circulate materials at a later date when they can be better utilised.
However, we will also be adding new digital resources in the coming weeks that you can download at any time:
Influencing
This year, we really want to get the dietitian message out there to as wide an audience as possible, and in particular to the decision makers who influence the future of health services and by extension dietetics. From your local commissioner or service manager, regional press or local politicians, we want you to use Dietitians Week as a hook to have importance conversations about what dietitians can offer.
We've got advice on our website already on how to influence, and will be adding more materials, ideas and tips here for you to use in the coming weeks.

Photo competition
We were blown away by the huge range of fantastic photo entries for our picture competition in 2019, so we are going to repeat the process in 2020, but with a slightly different theme. You'll have already seen us using many of the images that were sent in (including on this website!) but we want even more great images representing the range and diversity of dietetics and dietitians.
This year we want you to show #WhatDietitiansDo, but also to highlight the diversity of the profession itself - including those that work to support the dietetic profession or who are studying to become dietitians. We know our members come from all over the UK, from all walks of life and are working in all parts of the country. We want to see that!
In particular, we want to see examples of what you've been doing in response to COVID-19. Many people may not realise the role that Dietitians play in responding to this most challenging of situations.
The winner will be voted on from a shortlist during Dietitians Week on our website and across social media. The winner will receive a £50 voucher and second place a £20 voucher.
Remember, higher quality images are better, and make sure you have permission from any patients or others featured in the image. Happy snapping!