Dietitians contribute their knowledge and skills to the health of the nation in the United Kingdom. An increasing number of dietitians are coming to work in the United Kingdom from other countries. The information here is intended to help with the move to working within the United Kingdom for those who have not trained in the United Kingdom. The information and advice on this page covers the areas of – immigration, statutory governance, pastoral and personal support.
The information below is aimed at – dietitians (other Allied Health Professionals [AHPs] may find it helpful) looking or considering employment in the UK. This may include those currently living within the UK or residing another country. The information and advice that will be helpful to Service Leads and managers. While the main focus is employment in the NHS, employers such as Higher Education Institutes (HEIs) and other UK employers of dietitians may find it helpful.
It is important to understand that in the UK there is a distinction between the title 'dietitian' and 'nutritionist'. These are not used interchangeably in the UK, whereas a dietitian may call themselves a nutritionist, someone qualified as a nutritionist cannot use the title dietitian nor register with the Health Care Professions Council (HCPC) as 'Dietitian' is a protected title. Learn more about nutritionists in the UK.
Click the links below to learn more about working or employing an international dietitian:
---
The British Dietetic Association (BDA) is both the professional body and trade union for dietitians in the UK. Membership of the BDA offers support with professional indemnity insurance, while supporting practice through the many Specialist Groups and local branches.
International membership is possible for those have undertaken recognised training in nutrition and dietetics outside the UK.
If they meet the following criteria:
Have undertaken recognised education and training in nutrition and dietetics overseas
Not currently registered in the UK and are not practising in the UK
Be a full member of a dietetic association recognised by ICDA or EFAD or a member of a dietetic association which has similar aims to the BDA.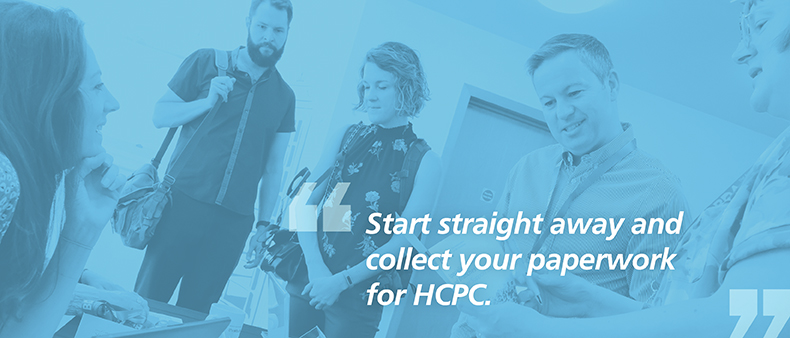 All dietitians in the UK are regulated by the HCPC. The HCPC exists to protect the public and publish a register of dietitians and other health professionals who meet their standards. Only those on the HCPC Register can use the title dietitian in the UK.
All applicants who have qualified as a dietitian outside of the UK must provide proof that they meet the HCPC standards in order to register. This is an online process – except for the Swiss and those with refugee status for which there is still a paper process. Learn more about the application process. There is a non-refundable fee for initial registration.
The proof required for registration -
Proof of English language proficiency (please check the HCPC for the most up to date requirements)
All necessary documents require to be certified and, if necessary, translated into English. To help minimise any delays it is important to read all of the information on the HCPC website before starting the process and to follow their guidance. It is important to ensure all the correct and certified paperwork is submitted at the first time of asking.
Certificate of English language proficiency that demonstrate minimal level of spoken and written English language proficiency is required. For applicants whose first language is not English and who are required to provide a language test certificate as evidence of their proficiency must ensure that it is, or is comparable to, International English Language Testing System (IELTS) level 7.0 with no element below 6.5. Tests certificates must be no more than two years old.
HCPC requirements are the IELTS or the Test of English as a Foreign Language (TOEFL) Internet Based Test (IBT). It is important to note that the HCPC do not accept any TOEFL test score undertaken in the UK.
Once registered there is a renewal process every two years which includes a signed declaration and paying a fee. During the renewal process a random percentage of dietitians will be asked to submit their continuing professional development (CPD) information for audit.
To be able to work legally in the UK it is necessary to ensure that you have all the appropriate and correct immigration and visa documentation. There are a variety of visas that allow people to work and train in the UK. Independent advice may be helpful it working through the immigration process and ensure the correct visa is applied for. Learn more about finding an advisor.
Most dietitians will apply for a Health and Care Worker Visa and the new points based immigration system. You can check if a job is eligible for a Health and Care Worker visa here. The job code for a dietitian (sometimes spelt as dietician) is code 2219. This Visa usually lasts for 5 years and then requires re-application or an individual may be eligible for settle status.
Application fees for Health and Care Worker visa depends on the expected period working in the UK, and vary for up to 3 years and more than 3 years.
Some dietitians will come to the UK as refugees. This is a complex process that can take a number of years. Service leads/managers employing a dietitian with refugee status should consider an extended period of induction and support while the person becomes settled in the UK work environment.
There is a different process for registration with the HCPC for those that have refugee status and payment of the scrutiny fee is waived. It may also be helpful to look at the Health Education England return to practice process. Take a look a this case study from a dietitian who came to the UK as a refugee.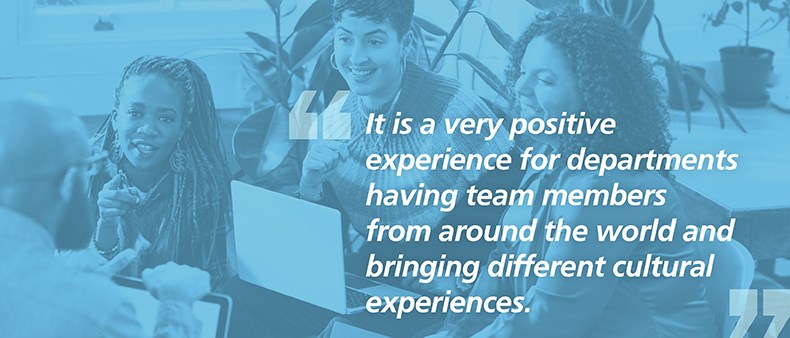 There are factors that are pertinent that an employing manager/service lead may wish to take into consideration in supporting employment of international recruits. Speaking to the organisation's HR department will be important and following all the appropriate organisation policies and procedures. For NHS managers this toolkit may be helpful. In a large organisation or large NHS Trust, this may be a department or person allocated to the area of international recruitment. Learn more about checking an applicants right to work.
The following web links are directly concerned with NHS employment and may be useful resources for other organisations.
Once employment has been agreed there are a number of areas of additional support that service leads/managers should consider for the new team member – most of these are dealt with in the sections below.
Supporting the person who is coming to work in the UK is important.
Pastoral care will include:
Help with initial accommodation, such as booking hospital accommodation (if available), details of local estate agents, details of local Bed & breakfasts.
Sharing knowledge of the local area
Travel to place of work/new accommodation from international point of arrival
It is also good to consider the implications of Equality, Diversity and Inclusion national and local policies and (NHS Workforce Race Equality Standard.
Departments recruiting international dietitians can help new team members by giving them UK wide and local information on:
Ensure that new arrivals to the UK are aware that they need to register for both tax and national insurance
Start an information bank on the local names of foods, drinks and typical dietetic products used
Help with banking in the UK, by pointing them in the direction of the UK major banks. They may need a letter from the employer for the bank
The NHS is a large organisation and major employer. Those coming to the UK without any experience of the NHS can find it confusing and complex to understand. The NHS explained online course: how the health system in England really works. It is free at the point of care and is paid for out of general taxation. This page explains the health and care system.
Health is what is called a devolved matter and therefore the four nations of the UK – England, Scotland, Wales and Northern Ireland – manage the NHS, including pay negotiations, independently. Having said this there is a national pay structure, referred to as Agenda for Change (AfC), apart for medical doctors and dentist all posts across the UK NHS are graded using AfC.
Some dietitians who have qualified in another country and are not yet registered with the HCPC work as a Dietetic Support Workers at a band 3 or 4, while awaiting HCPC registration or before considering working in the NHS as a dietitian. This has been described as helpful for gaining an understanding of the NHS and for showing potential employer's qualities. Others take a route of volunteering at their local NHS hospital and/or dietetic department.
It is helpful for managers/service leads to prepare as part of an extended induction information on how your organisation/trust works in relation to common names and usage of medicines, typical paperwork, relationships with other professions and especially multi-disciplinary teams (MDTs) as these can be a very different experience within the NHS. Following a preceptorship could be an ideal manner in helpful an international recruit with finding their feet in the NHS. Learn about preceptorship on the HEE website.
While the majority of dietitians in the UK are employed by the NHS, many are also employed in many diverse areas such as:
Higher Education Institutes (universities) as researchers and lecturers
Food companies
Sport and nutrition
Private practice providers.
The below links provide helpful advice on writing an application and interviews
Within the NHS dietitians work in hospitals, General Practitioner (GP) practices, the community (including visiting homes of service users (patients)) and in Public Health. Most newly qualified dietitians start at an AfC band 5. Band 7 positions tend to be specialised and/or team leads roles, with band 8a and higher as highly specialised or service leads. Dietitians work across a wide range of specialities and the BDA specialist groups are an indication of the breadth of dietetic work in the UK.
Wherever a dietitian works they should ensure continuing professional development (CPD). An employer will contribute to this but it is the individual's responsibility to ensure that they are keeping up to date with evidence and new practice. The BDA is active in supporting lifelong CPD for dietitians. The HCPC have an expectation that registered dietitians are meeting their standard for CPD.