The Issue
Anyone who has spent any time online is likely well aware of the huge amount of information about diets, "super foods", weight loss and nutrition that is shared online, and particularly on social media. Much of it is not factual, and some of it is even dangerous. Unfortunately this has even been true in relation to COVID-19. When someone is not just giving offering an opinion, but promoting a product or a service, this could be breaking rules (the CAP code) set by the Advertising Standards Authority.
However, the ASA is only able to take action if they are made aware of the issue. So, it falls to experts and the public to spot and highlight poor practice. Too few people have been challenged on their poor practice, and we think something should be done about it.
What is the BDA doing about it?
Starting from Dietitians Week 2020, the BDA is launching a campaign against the promotion of misleading nutrition services and products online.
We have met with the Advertising Standards Authority to raise our concerns. The ASA is happy to take action where it can and it is made aware of a problem, so we have agreed that we will seek to collate examples and submit them together.
We are also going to look carefully at what sort of activity or promotions don't fall foul of the CAP Code. If it appears that the code is not strong enough to protect the public, we will lobby the ASA and government to change it or provide rules that can protect the public effectively.
In this first stage of the campaign, we are aiming to collate as many examples as we can in a two month period.
What do we need our members to do?
We want to harness the power of our membership to find bad practice. Unfortunately, not everything will break the rules, even if it is complete nutrition nonsense, but we still want to hear about it. It will be important to consider the CAP Non-Broadcast Code. This is the set of rules against which the ASA will judge all advertising when making its judgements. The key sections of the code for the purposes of our campaign are:
Spotted something that doesn't seem right?
If you see a website, online marketing or social media activity that you think falls foul of this, please let us know by filling in the form below, we will not share your personal information with the ASA or others. The more information you can gather (screenshots, links etc) the better.
Here's a lighthearted example of the sort of posts we might want to highlight: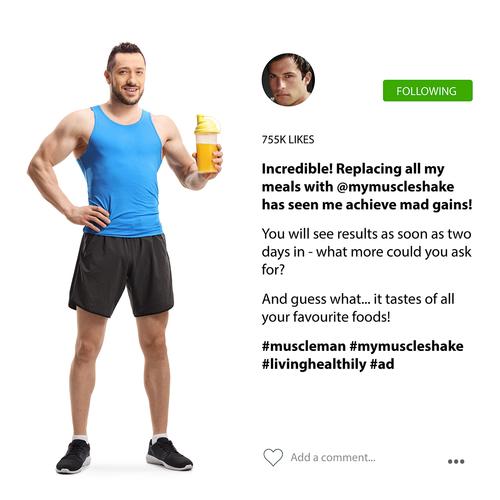 Click the links below if you want to see some recent examples of upheld rulings from the ASA.
More information