In this chapter:
---
Dietitians must have executive input into catering specifications and tender processes to ensure the minimum framework for nutritional standards meets the needs of patients, staff and visitors and that the budget supports this.
Every healthcare setting requires a nutrition specification; a catering specification defines how that is delivered. Whether catering is in-house or contracted out, dietitians must have input before a specification is issued and not just advisory influence.
This chapter defines how to ensure the catering specification meets the nutritional and wider needs of patients, staff and visitors in the healthcare setting, the dietitian's role and relationships in a contracted-out catering service and the tender process.
Key definitions
Facilities management (FM)
FM is the management and maintenance of commercial buildings, grounds and the goods and services patients receive, this incorporates everything required to keep individuals alive and safe and is split into two main areas: hard and soft FM. Hard FM refers to the physical structures of the building such as maintenance, heating, ventilation systems and plumbing. Soft FM refers to elements managed by individuals such as catering, cleaning and portering.
Estates Return Information Collection (ERIC)
In the NHS, the Estates and Facilities Management team report to NHS England the costs of providing, maintaining and servicing the NHS estate in a safe and quality driven manner. In relation to the patient food service for example, data is collected by NHS Digital in the annual Estates Return Information Collection (ERIC) (1). This includes information such as inpatient food service cost, number of meals requested and other food service costs including food waste.
In 2021/22, the total costs of running the NHS estate were £11.1 billion of which a total cost of provision of inpatient food was £0.7 billion, an increase of 6.9% since 2020/21 (1).
Premises Assurance Model (PAM)
The NHS Premises Assurance Model (PAM) is also used to provide evidence and confidence for NHS provider boards and other interested parties that those actions needed to keep the NHS estate and facilities safe, effective, efficient and of high quality will actually occur on a nationally consistent basis (2). Trusts self-assess against PAM annually with a range of questions. For catering services this is under safety and patient experience domains. The organisation can then work on actions to achieve assurance.
Catering contracts
Not all hospitals have in house caterers, some will have outsourced or contracted out the service to a catering contractor. The contractor provides catering services, including but not limited to, patient food and drink, ward level service of food and drink, out of hours food provision such as vending, hospitality and staff and visitor facilities such as restaurants and coffee shops.
A catering contract is the legally binding agreement between the NHS Trust and the contractor to provide this service.
Tender (Tendering) process
In the public sector, the tender procurement route is dependent on the value of the contract. Contracts can be quoted for directly when their value is less than the Official Journal of the European Union (OJEU) threshold, while those matching or exceeding this threshold must be procured via tender. A tender (or tendering) is a formal process where businesses can bid for contracts from public (or private sector) organisations.
A buyer (the 'NHS Trust') will issue a notice (written request) for suppliers (contractors) inviting them to submit a tender to provide their services. This is called an Invitation to Tender (ITT).
Once these have been submitted, the buyer can review and evaluate them and then give notice of award.
The terms "contractor" and "supplier" are used interchangeably but both terms refer to an organisation that undertakes a contract to provide materials or labour to perform a service. The term "supplier" is often used in tender documents, and it refers to the contractor or bidders.
The dietitian's role in a catering tender
Together with catering and clinical colleagues, dietitians must have executive input into catering specifications and tender processes to ensure the minimum framework for nutritional standards meets the needs of patients, staff and visitors and that the budget supports this.
In order to take a pro-active role in the tender process, the Trust dietitian will require a good understanding of the actions necessary for acquiring food services within the NHS. Trust based dietitians can ensure that the nutritional and dietetic requirements are incorporated into the tender document by means of the catering specification before the tender process commences. Contractor and food manufacturer/supplier dietitians can work to ensure they are addressing all relevant nutrition and dietetic requirements in their bid response.
Food service dietitians work in many different settings as outlined in Chapter 2. The interrelationship of the dietitians' roles in a contracted-out catering service can be seen in Figure 7.1. and a brief overview in Table 7.1.
Figure 7.1 The interrelationship of dietitian roles in food service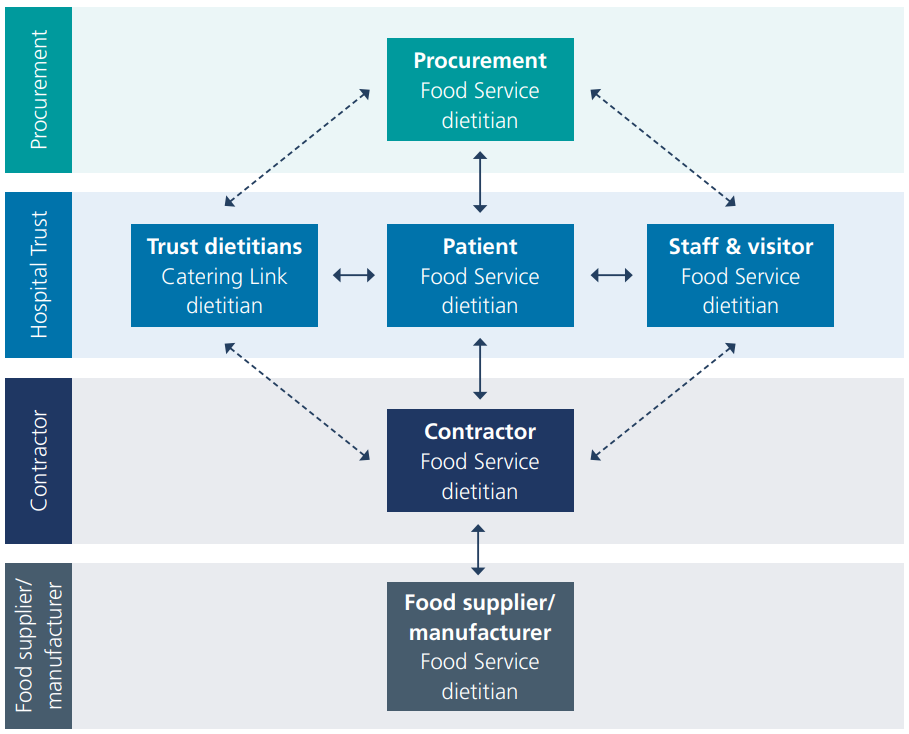 Table 7.1 An overview of the interrelationship of dietitians in a contracted-out food service
Dietitian

Relationships

Procurement

Food Service Dietitian

Works externally in procurement services, employed by government or NHS supply chain. Liaises with any of the dietitians.

Trust

Dietitians

Works for and is employed by the Trust in the dietetic department, mostly in a clinical capacity, but there is usually a catering link dietitian in the department. The National standards for healthcare food and drink (3) require organisations to consider the level of input from a named food service dietitian.

Patient

Food Service Dietitian

Works at the Trust usually in the catering department and can be employed by either the Trust or by the catering contractor as the named food service dietitian responsible for patient food service and/or staff and visitor food service – depending on Trust assessment of need (3,4) and Chapter 2.

Staff & Visitor

Food Service Dietitian

Works at the Trust usually in the catering department can be employed by either the Trust or by the catering contractor as the named food service dietitian (3, 4) responsible for the staff and visitor food service.

Contractor

Food Service Dietitian

Works externally, employed by the contractor, (FM company contracted to provide the catering service) liaises with the Trust dietitians but predominantly links with the patient and staff and visitor food service dietitians as well as food supplier/manufacturer and procurement dietitians.

Manufacturer/Suppliers

Food Service Dietitian(s)

Works externally for the manufacturer or supplier of food and drink served in the Trust. These dietitians predominately liaise with the contractor's food service dietitian or with the patient and staff and visitor food service dietitians.
Catering specification document
The catering specification is a key section in an overall tender document. It forms a minimum contractual framework of requirements for food and drink in the healthcare setting and becomes part of the service level agreement. The specification should include food and drink standards, including elements of the Trust's Food and Drink Strategy (3), a menu framework appropriate for the client group, nutrition and any service-related standards. Dietitians are uniquely placed to ensure dietetic aims and objectives are incorporated into the catering specification as it communicates the Trust's requirements and the measurements of quality that will be used to measure the contractor's performance.
Evaluation questions and Key Performance Indicators (KPIs) are developed from the specification. Each evaluation question is linked back to an element in the catering specification that is being quality tested. Each KPI will set out how the elements of the specification will be monitored for delivery and quality over the life of the contract.
Writing a catering specification
It is important that the catering specification is written as clearly as possible and articulates what is required from the contractor. This can help prevent or resolve any issues that might arise during the life of the contract.
Operational challenges and changes may take place over time whilst still in contract, such as due to new legislation or standards, innovation, improvements that mean both parties should be flexible to discuss out of date elements within a catering specification in the interests of the patient's nutrition, hydration or overall experience.
The contents of the Digest form a minimum framework of requirement for nutritional standards for healthcare food and drink and can be incorporated into the catering specification for any contract or service level agreement, see Table 7.2.
Table 7.2 Relevant Digest chapters to support the writing of a catering specification
| | |
| --- | --- |
| Ensure relevant legislation and standards for patient, staff and visitor food and drink services is considered | |
| Clarify patient nutritional standards and any special dietetic needs, menu structure and coding | |
| Input into the selection of the food service system | |
| Input into staff and visitor catering, health and wellbeing policy | |
| Input into catering specifications and tenders | |
| Ensure environmental sustainability is included | |
Catering tender process
There are usually five stages in the tender process and dietitians will work with a team of colleagues to establish the roles and responsibilities in each situation. Table 7.3 provides an overview of the Trust and Contractor Dietitian specific roles in the tender and the exact type and timing of this input.
Table 7.3 The catering contract tender process and the role of the dietitian
Tender Process Stage

Trust Dietitian

Contractor Dietitian

Stage 1: Prior Information Notices (PIN) released 2 – 12 months in advance, informing potential contractors(s) of the intention to launch an NHS procurement.

No input
This stage is undertaken by the NHS Trust, through the procurement department or a consultant company who may have been employed to assist the Trust through the procurement process

Stage 2 : Selection Questionnaire (SQ) or Pre-Qualification Questionnaire (PQQ) is used to establish whether any potential contractors are qualified, suitable and able to deliver the contract.

This stage is a set of questions about level of experience, geographical spread, current contracts being delivered, financial details and liability insurance of the contractor
Minimal input may be required to support with preparation or responding to any dietetic related pre-qualification questions

Stage 3: ITT Invitation to Tender key document for the contractor to respond to is the catering specification document, this specifies how the response should be formed and clarifies contract award date and other contractual documents.

Site visits to enable the contractor to gain a better understanding of the site structure, facilities and service requirements.

Bid response document is submitted in hard and soft copies, often via a procurement portal.

Shortlisted contractor's site visits by the Client to see their catering solution in real life.

Ideally would have had prior involvement with clinical and Trust FM colleagues in writing of the catering specification including any dietetic policies, standards, requirements for the contractor to follow (see details above)
May be asked to commit to supporting a site visit at their Trust if a contractor's dietitian is in attendance or if there is anything specific that should be clarified from a dietetic perspective for the contractor
Read bid response
May attend an off-site visit to see the contractor's catering service being delivered at another hospital

May support the contractor's sales and operational teams on a site visit to the Trust to understand any specific dietetic requirements or ward areas with different patient groups
Will support with the preparation or responding to dietetic elements of the tender through comprehensive knowledge of their catering operation, providing evidence of dietetic processes and policies, example menus and capacity analysis, compliance to food and drink standards

Stage 4: Presentations and interviews by shortlisted bidders, this is an opportunity to bring the tender proposal to life. The client will provide a brief detailing their expectations, foods to be sampled and complete a detailed evaluation.

Attend the contractors' presentations, evaluate food, support the decision-making process

May attend and present about the scope of the catering provision specifically dietetic and answer any questions during the interview stage
Liaise with the food manufacturer/supplier teams to choose sample foods and support food tasting session
Arrange sample print menus and all nutrition and allergen information

Stage 5: Announcement of the winner after the cooling off period, usually 10 days. During this time the unsuccessful bidders may challenge the tender process.

Mobilisation – the period of time after the contract has been signed but before the service is delivered (usually three months)

Go Live – the date set on which the new service will commence

Implementation –a set number of months during which the new contract is allowed to embed, after this time Key Performance Indicators (KPIs) will come into effect.

Liaise with the contractor's dietitian on award
Ongoing day to day communications would ideally be with the onsite food service dietitian
All dietitians should establish a collaborative relationship for the life of the contract working together to monitor quality, safety and improvements through ward level audits, patient, staff and visitor satisfaction surveys, training programmes and initiatives to enhance the patient experience or wellbeing of staff

Attend project initiation (mobilisation) meeting
Start to make contact with dietetic counterparts within Trust, food manufacturer and supplier
Support the mobilisation team by:

project managing dietetic/food service changes
utilising a process driven/operational mindset
exercising flexible and agile thinking, working and problem solving
Display leadership through engaging the team, sharing your vision, providing support, training and regular feedback
Click here to return to the top of the page.
References
Further Reading
Chartered Institute of Procurement & Supply. Glossary of Procurement Terms. https://www.cips.org/knowledge/glossary-of-procurement-terms/ [Accessed 6th February 2023]