07 Jun 2021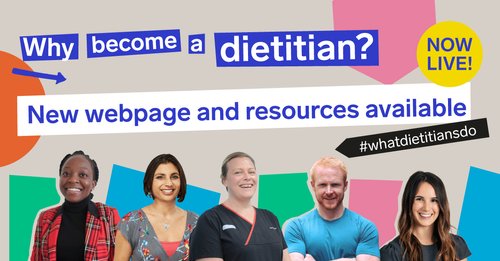 With young people aged 14-to-17 at an age where they must make choices about GCSE, A-level subjects and university courses, making them aware of pathways into different careers is vital.
The BDA's Education, Practice & Policy and Communications teams have worked with researchers, registered dietitians and content designers to research,develop and deliver a suite of careers resources to help BDA members promote dietetics as a career.
The project, which includes a range of multimedia resources for teenagers, teachers and dietitians,features real dietitians in real dietetic jobs.
The project was funded by Health Education England after the BDA was one of several allied health professions bodies given a pot of money to encourage more people into these professions.
About the project
A team of external researchers were bought in to engage with young people and to steer the project content. The content and resources have been developed through this research with school-age children, to find out what they understood or already knew about dietetics, and what was important to them when looking to choose a career.
Esther Avery, content designer, explained: "When I speak to dietitians, one of the things they are most passionate about is using evidence. Applying scientific evidence is what makes dietetics distinct in the large pool of jobs that fall under the umbrella term'nutrition'. So, with this project we did just that. We have undertaken research at every stage, and asked young people lots of questions! We then applied the evidence to create and refine the project resources."
Using this research, the content and language used in the resources has been deliberately developed to ensure it is relevant and user friendly to target a younger age group.
Real dietitians in real jobs
BDA registered dietitians helped develop the resources and have become the face of the project. This ensures a wide variety of "real" dietetic job roles are showcased by "real" dietitians. Freelance, sports and media dietitians are included, as well as dietitians who work as specialists in the NHS.The aim is to get young people really interested in looking at dietetics as a future career, using BDA dietitians to raise the profile of dietetics, and the work of dietitians to grow and protect the future dietetic workforce. We want to highlight that a career in dietetics can be achievable and accessible, with various routes and support available to get into the profession.
Check out the resources
The careers resources include a dedicated webpage with videos of BDA registered dietitians, leaflets and postcards, which answer the questions:
What does a dietitian do?
Why become a dietitian?
How do I become a dietitian?
These resources are now available online to BDA members and other stakeholders who are looking to advertise and promote dietetics as a future career to younger people.
There's also a presentation with supporting notes that can be used to present either virtually or (when COVID-19 restrictions are lifted) in the classroom.
You can check out the new career's webpage and resources at www.bda.uk.com/careers
---
Many thanks to the project team for their support in delivering the project research, content and resources:
Stephanie Thomason – BDA Policy Support Officer
Tom Tracey – BDA Communications Officer
Billie-Jane Burch – BDA Design Communications Officer
Rob Newsome – BDA Digital Content Officer
Esther Avery – Content Designer - Avery Content Design
Antony Antoniou – Graphic Designer - Design by Antony
Laura Palfreyman – User Researcher, Government Digital Service
Priya Tew – Registered Dietitian, Freelance Media
Alex Neilan – Registered Sports Dietitian
Nicola Clarke – Registered Dietitian, Diabetes Specialist
Nokhuthula Nyoni – Registered Dietitian, NHS Acute Nutrition Support
Katy Everson – Registered Dietitian, NHS Oncology
Naomi Hipson – Final year Dietetic Student, Leeds Beckett University
Iduna Heinrich – Registered Dietitian, Community Service - Homerton University Hospital, London