In this chapter:
---
Over half of all the food provided in NHS hospitals is served to staff and visitors, providing a prime opportunity to support staff and visitors to make healthier choices.
Significant steps have been taken to help change the food environment within staff and visitor food outlets in the NHS so that they can become beacons of good practice in supporting staff and visitors to make healthier choices. This chapter is specifically in relation to the food and drink served to staff and visitors within the NHS, not patients.
Having access to healthier food options in the workplace has many benefits for staff, including reducing the risk of developing multiple lifestyle related diseases and improving physical and mental wellbeing (1). A healthier, happier, more engaged workforce leads to better performance for both individuals and the organisation (2).
Key facts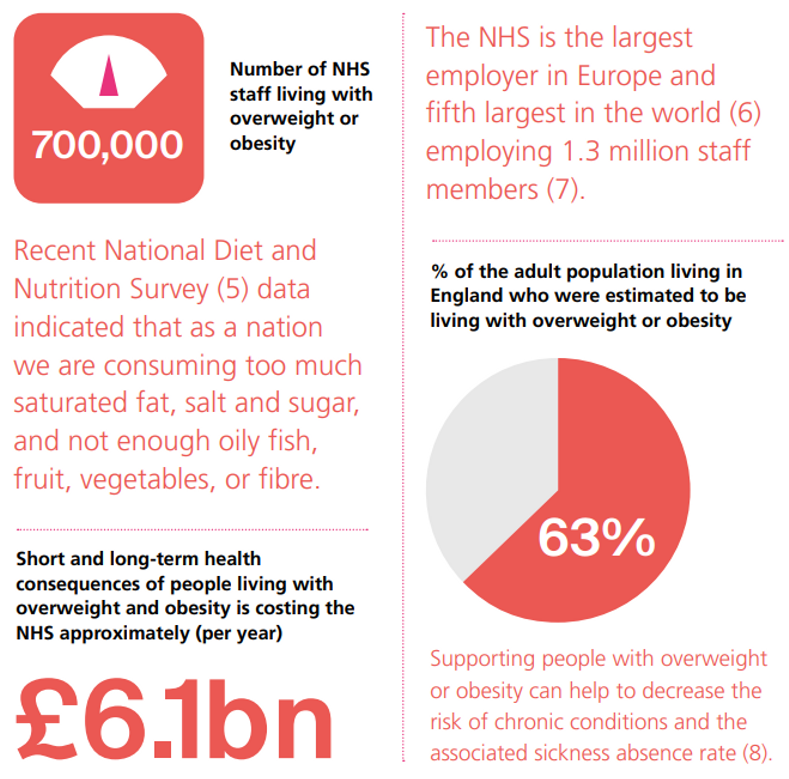 Barriers to making healthier choices
Helping staff to reach and maintain a healthier weight requires the consideration of several factors, including:
Time pressures for meal preparation and shopping
Family demands
Cost
Access to healthier foods at home and at work
Comfort eating due to stress
Busy work schedules and shift patterns
Perception of healthier options being less satisfying and enjoyable
Unsupportive work environments (e.g., lack of breaks, sedentary jobs roles etc)
Additionally, visitors to hospitals may find it difficult to access food and drink due to travelling, looking after ill relatives and reduced time for food preparation.
Whilst it is important to promote healthier eating to help support people adopt healthier lifestyles, it needs to be recognised that people have different dietary requirements. Apart from physiological differences, some people may be more active than others with physically demanding jobs, therefore they need a higher energy intake than someone who has a desk-based role. It is also important to consider people's overall relationship with food. A balanced approach to the promotion of healthier choices is required to avoid weight stigma, triggers for disordered eating and general unhealthy relationships with food.
Health and wellbeing initiatives, standards and regulations
Since 2017 there have been several important initiatives, standards and regulations introduced into the NHS to help improve the health and wellbeing of staff and visitors. These are listed below.
National standards for healthcare food and drink
The National standards for healthcare food and drink released in 2022 (9) build on previous hospital food standards (10) and take into consideration the extensive recommendations from the 'Report of the Independent Review of NHS Hospital Food' (11) as well as key priorities for both the NHS and the Government.
The standards comprise of four sections, with section 3 outlining the mandatory requirements for retail, staff and visitor food and drink provided by healthcare organisations.
Retail, staff and visitor food and drink
There are four mandatory standards that apply to staff and visitor food and drink which organisations must demonstrate compliance with (9).
Organisations must review their food and drink menus and look for opportunities to make the choices healthier and more sustainable*
Organisations must implement the GBS Nutrition Standards.
Organisations must continue to meet the CQUIN related standards.
Organisations must provide access to suitable food and drink out of hours (based on the above nutrition standards). See checklist in the Report of the Independent Review of NHS Hospital Food (11).
Government Buying Standards for Food and Catering Services (GBS)
The latest Government Buying Standards for Food and Catering Services (GBS) were published by the Department for Environment, Food and Rural Affairs (DEFRA) in 2021 (12).
The GBS includes a set of minimum mandatory standards with which NHS trusts must comply. It also incorporates recommended best practice guidance for health, sustainability and welfare for food and catering in the public sector.
The updated nutrition standards element of the GBS (13) aims to ensure consistent minimum standards for healthier food and drink options. This includes:
Reduction in salt, sugar and saturated fat as per the Government's calorie, salt and sugar reduction and reformulation programme
Increased availability of fruit, vegetables, fish and fibre rich foods
Controlling availability and portion size of soft drinks, confectionery and savoury snacks
Best practice standards on calorie and allergen labelling and menu analysis
Organisations will need to assess their compliance with the nutrition standards both mandatory and best practice setting out a programme of implementation. Technical guidance has been published alongside the nutrition standards to support this (14).
Commissioning for Quality and Innovation (CQUIN) related standards
The CQUINs form part of standard NHS Contract (15) and its framework is intended to reward excellence, encouraging a culture of continuous quality improvement, whilst delivering better outcomes for patients and staff (16).
The CQUIN indicator 1b Healthy food for staff, visitors and patients focuses on changing organisational behaviour and culture towards the food and drinks sold on NHS premises. The standard outlines mandatory requirements for retail outlets, including:
Banning of price promotions on sugary drinks and foods high in fat, sugar or salt (HFSS)
Banning of advertisements on NHS premises of sugary drinks and HFSS foods
Banning of sugary drinks and HFSS foods from checkouts
Healthy options must be available at all times, including for those staff working night shifts
For specific targets for sugary drinks, confectionary and savoury pre-packaged meals, refer to the NHS staff health & wellbeing: CQUIN 2017-19 Indicator 1 Implementation Support document (17).
24/7 Food provision for staff
The Report of the Independent review of NHS Hospital Food is a first step towards improving food standards and focusses on the safety, nutrition, quality and production methods of food for patients, staff and visitors in NHS hospitals (11). It recognises the challenges to improving food culture in our hospitals and adopts a holistic approach to progress this. The report includes eight key recommendations for system-level change and a checklist for catering managers and chief executives.
This chapter includes some best practice examples pertinent to staff and visitor catering.
One of the key recommendations is to ensure food is available 24/7 for staff
An out of hours menu or food offer for staff should contain both hot and cold food options
The same food offered to patients should be regularly offered in staff restaurants
Regulations in England
The Calorie Labelling (Out of Home Sector) (England) Regulations 2021
The calorie labelling regulations were introduced in April 2022 and aim to help consumers make healthier decisions, encourage businesses to provide lower calorie food options and food manufacturers to reformulate food and drink products (18).
The regulations only apply to staff and visitor restaurants or cafes in hospitals if they are run by an external contractor employing more than 250 people. Further information on the calorie labelling regulations can be found in Chapter 8: Food Composition, Labelling and Recipe Analysis.
Salt Reduction Targets 2024
The 2024 salt reduction targets (19) are for all sectors, including retailers, manufacturers and the out of home sector.
NHS restaurants and cafes for staff and visitors must ensure they are compliant by procuring products that are in line with the salt reductions targets. Any fresh food and drinks made on-site must also comply with the targets outlined in the out of home sector section.
Furthermore, there are also Calorie Reduction targets for 2024 (20) to be achieved by the food industry in specific product categories.
Health and wellbeing standards in Scotland, Wales and Northern Ireland
Scotland: Healthcare Retail Standard
The Healthcare Retail Standard (HRS) (21) applies only to those retail outlets (i.e., where food is not prepared on-site but is ready for immediate purchase) within healthcare sites. The HRS is comparable to the National CQUIN scheme in England and consists of specific criteria that retail outlets must meet for compliance.
In line with a new three-year strategy and transformational programme, the Scottish Government have also considered changes in the out of home landscape by publishing 'Diet and healthy weight: out of home action plan' (22). Food Standards Scotland (FSS) will lead the overall monitoring and evaluation of this plan to inform future actions.
Wales: The Corporate Health Standard
The Corporate Health Standard (23) is a free service which is funded as part of the Welsh Government's 'Healthy Working Wales' programme.
It is the national quality framework and award for employers to improve health and well-being in the workplace. There is a standard for healthy eating within the workplace with specific criteria for workplaces with on-site catering facilities.
The Healthy Options Award Wales (24) is open to all types of catering premises that cater for the public.
This award rewards caterers who make it easier for their customers to make healthy choices when eating out. It aims to encourage food businesses to provide healthier options to customers through:
The use of healthier catering practices

Increasing fruit, vegetables and starchy carbohydrates

Decreasing fat, especially saturated fat, sugar and salt

Provision of healthy options for children
Rewards staff training

Promotion and marketing of healthier options.
Northern Ireland: Nutritional Standards for Catering in Health & Social Care
The Nutritional Standards for Catering in Health and Social Care (25) were published in partnership with the Public Health Agency, the Food Standards Agency, safefood and Health and Social Care.
The standards apply to all facilities that serve food or beverages to staff or visitors operating within Health and Social Care settings. This includes catering facilities, privately owned retail units and vending machines.
The standards must be adhered to from the procurement of food contracts to menu planning and food service.
The role of the dietitian in health and wellbeing
The food service dietitian can provide a vital contribution towards planning, implementation and monitoring of health and wellbeing strategies, programmes, policies and procedures in relation to staff and visitor catering in hospitals.
This role can be embedded within the clinical dietetic team or with contracted catering services where applicable.
A more detailed job description of this role can be found in Appendix 2. and further information on the role of a food service dietitian can be found in Chapter 2.
What good looks like
Several initiatives can be taken on improving the accessibility and availability of healthier meal solutions for staff and visitors.
These can include but are not limited to:
Set up a multidisciplinary steering group to improve communication, drive improvements and to monitor compliance with standards
Provide 24/7 hot meal options for staff working on shifts
Offer budget friendly healthier options in staff and visitor restaurants and consider a discount for staff on healthier options
Provide free drinking water throughout the facility
Promote theme days and balanced meal offers that encourage healthier eating
Introduce healthier 'grab and go' meal options
Include daily healthier meal choices on restaurant menus that reflect the demographics of the site and staff members
Share healthier eating messages and promotions via local intranets and hubs
Promote sustainability through affordable plant-based meal offers
Cater for any allergies and special dietary requests
Make nutrition and allergen information easy for staff and visitors to access, such as a QR code or website address displayed on promotional posters, digital screens or printed menus.
Click here to return to the top of the page.
References
National Health Service. Obesity https://www.nhs.uk/conditions/obesity/ [Accessed 20th March 2023]
British Dietetic Association. Work Ready White Paper. https://www.bda.uk.com/food-health/workplace-health-work-ready/what-we-do/resources/work-ready-white-paper.html [Accessed 20th March 2023]
Public Health England. Health matters: obesity and the food environment. https://www.gov.uk/government/publications/health-matters-obesity-and-the-food-environment/health-matters-obesity-and-the-food-environment--2 [Accessed 20th March 2023]
Royal College of Physicians. Work and wellbeing in the NHS: why staff health matters to patient care. https://www.rcplondon.ac.uk/guidelines-policy/work-and-wellbeing-nhs-why-staff-health-matters-patient-care [Accessed 20th March 2023]
Public Health England. National Diet and Nutrition Survey. https://www.gov.uk/government/collections/national-diet-and-nutrition-survey [Accessed 11th April 2023]
Forbes. McCarthy N. The World's Biggest Employers [Infographic]. https://www.forbes.com/sites/niallmccarthy/2015/06/23/the-worlds-biggest-employers-infographic/?sh=576e0747686b [Accessed 20th March 2023]
NHS Digital. NHS Workforce Statistics - August 2021 (Including selected provisional statistics for September 2021). https://digital.nhs.uk/data-and-information/publications/statistical/nhs-workforce-statistics/august-2021 [Accessed 20th March 2023]
Saied S. Outcomes of a 12 Week Weight Management Intervention in the Workplace. Masters Level. University of Nottingham; 2020.
NHS England. National standards for healthcare food and drink. https://www.england.nhs.uk/publication/national-standards-for-healthcare-food-and-drink/ [Accessed 20th March 2023]
Department of Health. The Hospital Food Standards Panel's report on standards for food and drink in NHS hospitals. https://assets.publishing.service.gov.uk/government/uploads/system/uploads/attachment_data/file/523049/Hospital_Food_Panel_May_2016.pdf [Accessed 20th March 2023]
Department of Health and Social Care. Report of the Independent Review of NHS Hospital Food. https://assets.publishing.service.gov.uk/government/uploads/system/uploads/attachment_data/file/929234/independent-review-of-nhs-hospital-food-report.pdf [Accessed 20th March 2023]
Department for Environment, Food and Rural Affairs. Sustainable procurement: the GBS for food and catering services. https://www.gov.uk/government/publications/sustainable-procurement-the-gbs-for-food-and-catering-services [Accessed 20th March 2023]
Department for Environment, Food and Rural Affairs. The Government Buying Standards for Food and Catering Services (GBSF): updating the nutrition standards. https://assets.publishing.service.gov.uk/government/uploads/system/uploads/attachment_data/file/802933/gbsf-nutrition-standards-consultation.pdf [Accessed 20th March 2023]
Department for Environment Food and Rural Affairs. Government Buying Standards for food and catering services: nutrition standards. Technical Guidance. https://assets.publishing.service.gov.uk/government/uploads/system/uploads/attachment_data/file/1011764/gbsf-nutritional-standards-technical-guidance.pdf [Accessed 20th March 2023]
NHS England. NHS Standard Contract Service Conditions – Full Length. https://www.england.nhs.uk/publication/nhs-standard-contract-service-conditions-full-length/ [Accessed 20th March 2023]
NHS England. Commissioning for Quality and Innovation (CQUIN) Guidance for 2016/17. https://www.england.nhs.uk/wp-content/uploads/2016/03/cquin-guidance-16-17-v3.pdf [Accessed 20th March 2023]
NHS England. NHS staff health & wellbeing: Commissioning for Quality and Innovation (CQUIN) 2017-19 Indicator 1 Implementation Support. https://www.england.nhs.uk/publication/nhs-staff-health-wellbeing-commissioning-for-quality-and-innovation-cquin-2017-19-indicator-1-implementation-support/ [Accessed 20th March 2023]
Department of Health and Social Care. Calorie labelling in the out of home sector: implementation guidance. https://www.gov.uk/government/publications/calorie-labelling-in-the-out-of-home-sector/calorie-labelling-in-the-out-of-home-sector-implementation-guidance [Accessed 20th March 2023]
Public Health England. Salt reduction: targets for 2024. https://www.gov.uk/government/publications/salt-reduction-targets-for-2024 [Accessed 20th March 2023]
Public Health England. Calorie reduction: guidelines for the food industry. https://www.gov.uk/government/publications/calorie-reduction-guidelines-for-the-food-industry [Accessed 20th March 2023]
The Scottish Government. Criteria for the Healthcare Retail Standard. https://www.gov.scot/publications/criteria-healthcare-retail-standard/ [Accessed 20th March 2023]
The Scottish Government. Diet and healthy weight: out of home action plan. https://www.gov.scot/publications/diet-and-healthy-weight-out-of-home-action-plan/ [Accessed 20th March 2023]
Welsh Government. Corporate Health Standard: A quality framework and award for health and wellbeing in the workplace. https://phw.nhs.wales/services-and-teams/healthy-working-wales/healthy-working-wales-workplace-awards1/corporate-health-standard/ [Accessed 20th March 2023]
Shared Regulatory Services. Healthy Options Award. https://www.srs.wales/en/Environmental-Health/Food-Hygiene-Standards/Healthy-Options-Award.aspx [Accessed 20th March 2023]
The Public Health Agency et al. Nutritional Standards in Health and Social Care. https://www.publichealth.hscni.net/publications/nutritional-standards-catering-health-and-social-care-staff-and-visitors [Accessed 20th March 2023]
Further Reading
Department of Health and Social Care. Policy paper on Health and Care Bill 2022 Hospital Food https://www.gov.uk/government/publications/health-and-care-bill-factsheets/health-and-care-bill-hospital-food#what-the-bill-will-do [Accessed 20th March 2023]
Department of Health. A Toolkit to Support the development of a hospital food and drink strategy. http://www.hospitalcaterers.org/media/1151/hospital-food-drink-strategy.pdf [Accessed 20th March 2023]
British Dietetic Association. Workplace Health Work Ready. https://www.bda.uk.com/food-health/workplace-health-work-ready.html [Accessed 20th March 2023]
Dimbleby etc al. National Food Strategy. https://www.nationalfoodstrategy.org/ [Accessed 20th March 2023]
Department for Environment, Food and Rural Affairs. Government food strategy. https://www.gov.uk/government/publications/government-food-strategy/government-food-strategy [Accessed 20th March 2023]
Royal College of Nursing. Rest, Rehydrate, Refuel. https://www.rcn.org.uk/healthy-workplace/healthy-workplaces/health-and-safety/rest-rehydrate-refuel [Accessed 20th March 2023]