We were extremely excited to be able to launch our BDA App library in association with The Organisation of the Review of Care and Health Applications (ORCHA) in June.
It is great to see you all engaging with this and using this to support your dietetic practice. With almost 5,000 page views at the time of writing this article in August, it is clear this will become a valuable tool in a dietitians tool box.
We wanted to provide an update on the feedback so far, as well as a useful guide from one of our members.
The top downloaded app on the BDA library is "WYSA: stress, depression and anxiety chat bot", and the top recommended app is "5 min yoga". This suggests to us that access to mental health resources are of value, and useful to support clients alongside dietetic intervention. We have also learnt that lots of you are interested in apps which support with gastroenterology, healthy living, diabetes and weight management. These are insights that we will take forward as we continue to work closely with ORCHA.
It is also fantastic to see some of you engaging with Orcha and making suggestions of apps to be reviewed and added to the library. One member has successfully requested 12 kidney apps to be reviewed. When these apps have been reviewed, we will update you all on how the apps score and which ones will be available on the library. We would like to encourage you all to get involved here, as this is how we will build our library to be as useful as it possibly can be.
Having a pro account allows you to make direct app recommendations straight to your client's phone and track how they are using the app. It is great so many of you made the most of the Covid-19 offer of a free month. This trial has now ended, but you can still become a pro-member. Visit our website to find out how to do this.
We would love to hear about your experiences of using the App Library. If you would like to submit a case study please send one to edpd@bda.uk.com.
---
A member's perspective
Dr Enazo Battista – Dietitian
Monday morning, 27 July 2020, professional bodies scrambled. Twitter and Instagram erupted. The UK Government published its obesity strategy and announced the Better Health Campaign – and colleagues across professional boundaries expressed their concerns. We had some welcome news regarding adverts targeting children, but we hoped for more, much more.
Perhaps a startling part of the Better Health Campaign is the promotion of apps to help "empower everyone with the right information to make healthier choices". Given that smartphone ownership reached 79% of the UK population in 2019, a staggering 54% increase in under a decade, it seems intuitive to capitalise on the technology to help improve the nation's health (Ofcom 2019).
My interest in smartphones and digital healthcare solutions have led to previous collaborations with industry and academia (Di Battista et al. 2018). Despite their limitations and quality concerns, apps can support health behaviour change, so I'm always eager to use more apps to learn about their features and understand the functions that benefit users. The more I know, the more confident I can be at describing and recommending apps to support my patients and clients.
Data suggests that by the end of the first financial year in 2020, Apple and Google had approximately 1.9 and 2.6 million apps on their storefronts, respectively (Statistica 2020). A 2017 report identified 318,000 mobile health-related apps, increasing at a rate of approximately 200 new apps a day (IQVIA 2017). The challenge we face today then is how to herd through the apps now available?
Fortunately, the BDA acknowledged this and, in June 2020, partnered with The Organisation of the Review of Care and Health Applications (ORCHA) to launch the BDA App Library. I attended a webinar led by Chloe Adams and Cristian Costas that introduced the library. Immediately convinced by its value, I decided to see what "The Health App Finder For BDA Members" had to offer.
The website (bda.orcha.co.uk) has a search function to help you find an app of interest, but I had none in mind, and I just wanted to see the apps available. Luckily, to assist with browsing, the library divides apps into five 'top-rated' categories – 1) Diabetes 2) Healthy Living 3) Gastroenterology 4) Allergy Apps 5) Mental Health Apps.
Curious as to how ORCHA created its rating system, I soon learned that it uses a 24 Question Assessment consisting of three sections – 1) Data Governance 2) Clinical Efficacy and Assurance 3) User Experience and Engagement – with eight questions for each category (see, Leigh et al. 2017). The total 'yes' answers convert to a percentage score for each category and inform an overall total score (see infographic below).
Inspired by the rigour of ORCHA's quality review process and what the library had on offer, I decided to choose some of the top 'Entirely Free' rated apps, use them over a couple of weeks, and post my experiences on Instagram.
I focused on the top three apps for three of the five app categories – allergy, diabetes, and gastroenterology. In short, I found the depth of the allergy apps to be lacking but 'Eat! Gluten-Free' contained helpful gluten-free recipes and 'AllergySmartz' had a straightforward language translator function to help communicate specific allergies if needed while travelling abroad. The free apps for diabetes and gastroenterology are in Figure 1, along with their quality measures, and I found most of these surprisingly comprehensive.
You'll notice, in the below infographic, that two of the apps include a red circle as they scored below the 60% quality benchmark for a category. For this reason, I would not recommend those apps. My personal favourite was 'Sidekick'. In the gastroenterology category, it seemed to be more of a holistic lifestyle app covering food, movement, and mind topics. To encourage user engagement, learning and development, the app utilises gamification (e.g. rewards and progression), tutorials, and tracking (e.g. food diary, 'food groups counter', steps, movement time) features.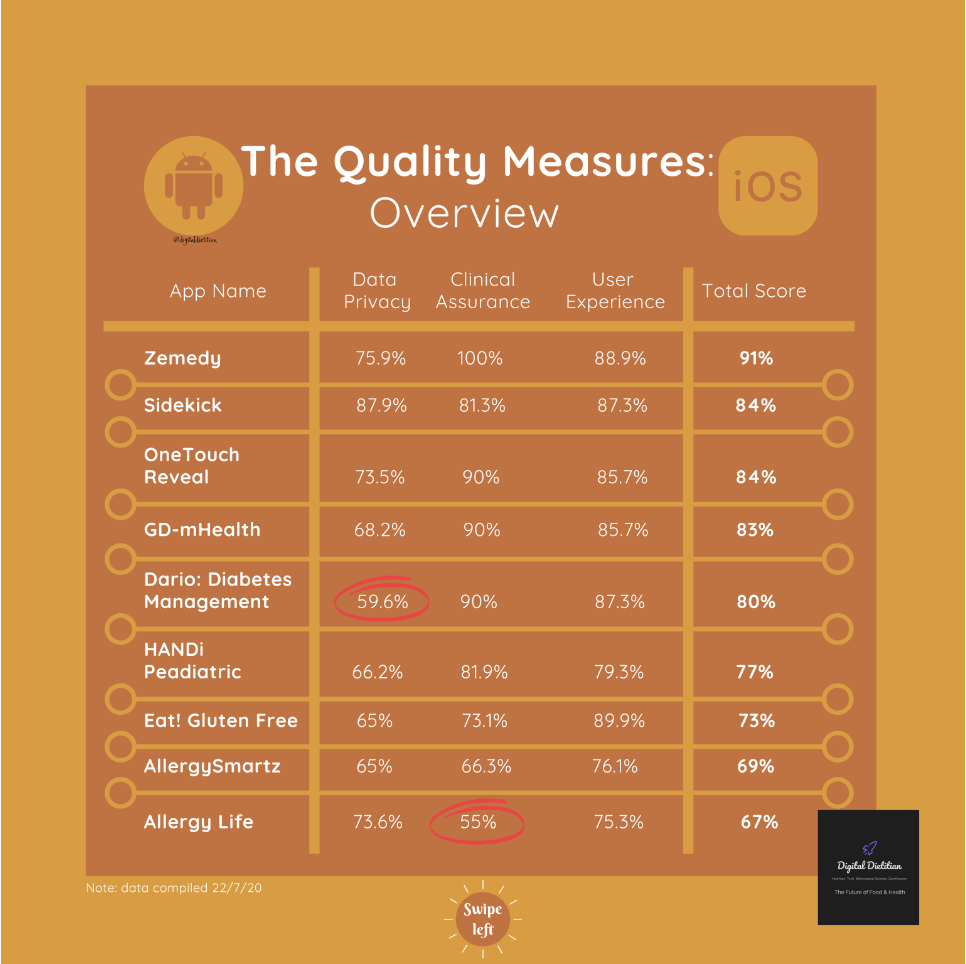 In addition to 'Entirely Free' apps, the website includes 'Paid' and those with 'In-App Purchases'. While using the library and reviewing the apps, I found some inconsistencies. For example, some Entirely Free apps had In-App Purchases. I recorded these minor discrepancies as I went along and emailed the errors to ORCHA. I had an almost instant apologetic and action-oriented reply, including a list of their steps to correct the mistakes. I checked-in a couple of weeks later, pleased to find the website updated.
I'm grateful that the BDA App Library has helped me discover apps that I may have almost certainly overlooked. It's a resource I'll continue to enjoy using. If you haven't done so already, a visit might be worthwhile, especially if you are part of the 79% UK population with a smartphone and are keen to find apps to help your patients – or yourself.
Author

Policy Officer for Professional Practice, British Dietetic Association
Chloe Adams is Policy Officer – Education, Practice & Policy at the BDA

External Relations and Development Officer, British Dietetic Association