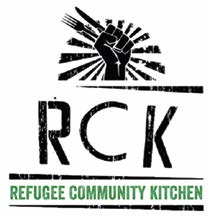 As a mature student, I wanted to be absolutely sure that dietetics would be the right fit for me and so I volunteered in lots of different settings before applying to university. Many of these involved working with refugees and displaced people and I was able to see first-hand the positive impact that community food projects could have.
Once qualified, I worked in acute clinical dietetics and then public health before eventually going into private practice full-time. I've continued to volunteer, most recently in the kitchen at the Migrant English Project (MEP) in Brighton.
Here I've met some wonderful people, heard a lot about long journeys made to the UK and what life is like in the European camps. I knew I wanted to help somehow when I was able to, but wasn't sure how I could be helpful.
Through MEP, I discovered Refugee Community Kitchen (RCK) – an incredible organisation that provides warm nourishing meals to displaced people in France and London. I fundraised with friends to be able to make the trip over there in February 2019 to volunteer.
Calais
A typical day for us in the kitchen started with a morning briefing; including food safety, information on what was going to be cooked, where the food would be distributed and allocating who'd be on what station. We'd then prep food all day, with lunch provided in-between and a thorough clean-down at the end of the day.
The team at RCK ensure that the dishes are balanced, warm and provide familiar tastes wherever possible. There's lots of bean stews, salads and casseroles – with flavours from Eritrea through to Iran and everywhere in between. Though mostly vegetarian, meat is welcomed when they're able to. Providing fresh fruit and vegetables alongside the warm mains can also be a welcome change when people haven't had access to fresh food or cooking facilities for so long.
Distribution
Before the distribution each day there is another briefing; a chat about safety, food hygiene, food customs, language used and how to negotiate portion sizes to ensure there's enough to go around.
When I went on distribution it was driving rain and bitterly cold. It was devastating to see the conditions that people were living in – the situation is dire and the men we were serving were aged from anywhere between 16 to 80+ years old.
Despite the grim conditions, we chatted and swapped stories of languages learned; where people were from, where their journey had taken them, food and, of course, football – a world-wide leveller. We also got tips for new dishes – and to make sure the tea was sweeter next time!
Sticking plaster
I know that this isn't going to solve any of the crises that led to these people being displaced – but the benefits of providing warm meals and a taste of some normality with a friendly face for people who otherwise may go hungry for weeks on end can't be quantified. Again, it shows me the power of food not just for sustenance, but for familiarity, memories and bringing people together.
Find out more about Refugee Community Kitchen and the work they do in Europe and the UK, with Brexit and winter looming, they're in particular need of long-term volunteers – but even going out for just one day will help to make a difference.
Author

Registered Dietitian
Jess is a freelance dietitian working at Level Up Nutrition in Brighton and virtually across the UK.