The Post Registration Professional Development Framework, the latest document in the BDA suite of resources to support dietetic practice has now been launched.
The framework has been designed for individuals and teams to use to develop their career and continual professional development. Its development stemmed from a recommendation from Future Dietitian 2025:
"develop a postgraduate career framework that recognises and promotes the broad range of options available to qualified dietitians both within and outside the NHS. These options must maximise the utilisation of skills and knowledge that dietitians have, including extended scope of practice and advanced level working"
The framework is designed to support the visibility of dietitians and dietetic practice in all settings; helping to articulate the impact of nutrition and dietetic practice and the application of core dietetic skills on the health and development of individuals, groups and populations. We hope it will also inspire dietitians to progress their careers.
There are four levels to the framework:
Entry level
Enhanced
Advanced
Consultant
Each of these levels describes the expected capability at that point. The levels are progressive – each building on the previous one, helping to develop a greater degree of knowledge and skills enabling you to tackle more complex situations. At each level the capabilities are split up according to the four pillars of practice (adapted from the Advanced Clinical Practice Frameworks of our four home countries):
Practice
Evidence-Based Practice Research
Facilitated Learning
Leadership
As part of the framework, we have provided a template to help you map your current skill level, enabling you to identify areas of development.
As you begin to use this framework, we would be grateful to hear from our members with examples of how you have used it in your job and practice.
If you would like to share your experience with us, or if you have any questions, then please email us at edpd@bda.uk.com.
---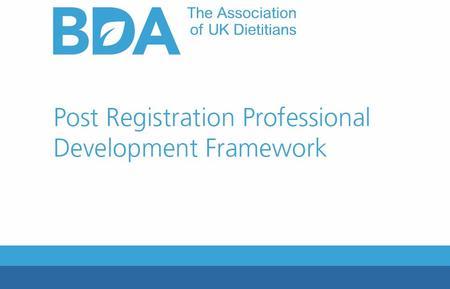 Find out more and download the full Post-Registration Professional Development Framework PDF.
Author

Education, Practice and Policy Team