30 Jan 2020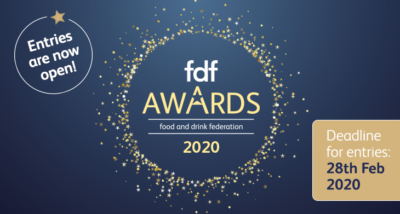 It's awards season again. The Advancing Healthcare Awards ceremony is in March, the BDA is working on our honours and awards, the CN awards are open and the Food & Drink Federation (FDF) are looking for nominations for the Registered Nutritionist / Dietitian of the Year Award.
Do you regularly see the glamorous awards dinner photos from winners on social media and wonder if it could be you or your project in the spotlight? Nominating yourself or colleagues for awards can be time-consuming. Applications are often lengthly, making the whole process seem daunting. But don't be put off - getting your work and your profession recognised is not only a motivational boost, it can also showcase your contribution to the organisation's wider work keeping dietitians top of mind.
Last year's winner of the Registered Nutritionist / Dietitian of the Year Award was Meg Longworth, now Director of Nutrition and Sustainability at Compass Group. Judges noted that as well as delivering her role, Meg had made a huge contribution to the health of young people, with programmes such as Nudge Nudge, sat on All Parliamentary Groups, made keynote speeches as well as writing a topical column in Educatering Magazine.
In my role at the BDA, I've not written submissions for several awards but also been a judge for several years on various external awards. After I helped judge last year's Registered Nutritionist / Dietitian of the Year Award for the FDF, several members asked if a dietitian had been successful – but none had applied! So this year I wanted to share some tips from me and other colleagues at the BDA, as well as last year's FDF winner.
Top 5 tips for successful submissions
1. Before you start, familiarise yourself with the criteria document and ask yourself these questions: Can you meet the criteria? Can you meet the deadline for submission? Who else, if anyone, will you need to support you with the submission? Read all the questions first and don't start answering them until you have reflected on every section.
Remember: it doesn't have to be perfect, it just has to be better than the others!
2. Be clear and concise, keeping sentences short. Imagine the judges extracting those key points onto a spreadsheet then completing the yes/no box to state whether the criteria have been met. Even the most compelling piece of work can't be shortlisted if the criteria aren't clearly met.
3. Don't make assumptions about that the judges will know about your project or organisation. Some organisers discourage the judges from googling to find out more about a piece of work so include everything they need to know. Do avoid technical terminology as the assessors may not be subject matter experts.
4. Be sure to share relevant examples to illustrate points in your submission. You need to be able create a narrative to back up statements that you make in the submission with evidence that really celebrates your work from either your own or other people's research.
5. Most submissions now use online forms. That means file attachments should be small file sizes if uploading electronically. Look at the 'save' options on the file to see how you can reduce the size. Use the same type face throughout and check for consistency when formatting text. Spell check the submission and get a lay reader to proof and review it to make sure it is easy to understand.
We asked last year's FDF Registered Nutritionist of the Year winner for her advice and she said "I was so delighted to be the first to win this award. I'd really urge dietitians and nutritionists working in industry to get the support of their leadership teams to submit for the 2020 award. It's a great way of shining the spotlight on our roles within businesses, demonstrating the positive impact our expertise has on human health as well as the wider business strategy".
The deadline for this year's FDF Registered Nutritionist of Dietitian of the Year is 28 February.
Author

External Relations and Development Officer, British Dietetic Association