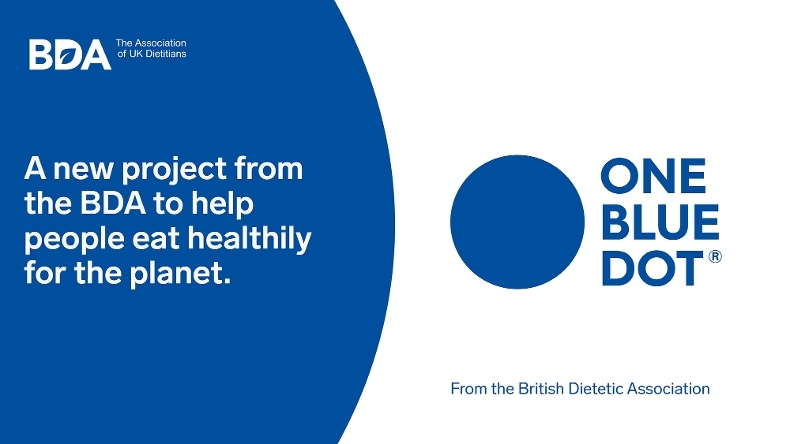 On the 20 of November 2018, many months of in-depth work on sustainable diets came to fruition with the launch of the BDA's One Blue Dot project, aiming to ensure that dietary guidance is synonymous with health and sustainable eating, for all groups and individuals.
Putting together the One Blue Dot programme
Following on from the learnings gathered during insight work conducted earlier in the year amongst the membership (reported on in the June issue of Dietetics Today), a working group of dietitians supported by Tom Embury and Jo Lewis from the BDA External Affairs team, have been collating and reviewing the latest evidence, on environmentally sustainable and healthy eating patterns, drilling down to micronutrient level. Significant analysis has been undertaken and the BDA believes that this work is ground-breaking internationally, in collating this data, making recommendations and creating various tools for the membership.
How was One Blue Dot born?
One Blue Dot represents the fact that planet Earth is our home and that it is the only one we have and, ultimately, taking care of it lies squarely with each of us. Yet we have become so out of touch in our relationship with the Earth. It is fully accepted that our eating habits are having an adverse impact on the environment – we are endangering the future of our planet with how we feed ourselves.
Taking into consideration farming, production, distribution, delivery through to waste, our current food system has a major impact on the planet:
Food production contributes 15-30% of total greenhouse gas (GHG) emissions in the UK and therefore contributes significantly to global warming (1 - see references below).
Is a leading cause of deforestation, biodiversity loss and soil and water pollution.2 Q Accounts for 70% of all human water use (2).
10 million tonnes of all food produced is spoiled or wasted in the UK every year with the majority (71%) occurring in the home (3). Some of this is avoidable and represents a waste of land, water and other inputs and produces 'unnecessary' GHG emissions (4).
Over-fishing and poor fishing practices have impacted on fishing stocks with 85% of fisheries now fully exploited (5) and/or over-fished, the marine vertebrae population has been halved (6) and the marine ecosystem has been damaged.
Agriculture and livestock farming are by far the biggest contributors to GHG emissions, deforestation, biodiversity loss, soil pollution as well as land and water use (7).
Supported by project partner, the science and nutrition team at Alpro, the results have been brought together into the new One Blue Dot reference guide and supporting toolkit, highlighting the urgency with which we need to change the way we eat not only for health but the survival of our planet. BDA Chair Caroline Bovey says "One Blue Dot helps dietitians act now to make the essential dietary changes needed to ensure the future security of the planet".
---
---
Indispensable reference guide and resources
The brand new reference guide, launched at Food Matters Live in London, is designed primarily for dietitians. But the BDA hopes that other health professionals and influencers – and really everyone involved in food provision will, in some way, find One Blue Dot a valuable and inspirational resource.
Polls show that where 50% of us are likely to consider dietary changes to reduce the impact on climate change, in reality, there are significant barriers to changing behaviour for the majority of people. One Blue Dot aims to tackle this problem. It provides both the latest evidence and a bank of practical resources, including, for example, menu swap suggestions of the nation's favourite meals.
The BDA environmentally sustainable diets nine point plan includes:
Reductions in red and processed meat, if eaten, to 70g per person per day (also recommended by the World Cancer Research Fund).
Prioritising plant proteins such as beans, nuts, soya and tofu.
Consuming fish from sustainable sources.
Moderating dairy consumption and using fortified alternatives where needed.
Focusing on wholegrain starchy foods.
Opting for seasonal, locally sourced vegetables/fruit. Avoiding air freighted, pre-packed and prepared vegetables/fruit.
Reducing overconsumption of high fat, sugar, salt foods.
Making tap water and unsweetened tea/coffee the choice for healthy hydration.
Reducing food waste, especially of perishable fruit and veg by choosing tinned/frozen alongside seasonal fresh produce. Each is covered in depth, from the point of view of both the effect on the planet and nutrition and they support the latest Eatwell Guide, which for the first time gave consideration to eating sustainably.
---
Dietitians can help lead the way
As working group member Ursula Arens brilliantly sums it up, "Eating healthy is for you; environmentally sustainable eating is for your children and their children."
And – as the guide itself says – dietitians are 'perfectly placed' to interpret the complex science and to communicate national and international guidance to help the public understand what they need to do to improve their own health and that of the planet to help future generations. The toolkit will be a 'live' document, with regular updates and extra information as the science develops.
One Blue Dot at Food Matters Live 2018
We chose to launch the toolkit to members at the Food Matters Live event as it offers a good platform to get immediate feedback from dietitians and nutrition experts. Over the three days, we shared the resources with event visitors and had some robust conversations about the science and our recommendations. The feedback so far underlines the value of the project to the profession and shows how timely its launch has been.
Working group member Dr Clare Pettinger joined plantbased food influencers Jack Monroe and the BOSH brothers in a keynote session where hundreds of attendees listened to an interesting panel about the health, affordability and skills needed to shift UK consumers towards making adaptions in their diet. BDA Public Affairs Officer Tom Embury also delivered a seminar session on the development of One Blue Dot to give attendees an opportunity to fully understand where the BDA sits in relation to this complex issue.
Your opinions matter
The BDA would love to hear your thoughts about the topic, the guide, the tools and any next steps you think the BDA should take. Please email Tom Embury t.embury@bda.uk.com with any thoughts. We would love to hear from you.