The Curriculum Framework 2020 provides existing and aspiring providers of dietetic education with guidance on the curriculum content and delivery of dietetic programmes, for use in programme planning and (re)validation, and forms the basis for the provision of pre-registration training education in dietetics.
It is expected that Higher Education Institutes and their practice learning partners will use this framework to develop their own specific learning outcomes for each level of the education programme and for all practice-based learning.

The Curriculum Framework is divided into three main domains; Dietetic Knowledge, Dietetic Skills and Dietetic Values and Behaviours, with each domain detailing the expectations of the learning to be acquired by the end of the education and training programme:
Dietetic Knowledge - provides a broad outline of the areas of basic science and social science considered essential to underpin dietetic practice.
Dietetic Skills - provides the knowledge base of nutrition and the dietetic skills essential to apply these in practice.
Value and Behaviours - describe the mindsets, attitudes or approaches required for competence across the profession.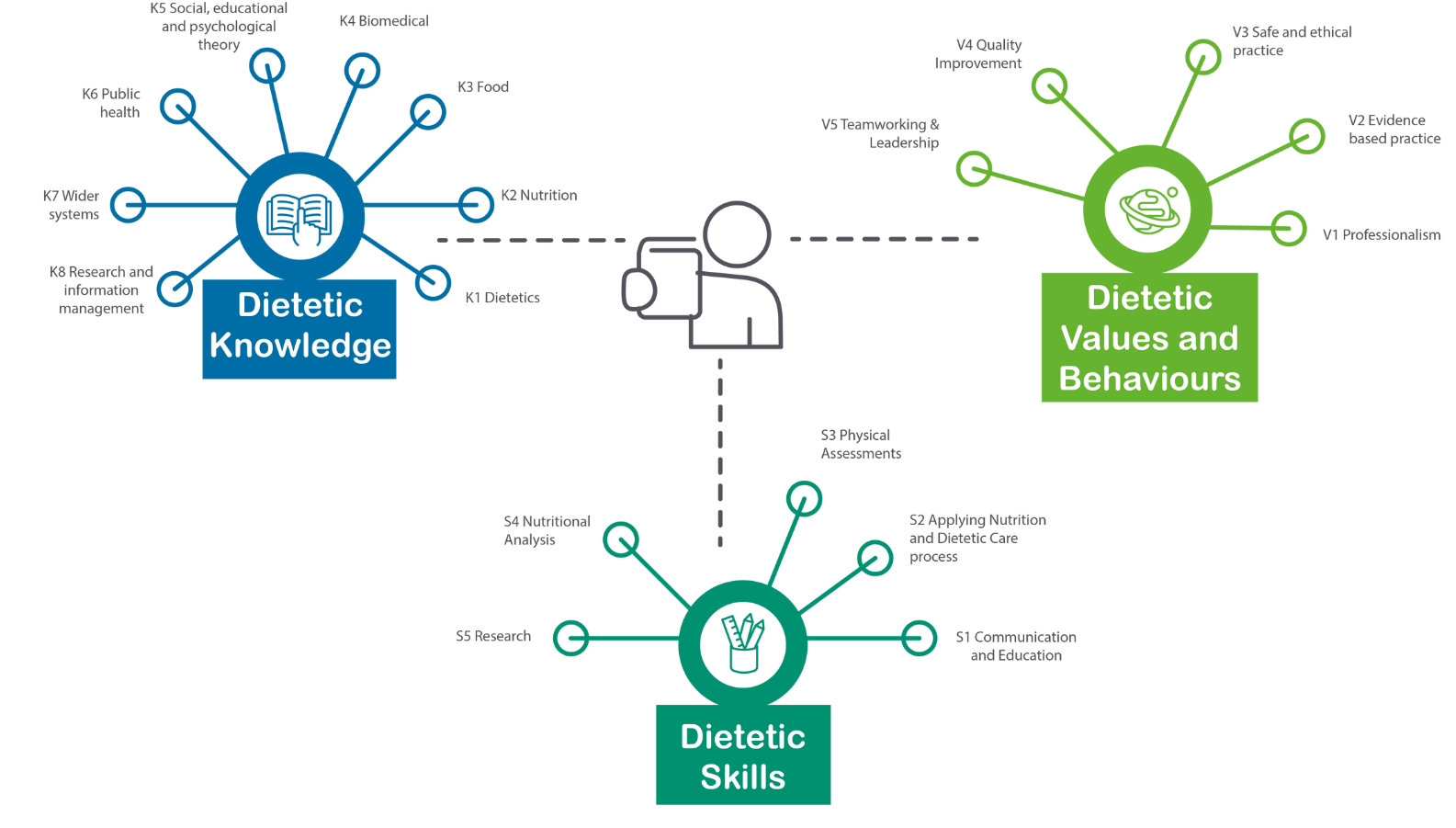 Ownership of the curriculum, quality assuring its implementation and the on-going quality of the provision of dietetic pre-registration education is fundamental to advancing the science and practice of dietetics. The BDA has a responsibility to monitor and recognise those programmes which meet the requirements of the framework.
BDA Accredited Course
The accreditation process ensures that at entry level, all dietitians have a profession approved skill-set and knowledge base, providing confidence in the quality of training. The flexibility of the framework allows each Higher Education Institution to demonstrate innovation in its delivery.
The BDA accreditation process enables engagement with Higher Education Institutes (HEIs) (universities) and to raise the profile of the profession. Through its Quality Standards Committee, the BDA has developed services which offer support to accredited HEIs and which are financed through the accreditation process.
The BDA provides:
support to course development teams by identifying a suitably experienced dietitian to act as a critical friend and advise on curriculum and course development;

annual update based upon intelligence data supplied by accredited HEIs in order to identify key trends and themes;

accreditation of pre-registration education programmes at initial approval and revalidation;

knowledge of if there are any issues which affect the quality of provision, obtain information and make recommendations for improvement; and support individuals who wish to raise concerns about the quality of provision;

maintenance of a list of those able to act in the capacity of accreditation visitor or critical friend. To maintain a current list of external examiners as well as details of BDA members who have expressed an interest in undertaking such a role.