In this chapter:
---
Food service dietitians drive improvement through food and drink services that are good quality, safe, nutritionally adequate, patient-focused and good value for money.
From the early days of the dietetic profession in the UK, dietitians were an integral part of the catering department where they co-ordinated special diets to ensure every patient received appropriate nutrition to meet their needs. By the 1960s, due to a shortage of dietitians to meet new demands with the advancement of medical nutrition therapy, clinical dietetics took the lead resulting in food service taking a back seat (1).
Until recently, the role of the food service dietitian has not been a standard role in all healthcare settings. However, over the last two decades there has been an increasing collaboration between catering and dietetics resulting in increased recognition for the role. In contrast, many other countries, such as the US, Canada and Australia provide a strong focus on food service management in the dietetic curriculum (2, 3, 4) and this is reflected in the robust dietetic-led management of food and drink services in these countries.
Food service dietitians drive improvement through food and drink services that are good quality, safe, nutritionally adequate, patient-focused and represent good value for money.
Providing the best possible food service for hospital patients is complex and can be a difficult and unrelenting task. It depends on a close and effective collaboration between a number of people who may have very different priorities (5). This challenge has always existed and was recorded back in the 1940's (6):
The Steward may regard economy as the measure of his efficiency; for the Matron difficulties of staffing may tend to be predominant; while a dietitian may concentrate rather on food values than on practical considerations.
King Edward's Hospital Fund for London Memorandum on Hospital Diet for consideration by hospitals (6)
Menus must have the capacity to meet all nutritional needs and must also be appealing. Patients may not eat food that is unfamiliar or that they do not like, especially when they are feeling unwell and have a poor appetite.
In healthcare settings, individuals are unable to make their usual food choices and it may be impractical and undesirable for them to obtain food elsewhere. They are deprived of their normal consumer power and are left dependent on hospital food and drink provision. Where possible, patients should be involved in menu design. In addition, menu planners must be able to step into the patients' shoes and use local knowledge and feedback to inform menu choices.
The food service dietitian's role
Stakeholder engagement
Food service dietitians have the skills to be involved at every level of food and drink provision; they have a unique overview of food and drink services and knowledge of how they impact nutritional care and clinical outcomes. They work directly with clinical and catering staff and several other stakeholders in the interest of patients.
Food service dietitians are well placed to identify the strengths and weaknesses in a food and drink provision chain and work to drive improvement. They may have specific responsibilities for many of the elements that support the chain, from developing policies and procedures to food service management activities including menu planning and day-to-day problem-solving.
A food service dietitian has a unique insight as the role is exposed to all areas of the chain, be it at ward, supplier, finance and governance levels. They are also an important link between the catering and clinical dietetic departments and serve to connect other stakeholders such as estates, procurement and other clinical therapy services. This can be seen in Figure 2.1.
Figure 2.1 Stakeholder engagement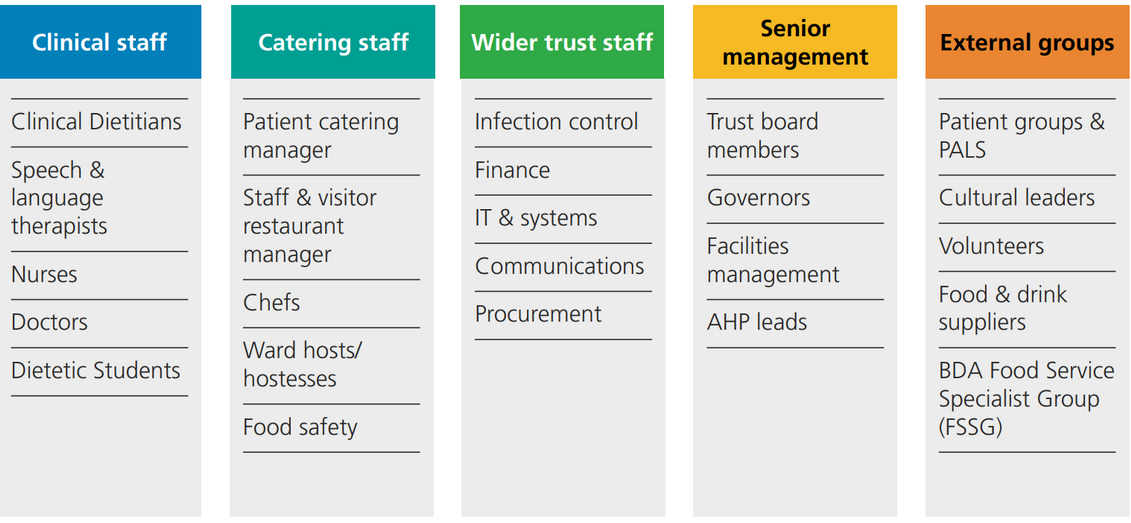 Responsibilities
According to The European Federation of the Associations of Dietitians (EFAD), the competencies needed in food service management cover a wide range of topics including culinary nutrition, dietetics, food safety, quality improvement, food science and the sociology of food and nutrition, as well as a respect for autonomy, ethical factors and sustainability in addition to leadership and financial accountability (7). This complex area of competence is equally relevant to UK food service dietitians as is the task of providing food and meals to vulnerable groups. These responsibilities can be seen in Figure 2.2.
Figure 2.2 Food service dietitian responsibilities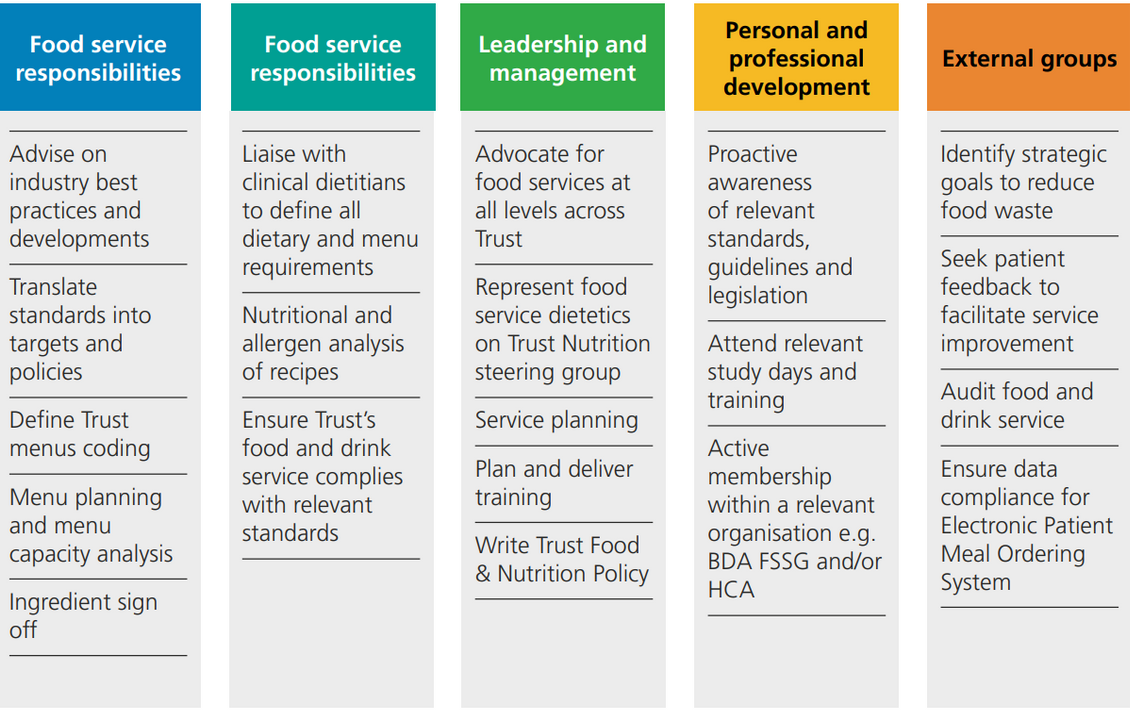 Training for clinical and food service staff
Organisations must be able to show they have an established training matrix and a learning and development programme for all staff involved in healthcare food and drink services (8).
Food service dietitians should help to ensure that all staff involved in the food chain have access to training so they can provide a patient-centred food and drink service. This enables the promotion of good nutritional care and encourages appropriate patient choices from a varied menu which contains dishes that meet a variety of dietary needs. This may involve food service dietitians developing and delivering training packages, planning training in collaboration with others and evaluating training to ensure it achieves objectives.
Training of food service staff is essential to ensure that the best possible service is provided and that the last part of the food journey from the kitchen to the patient is smooth so that all of the planning and good work does not fail (see Chapter 6 for information regarding service delivery - the 'Last Nine Yards'). Topics that should be included in training sessions can be seen in Table 2.1.
Table 2.1 Training for food service and clinical staff
| Training | Food Service Staff | Clinical Staff |
| --- | --- | --- |
| Basic nutrition awareness and the importance of good nutrition and hydration in the healing and recovery process | √ | √ |
| Malnutrition awareness, emphasising the importance of the meal service, snacks, special diets and hydration | √ | √ |
| Standard Menu - provision of a nutritionally balanced diet for patients who are nutritionally well in addition to a higher energy diet for those who are nutritionally vulnerable | √ | √ |
| Explanation of menu coding | √ | √ |
| Other Menus – special (therapeutic diets) and 24/7 out of hours meal process | √ | √ |
| Meeting religious, cultural, personal and lifestyle diets | √ | √ |
| Modified food textures (including the International Dysphagia Diet Standardisation Initiative (IDDSI) terminology) | √ | √ |
| Menu ordering for special (therapeutic) diets and the clinical role in this process | √ | √ |
| Allergy awareness | √ | √ |
| Basic food hygiene and food safety (Level 2) for staff serving food i.e. may include nursing/clinical staff out of hours | √ | √ |
| Training in the use of equipment trolleys/probing/timings | √ | |
| The timeliness of serving meals (to ensure the food is at an appropriate temperature) | √ | |
| Portion control, taking into consideration peoples' individual needs | √ | |
| Food presentation | √ | |
| Helping patients e.g., with difficult packaging and cutting up food | √ | √ |
| Communicating positive attitudes towards food and drinks | √ | √ |
| Assisted (Protected) Mealtimes championing mealtimes being primarily for food service not treatment (see Chapter 1) | √ | √ |
| Red Tray Policy - Identifying patients who require assistance with eating and drinking by using red or distinctive mats, trays, napkins and jugs for appropriate action to be taken. However, these aids should not be relied upon solely as some patients will still require observation and/or supervision at mealtimes. Food service staff may be required to act and signpost on what they observe | √ | √ |
| New menu introduction (after menu reviews) | √ | √ |
| Highlighting changes to existing menu | √ | |
| New patient meal ordering systems | √ | √ |
| Importance of the food record chart | | √ |
| Monitoring food waste | √ | √ |
Menu planning and nutritional standards
The National standards for healthcare food and drink (8) support food service dietitians to set and monitor nutrition standards for hospital menus. These nutrition standards are outlined in Chapter 10 and can be measured through a menu capacity analysis (see Chapter 11) and the qualitative menu assessment checklist (Appendix 1). The annual Patient-Led Assessments of the Care Environment (PLACE) (9) Organisational Questions on Food ask whether the hospital menu has been approved by a registered dietitian. Food service dietitians need to collaborate closely with catering managers to ensure incorporation of these standards into menu planning, as outlined in Chapter 9, in order to meet the needs of their patients.
Food service dietitians must bring to the process a thorough knowledge of:
The relevant evidence base and reports
Nutritional analysis and therapeutic diets
The population to be served, its complexities and diversity – including local cultural and religious needs
The practicalities of large-scale catering
Commercial and operational awareness.
Planning healthcare menus brings together many conflicting demands. Interdisciplinary skills in both motivation and negotiation may be needed by everyone involved.
Service provision
a. Patient information
Patients and staff need comprehensive and up to date information about the food and drink service in order to make the best use of it. The Food Information Regulations (10) state there is a legal obligation to make food information accessible to patients at ward level to assist them in making informed food and drink choices.
Food service dietitians should work with colleagues on the development of user-friendly and patient-centred information using a variety of media and formats. The Report of the Independent Review of NHS Hospital Food (11) recommends that every hospital in England should implement a digital meal ordering system.
Further information can be found in PLACE (9) and the National standards for healthcare food and drink (8).
b. Positive eating environment
The multidisciplinary team, including food service dietitians, should work with clinical teams, including ward managers, nurses and the catering team to achieve the best possible eating experience for patients.
c. Managing therapeutic diets
Food service dietitians must work closely with caterers, clinical dietitians, nurses and speech and language therapists to ensure that therapeutic diets (12):
Meet the requirements of clinical treatment
Meet appropriate nutritional standards
Suit the preferences of the patient
Are timely
Are appetising and served appealingly
Are safe
As part of a multidisciplinary team, food service dietitians should be actively involved in developing service specifications that ensure best practice in planning, ordering and delivery systems for therapeutic diets.
d. Food service dietitian's role in monitoring and audit
Food and drink services and nutritional care need to be performance managed to ensure that standards are being met and maintained. Dietitians should work with multidisciplinary monitoring teams to support the development of appropriate performance indicators and maintain formal structures for auditing them.
Work settings
Patient food service
Patient food service dietitian roles vary depending on the setting. For instance, these dietitians may be employed directly by an NHS Trust or indirectly by a facilities management company contracted to manage the NHS Trust catering service. Where food production is outsourced, food suppliers and manufacturers may also employ their own dietitians. See Chapter 6 and 7 for more information on food service systems and catering contracts. Private patients may also be included in the remit of the patient food service dietitian.
Staff and visitor food service
There is growing recognition of the importance of having a dietitian working to implement health and wellbeing standards for staff and visitor food services. As this is a large undertaking, this may be difficult to be covered by a patient food service dietitian role. This is because of the constantly evolving nature of the key legislation and guidelines regulating this area of public health. It is strongly recommended there is adequate food service dietetic resource available for the staff and visitor food and drink service that is appropriate for each NHS Trust, this is supported in The Report of the Independent Review of NHS Hospital Food (11).
In terms of the role, a food service dietitian involved in staff and visitor food service would:
Support the retail management and catering teams to understand the guidance in this area and the development of any implementation plans
Develop the food and catering elements of the health and wellbeing strategy and targets for staff and visitor restaurants and catering outlets

Support with menu and recipe development and nutritional analysis against any targets for suitable dishes

Support the production of healthy messaging that might be used for customers
Some organisations may also have a staff health and wellbeing programme offering dietetic interventions as part of the wider staff health and wellbeing strategy. This could be an exciting opportunity for dietitians to combine clinical and food service dietetics but would need to be strategically planned, funded and executed for it to be effective.
See Chapter 5 for more information on staff and visitor wellbeing.
Procurement
Food service dietitians may have the opportunity to work in procurement services for government, food manufacturers or NHS supply chain services. Responsibilities include:
Influencing procurement strategies to ensure that patient, staff and visitor food is:

Ethically and responsibly sourced and environmentally sustainable (see Chapter 4)
An optimal blend of cost and quality
Compliant with government food regulations and standards and adapts to changing legislation (see Chapter 3)
Meeting the needs of patients with complex and varied nutritional and dietary needs
Working in partnership with buying teams and stakeholders to ensure that healthcare food is the best blend of sustainability, quality and price for patients, staff and visitors
Working with chefs and cooks to ensure that developed recipes meet government standards
Supporting food service dietitians working with catering departments, by being the source of expertise and point of contact within procurement
Reviewing supplier ingredient specifications to ensure nutrition and allergens contained within food and drink products bought for use in patient, staff and visitor settings meet requirements e.g., vending machines, emergency menus and product substitutions.
Working in partnership
Where food production or catering services are outsourced, there will be more than one provider in the food service chain. All stakeholders need to develop and sustain good working relationships to negotiate change or work within constraints and to promote continuing improvement in a manageable and realistic way.
Food service dietitians employed by catering contractors and food suppliers should work together with food service dietitians in health and care settings in an atmosphere of mutual trust and respect. To manage the interface, both need an awareness of the range and diversity of the populations served. They also must endeavour to meet the needs and preferences of all groups, by:
Assisting in the development of submission bids as part of catering tenders to ensure that nutrition and dietetic needs are clarified and addressed (see Chapter 7)
Providing information on food, recipe and menu capacity analysis (see Chapter 8 and 11) as part of the submission bid and contract management and ensuring the needs of patients requiring special diets are met
Collaborating on recipe and dish development to meet the needs of clinical dietetics, hospital nutrition and public health, as appropriate
Developing evaluated training or resources for food and drink service staff
Providing information on relevant legislation.
The Health and Care Professions Council (HCPC)
The Health and Care Professions Council (HCPC) Standards of Proficiency for Dietitians (13) and standards of conduct, performance and ethics (14) provides expectations of the ways in which dietitians work in relation to the provision of food and drink services.
A key HCPC requirement is that healthcare professionals must practice Continuing Professional Development (CPD) to develop the skills required for their roles. Food service dietitians need to possess certain skills to carry out their responsibilities. These include skills in change management, leadership, mediation, quality improvement, conflict resolution and budgeting. Training on these can be accessed via the NHS Elect or BDA websites and Trust transformation teams. An example of other useful training and courses can be seen in table 2.2.
Table 2.2: Other useful training and courses for food service dietitians
| Training | Description |
| --- | --- |
| BDA FSSG Course | Advancing Practice in Food Service Dietetics (15) |
| Recipe analysis | Various CPD webinars and courses available. |
| Food Safety Level 2-4 | Ensures a sound knowledge of food safety and the ability to identify risks in the food service chain which supports with dietetic policy making. |
| Allergen Management Level 3 | Ensures a knowledge of food allergens, aimed at individuals responsible for the purchase, delivery, production and serving of food in the catering industry. |
| HACCP Level 3 | Provides a thorough understanding of the HACCP principles. |
| Developing a Feedback Culture | Provides an understanding of an environment where individuals feel free, safe and encouraged to share and receive feedback. Communication skills are outlined that support giving, receiving and asking for effective feedback to support the development of insights into action. |
| Quality Improvement (QI) | Outlines the systematic approach to improving the way care and services are delivered to patients (Quality Improvement). Courses range from beginners to advanced practitioner. Apprenticeships in QI are also available. NHS Elect provides several webinars around quality improvement and project management. |
| Project Management | Outlines the systems and processes for leading the work of a team project. Many different options available. |
| Commercial Awareness/Finance | Analysing how businesses work and your place in adding value. Many different options available. |
| Education & Training Level 3 | For those who deliver education and training as part of their role but not their primary role. |
| Leadership and Management Training | Development of people management and leadership skills NHS Leadership Academy. |
| PLACE Assessors | Food service dietitians can also gain experience as PLACE assessors at another Trust to help them better understand the process and requirements of the PLACE assessment or ask to shadow another food service dietitian as part of general learning. |
| NHS Trust Mandatory Courses | Where relevant and available. |
Professional memberships
There are two main professional associations which support food service dietitians and help contribute to achieving CPD commitments:
BDA Food Services Specialist Group (FSSG)
The BDA FSSG, formerly known as Food Counts!, was established in 2002 by a small number of dietitians working in catering in response to the need for collaboration with other dietitians working in this field to promote and share best practice. The group was born out of necessity and due to the dedication and perseverance of its members has evolved into the proactive highly functioning group that it is today. All dietitians interested, working in or new to food service are highly encouraged to join FSSG. More information can be found on the BDA webpage: Food Services Specialist Group | British Dietetic Association (BDA)
Hospital Caterers Association (HCA)
Food service dietitians are encouraged to join the HCA to support their CPD as well as raise the profile of dietitians. More information can be found on the HCA webpage: Hospital Caterers Association.
Workforce planning
The Report of the Independent Review of NHS Hospital Food (11) recommends that every hospital should employ a named food service dietitian, as a minimum at Band 7 as this is a highly specialist role.
A named food service dietitian is recommended for every Trust to act as the main interface between catering and clinical services. This should be a senior post and funded as such, so that the dietitian has sufficient authority and experience to lead developments and initiate resolution of challenges.
(Chapter 2. Food as medicine, Report of the Independent Review of NHS Hospital Food (11))
The unique set of skills required for the food service dietitian role is outlined in the sample job description and person specification (See Appendix 2 and 3). Settings without a food service dietitian may find it useful to refer to the business case guidance provided to build a case to obtain funding for this position (See Appendix 4).
It is important to recognise that a pathway should exist for less experienced dietitians and students who want to work in this field to gain experience. We would recommend creating the following opportunities within clinical dietetic departments:
All student dietitians on placement should spend a reasonable amount of time with the food service dietitian to get an insight into the role (and demonstrate the achievement of basic competencies) and be given a small project/s with which to engage with
Having a catering link dietitian in the clinical team who liaises with and supports the food service dietitian on behalf of the clinical team and can potentially cover basic tasks while the food service dietitian is on leave
Creating a Band 5 or 6 post where possible and where demand exists to support the senior role
Encourage interested dietitians to undertake training courses (see Table 2.2) and attend study days when available.
Click here to return to the top of the page.
References
The British Dietetic Association. A History of the British Dietetic Association. https://www.bda.uk.com/uploads/assets/0ba09393-0065-4eaf-9f8e98e5631c9314/BDA-History-part-1.pdf [Accessed 4th April 2023]
ACEND Accreditation Standards for Nutrition and Dietetics. Didactic Programs (DPD). https://www.eatrightpro.org/acend [Accessed 4th April 2023]
Dietitians of Canada. What kind of training and education does a dietitian have in Canada? https://www.unlockfood.ca/en/Articles/About-Dietitians/What-kind-of-training-and-education-does-a-dietiti.aspx [Accessed 4th April 2023]
Dietitians Australia. National Competency Standards for Dietitians in Australia. https://dietitiansaustralia.org.au/sites/default/files/2022-03/DA_NationalCompetencyStandards_2021%20%28PDF%2C%20236KB%29.pdf [Accessed 4th April 2023]
Donelan A. Dietitians and Caterers: a critical but uncertain relationship. MSc Thesis. Middlesex University; 1999.
King Edward's Hospital Fund for London. Memorandum on Hospital Diet for consideration by hospitals. https://archive.kingsfund.org.uk/concern/published_works/000003254#?cv=0&xywh=-1626,120,4698,1203 [Accessed 4th April 2023]
The European Federation of the Associations of Dietitians (EFAD). ESDN: Food Service. https://www.efad.org/our-networks/esdn-food-service/ [Accessed 31st May 2022]
NHS England. National standards for healthcare food and drink. https://www.england.nhs.uk/publication/national-standards-for-healthcare-food-and-drink/ [Accessed 4th April 2023]
NHS Digital. Patient-Led Assessments of the Care Environment (PLACE). https://digital.nhs.uk/data-and-information/areas-of-interest/estates-and-facilities/patient-led-assessments-of-the-care-environment-place [Accessed 4th April 2023]
European Parliament and of the Council. Food Information Regulations. https://www.legislation.gov.uk/eur/2011/1169/contents. [Accessed 4th April 2023]
Department of Health and Social Care. Report of the Independent Review of NHS Hospital Food. https://www.gov.uk/government/publications/independent-review-of-nhs-hospital-food [Accessed 4th April 2023]
Care Quality Commission. Provider compliance assessment tool – Outcome 5 (Regulation 14): Meeting nutritional and hydration needs. https://www.cqc.org.uk/guidance-providers/regulations-enforcement/regulation-14-meeting-nutritional-hydration-needs [Accessed 4th April 2023]
Health & Care Professions Council. The Standards of Proficiency for Dietitians. https://www.hcpc-uk.org/standards/standards-of-proficiency/dietitians/ [Accessed 14th Feb 2023]
Health & Care Professions Council. Standards of conduct, performance and ethics https://www.hcpc-uk.org/standards/standards-of-conduct-performance-and-ethics/ [Accessed 14th Feb 2023]
BDA. Advancing Practice in Food Service Dietetics (2 Day Course) https://www.bda.uk.com/practice-and-education/education/cpd/bda-classroom-courses/advancing-practice-in-food-service-dietetics.html [Accessed 14th Feb 2023]
Further Reading
British Dietetic Association. How to analyse and influence stakeholders. https://www.bda.uk.com/resource/how-to-analyse-and-influence-stakeholders.html [Accessed 11th April 2023]
The King's Fund. A spoonful of sugar: Hospital food and medicine. https://features.kingsfund.org.uk/2021/04/hospital-food-medicine/?_ga=2.66173997.2031438469.1618038808-208912833.1589125090#group-section-Food-and-Culture-5pSo8oXqB2 [Accessed 11th April 2023]