03 Mar 2022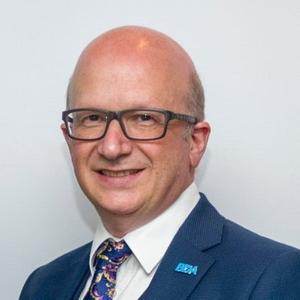 After over 19 years as Chief Executive of the British Dietetic Association (BDA), Andy Burman has decided to retire from the role to focus on his external Board and consultancy work. The BDA is currently recruiting to the role.
During Andy Burman's time at the BDA, he has made a significant contribution to the dietetic profession and to the BDA as a professional body and Trade Union.
Under Andy's leadership, dietitians have become firmly established as a key part of the allied health professional workforce. Andy has championed innovation in the profession such as First Contact Dietitians in primary care and dietetic apprenticeships, which have opened up exciting new career paths within dietetics.
The BDA itself has evolved into a thriving, modern professional body and Trade Union with a bold strategy for the future. Its ten thousand members include new categories such as dietetic support workers, students, qualified nutritionists and people with an occupational interest in diet and nutrition.
BDA Chair, Caroline Bovey says: "This is an important milestone for the BDA and I'd like to thank Andy for the incredible contribution he has made to the BDA and the wider profession over the last 19 years. I'm sure that, like myself and the rest of the Board of Directors, our members and colleagues across the sector will miss Andy's insight, innovation and passion for the dietetic profession.
"It is also a very exciting opportunity for the BDA as we prepare to welcome a new CEO to lead the us into the future. I look forward to sharing more news over the coming months."
Andy Burman says: "I am honoured to have worked with so many dedicated and passionate individuals within the BDA, its membership and beyond.
"Together, we have achieved amazing things and I will be proud to leave us in a much better place than when I joined. We continue to have a growing impact as an organisation and this is down to everything our staff, our volunteers, and members have achieved."
Andy will continue in post until the new CEO is comfortably in position later this year, and there will be a clear transition plan to ensure maximum continuity for staff, members and volunteers.
The BDA's strategic priorities are to build a sustainable workforce; grow our membership community; increase our voice and visibility; and harness innovation and development. These priorities remain at the heart of our work with our partners, stakeholders, volunteers and members as we enter this exciting new phase for the BDA.
BDA members can find out more here.
For more information about the role and to apply, click here. The deadline for applications is 14 March 2022.
If you are a member, volunteer, partner or stakeholder of the BDA, and you'd like to discuss this further, please contact Andy Burman, CEO a.burman@bda.uk.com or Caroline Bovey, Chair chair@bda.uk.com
If you are a journalist looking for a quote or comment, please contact our press office: pr@bda.uk.com