We asked Penny Doyle, our newly appointed Bwrdd Cymru Chair a few questions to find out about her and why she's perfect to represent Welsh members.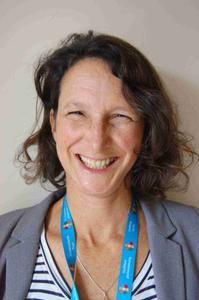 Firstly, can we have a short bio from you and your career to date?
Bora Da! I've been Professional Head of Dietetics at the Powys Teaching Health Board, in mid Wales for 3 years and remain focussed on the challenge of service transformation within the wider AHP collaborative.
I moved from Hertfordshire where I was a band 7 dietitian, as part of Stoke Mandeville Hospital REACT Team, helping triage acute admissions. Previously I was a B5 and B6 community dietitian and I have also worked as a freelance dietitian, a health cookery author and I've even been an RAF Logistics Officer before my two daughters.
I completed a Post Graduate Certificate in Clinical Innovation, and Modules 1 and 2 of the BDA's Paediatric PG course, which I loved.
Outside of work I enjoy the great outdoors in Wales with my husband and pets, and playing my fiddle in a Ceilidh band!
What experience have you had with BDA volunteering roles in the past?
I was on the Freelance Specialist Group Committee for several years and was involved in developing the group's strategy including website development and support to prospective dietitians.
I did BDA media training, which resulted in some radio work and local media coverage to share my experiences as a health cookbook author. Titles include Quinoa Cookbook, Low FODMAP Diet, Easy Fasting Diet and Top 100 Omega Recipes.
I have been lucky to attend a couple of BDA conferences and London Branch meetings as able and I'm keen to see more local support to dietitians through branches in Wales.
What made you go for the role in the first place?
With 3 years' experience working in Wales, and my youngest daughter off to study, I saw a challenge to go for the post of Bwrdd Cymru Chair and help raise the profile of the BDA in Wales by working alongside the England, Northern Ireland and Scotland Country Boards.
It is great to see revised energy with Liz as CEO and use her skills and experiences to work alongside key stakeholders including HEIW, Public Health Wales, professional and AHP bodies and Welsh Senedd.
My professional role gives me an ideal platform to grow my contacts and hopefully give back to our dynamic professional body. I continue to highly value the BDA in supporting our profession including workforce, PEN, trade union representation, Dietetics Today and networking opportunities.
What would you like to see happen in your term of office, are there some key things you're excited to work on?
I will bring leadership and enthusiasm to Bwrdd Cymru and grow a skilled team to undertake a revised workplan. An essential focus will be the drive to recruit and retain dietitians in Wales and develop a diverse workforce through new opportunities, including degree apprenticeships, First Contact Practitioners and the Future Leaders Programme.
We must continue to develop student training, opportunities for dietetic assistants and support workers and reflect on how best to use dietitians' unique skills to improve health.
I am also excited for the opportunity to influence Welsh Senedd legislation that might support food security, Welsh farming and promote diets that help our planet. I would also like to overcome barriers to improve the health of Wales, particularly the lack of ongoing funding for evidence-based obesity and diabetes programmes that makes service continuity so difficult. I also plan to give support and ongoing impetus to Welsh public health opportunities, such as free school meals and early years nutrition that help tackle health inequalities.
Is there anything else you'd like us to know?
I am ambitious and look forward to working with a revised and enthusiastic committee to take these opportunities forward. I am honoured too to have been selected and whilst not Welsh, I will do my best to uphold Welsh traditions and standards. Diolch!