The Nutrition and Hydration Digest 3rd Edition IS COMING...
The FSSG put together a working group in February 2021 for the 3rd edition of the Digest which is due to launch in November 2022.
You can view the slides from the consultation event held in July 2021 here:

The Nutrition & Hydration Digest 3rd Edition Consultation Event July 2021 Slides
or read the summaries on our announcements page.
Share your views by contributing to the discussion on our discussion forum.
The Nutrition and Hydration Digest: Improving Outcomes through Food and Beverage Services 2nd Edition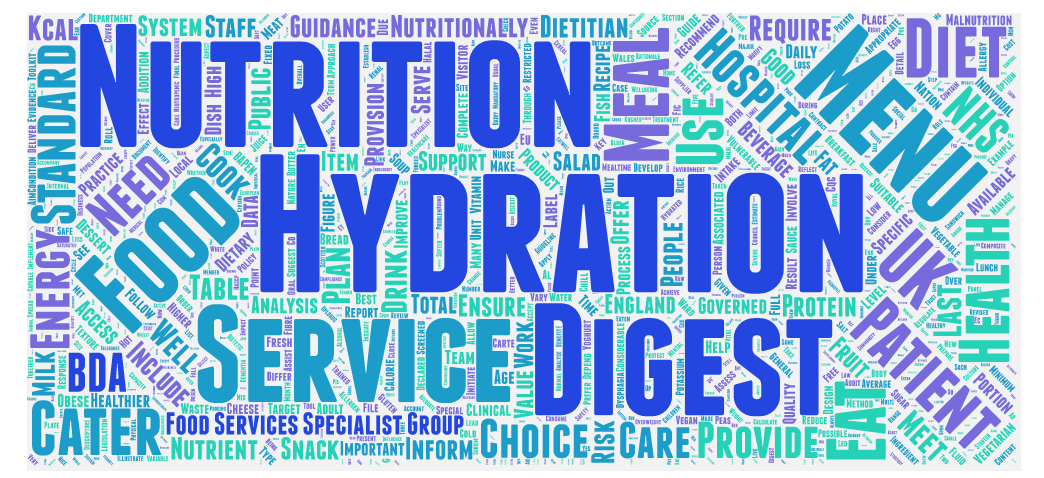 The second edition of the Nutrition and Hydration Digest is a significantly revised and updated document and builds on the success of the first digest document. It will replace it as one of the five key documents forming national hospital food standards in England, with impact on standards across the UK.
Significant changes or updates from the previous edition include:
Bringing the references and information up to date including information about the Hospital Food standards and as part of the Power of Three.
A new chapter about Health and Wellbeing for staff and visitors in the NHS due to the new requirements and standards in this area.
More detailed and new information related to special diets, including extended information about diets for cultural and religious reasons, and new information about specialist diets including Low FODMAP. This chapter has also been restructured to a template format to make the information easier to read.
Reordering and streamlining some of the chapters to give the document a logical flow and reduce repetition and;
A professional design and format to make the document easy to both read and navigate. It can be used as an online document and/or be printed and held locally.
Update 15 July 2019 - The Digest second edition has received minor updates, including on IDDSI and neutropenic diets
Read the full version of the The Nutrition and Hydration Digest - Improving Outcomes Through Food and Beverage Services, Second Edition (2017).
You can also download the presentation slides from the launch event held on 1 November 2017.
This new edition is the product of several months of hard work, and has involved input from many BDA members, other BDA specialist groups and external stakeholders including the HCA. The authors are grateful for all their input.
Endorsements
"NHS England welcomes the refresh of 'The Nutrition and Hydration Digest: Improving Outcomes through Food and Beverage Services' which is better known as 'The Digest'. Regardless of the care setting, nutrition and hydration are the most fundamental and basic of all our needs; we are beholden to get this right for the people it matters most to. Our hope is that this resource continues to provide the needed spotlight on nutrition and hydration in a way that equips practitioners to consistently deliver high quality nutritional care, day in and day out."
- Jane Cummings, Chief Nursing Officer
and Neil Churchill, Director for Participation and Experience
NHS England
"Food and drink provided for patients in care settings is an essential element of care, and the benefits of improving nutritional care and providing adequate hydration are considerable. Patients tell us that they value food that tastes good and is served at the right temperature and having choice in the food they are offered. We welcome this latest edition of the Digest, and are hopeful that it will help to ensure all patients get food and hydration to meet their needs."
- The Patients Association
"Nutrition and hydration are the foundations of good health and wellbeing. Everyone that works within health and social care services must be mindful of both, whilst also meeting the individual needs and preferences of patients and residents. The National Association of Care Catering is dedicated to raising awareness of the importance of good nutrition and hydration in care environments and supporting care caterers with information and guidance to ensure compliance with legislation, regulations and best practice. We therefore welcome resources, like the Nutrition and Hydration Digest, that also support social care providers in this area."
- Neel Radia, National Chair, the National Association of Care Catering
"The Parenteral and Enteral Nutrition Group (PENG) of the BDA are delighted to support the publication of the revised Nutrition and Hydration Digest. PENG strives to support Dietitians in the delivery of excellence in nutritional care through appropriate oral, enteral and parenteral nutrition. Within a care setting the provision of appropriate food and fluid is at the heart of this. Dietitians are uniquely placed to be involved in each stage of food and fluid provision within care environments and this publication will assist in the effective delivery of nutritional care. The Digest is therefore a key document for dietitians which focuses on good practice in the provision of food and fluid within a care environment. In view of this it is relevant not just for dietitians but also as a reference point for all members of the healthcare team who have a role in food and fluid provision. The hard work which has gone into the successful revision of this document should be commended."
- Jacklyn Jones PhD, RD, FHEA
Clinical Lead for Research and Audit, Parenteral and Enteral Nutrition Group
"Eating and drinking is a basic human need and getting it right, ensuring we have the correct nutrients in our diet, is pivotal to our health, wellbeing and happiness. Without proper nutrition and hydration, we cannot survive. The human body from inception to end of life needs a balanced diet to grow and build, repair and heal, reproduce successfully, repel illness and infections, and avoid weight-related health problems.

"As a clinician, a speech and language therapist, I have always known the vital contribution of food and drink in the care of individuals, whether that be in their development, recovery, rehabilitation or/and wellbeing, and been mindful of ensuring delivery of this in my practice. However, when I had a recent hospital stay the stark reality of the importance of this hit home. During my stay the food was delicious, well balanced and well presented. The people involved in delivering these food and beverage services whilst I was in hospital did a good job. I don't underestimate how highly complex the delivery of such was and is.

"The Nutrition and Hydration Digest is a comprehensive resource which supports the essential delivery of such services, vital for people like me and many, many others who need to receive a basic need for health, wellbeing and happiness."
- Dr Joanne Fillingham
Clinical Director, Allied Health Professions
and Deputy Chief Allied Health Professions Officer, NHS Improvement
"The BDA Digest is an extremely valuable piece of work, helping to put best-in-class nutritional care front and centre. The HCA is delighted to have supported the BDA Foodservice Group on this project and help take us all one step further forward in bringing healthcare catering closer with clinical care."
- Phil Shelley, Immediate Past Chair, Hospital Caterers Association