Everything you need to know about pay for NHS dietitians for 2022-23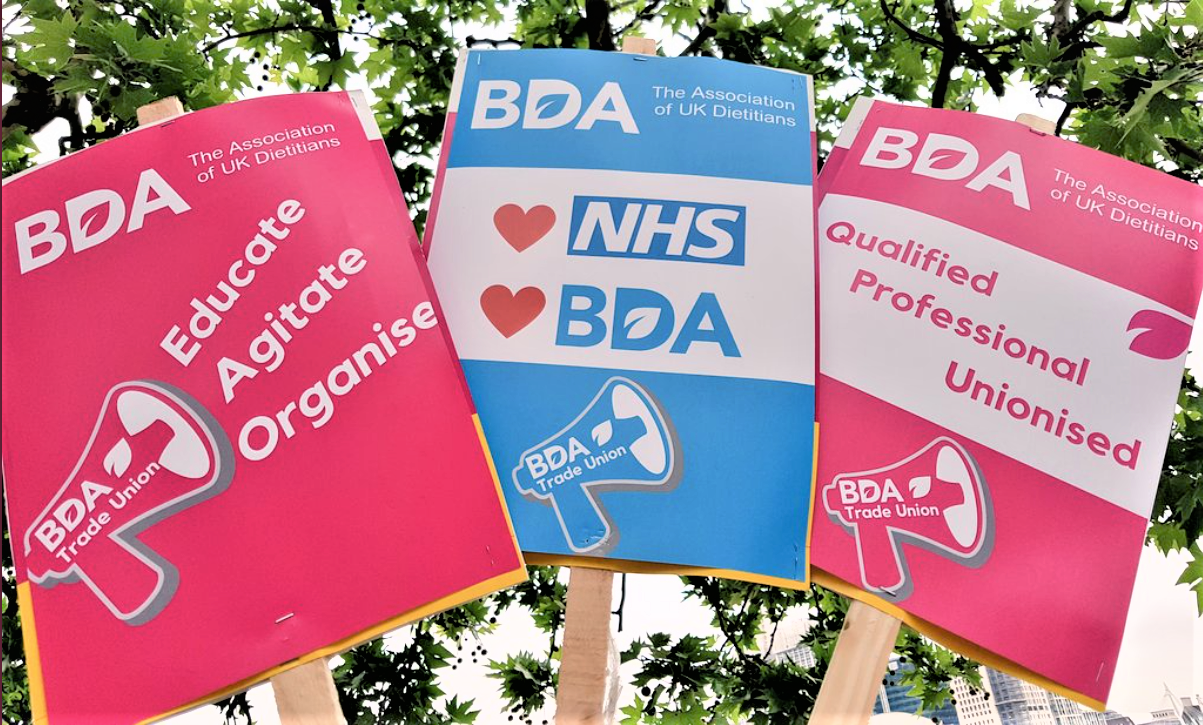 Current Industrial Action in England
The BDA joined other health unions in talks with the Government and a new pay offer has been given. We will be consulting members on the new offer and have therefore suspended the release date of any strike action to await the outcome.
If you have any questions regarding this, please email: ballot@bda.uk.com
With inflation teetering double figures and people facing a very real crisis in terms of living costs, the NHS workforce demands a fair pay award.
Dietitians and dietetic support workers in the NHS, in all four nations deserve to be paid properly, not only for the critical work they do but also for their dedication of service, on the back of some of the most difficult years in the NHS' history.
Whilst a resolution has been agreed for dietitians in Scotland and Wales for 2023, the BDA Trade Union continues to fight for your cause on fair pay in England. We will also fight for dietitians in Northern Ireland, once we have a Government to raise a dispute with.
Taking industrial action is not a decision we take lightly or easily and is always a last resort and therefore it's only ever done in full consultation with our members.
Balloting has now closed for members in England. Unfortunately, we only balloted a limited number of NHS Trusts. We were only confident in the data for 65 Trusts across 218 workplaces, so we had to make the difficult decision to run with those, in order to avoid potential legal challenge. Members can view the BDA Activate Industrial Action Special for further information on this.
England
Current situation:
The BDA has been in intensive talks with the Government, alongside other health unions and employers and has a new pay offer to put to members. In the coming days members will have the chance to look at the full detail of what's on offer and decide whether it's enough to end the dispute. Read our press release here.
Please note the BDA still has a mandate to strike in 43 NHS Trusts, which lasts six months.
What our members need to do:
More details will be shared soon.
If you have any queries please contact our BDA Organising Officer, David Hamblin at d.hamblin@bda.uk.com.
Wales
Current situation:
As of February 2023, a new pay offer was received from the Welsh Government, which we consulted members on. Members decided to accept the offer. A full run down of the offer is available here.
Current action:
No current action for members in Wales.
Scotland
Current situation:
Following consultation with members, a pay offer from the Government in Scotland has been accepted for 22-23. We're told the pay uplift will be paid as soon as possible, including any backpay due.
Find out more here.
Results on the member consultation for the coming years' (2023-24) pay claim are currently being verified and will be shared shortly.
Current action:
No current action for members in Scotland but we'll keep you posted on the results of the recent consultation.
If you have any concerns or issues, please get in touch with your local BDA Trade Union Rep in your workplace.
Northern Ireland
Current situation:
Unfortunately, we don't currently have a legal dispute in Northern Ireland as we don't have anyone to raise the dispute with. Please be assured that there is work going on behind the scenes by trade unions, to see if the very fact there isn't anyone to dispute with, is a reason to raise a dispute. We'll keep you posted as soon as there is any movement on this. But in the meantime, please raise any concerns with your BDA TU Rep in your workplace and keep your MY BDA personal contact details up to date so we have your details for any future ballots.
Are your colleagues BDA members?
Being a part of the BDA community means we fully represent you with bespoke and expert trade union advice, support and representation, which is especially important in the current climate as we fight for fair pay in the NHS for the dietetic profession. Some of your colleagues, whether they are dietitians or dietetic support workers may also wish to have their say and for their voices to be heard, but they may not be a BDA member. Please do encourage them to join the BDA and we will ensure they are represented in these crucial consultations and ballots.
Join the BDA here: https://www.bda.uk.com/membership/join-us.html