17 Nov 2022

The Advancing Healthcare Awards recognise and celebrate the work of Allied Health Professionals, Healthcare Scientists and those who work alongside them in support roles, leading innovative healthcare practice across the UK.
This year, we're thrilled to be able to share that three of our Welsh members - Judyth Jenkins, Orla Adams and Lucy Marland - have won awards.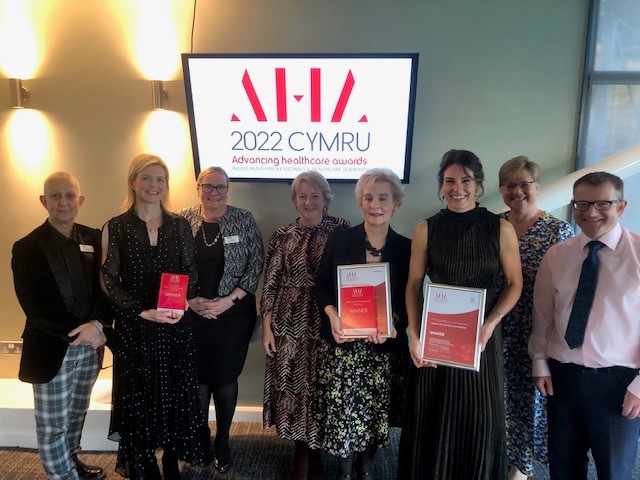 Allied Health Professional of the Year- Judyth Jenkins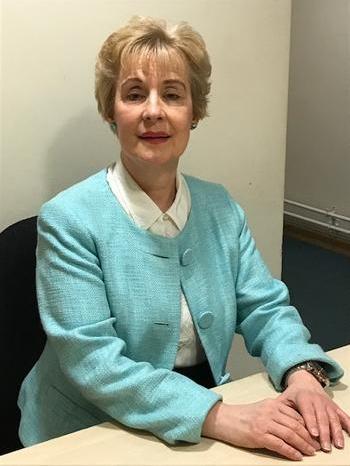 Judyth, previous Head of Service at Cardiff Royal Infirmary and the University Hospital of Wales, has won the Allied Health Professional of the Year. She said: "It is great honour to be nominated by colleagues for the Allied Health Professional of the Year 2022, part of the Advancing Healthcare Awards Wales.
"When you lead a team, service developments, service innovation, service accolades and awards are achieved as a direct result of your teams input and commitment to your shared vision for the service.
"My vision for the dietetic service has always been to have passion and commitment to develop and advance dietetic practice, ensure service users are at the heart of the developments, demonstrate the value of the profession across all care settings and to validate the quality of our work through publications, service evaluations, research and securing national and international awards.
"The dietetic team at Cardiff and Vale University Health Board are an enthusiastic, hard-working team and their commitment to the vision is first class.
"The Health Board Management Team are supportive of the dietetic work and service outputs in improving the health and well-being of both the local and tertiary population we serve."
Award for Improving Public Health Outcomes - Orla Adams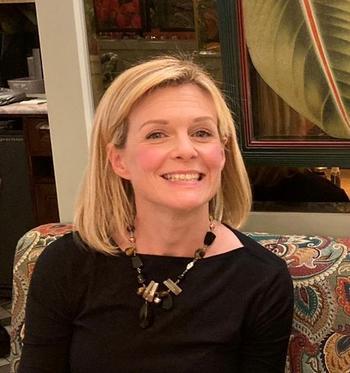 Orla, a Dietitian with a specialism in weight management, has won an Award for Improving Public Health Outcomes.
Orla's innovative project focuses on both minimising weight gain in pregnancy for women with a BMI > 40 kg/m2 and increasing women's engagement in the weight management pathway post-partum, thereby reducing risks to both mother and baby.
She said: "It is an honour to have won the award in improving public health and to have our work recognised. I have been practising as a Dietitian since 1998 and have worked in Cardiff and Vale UHB for 21 years.
"My passion is supporting people living with obesity to feel confident about managing their weight. I love working alongside the midwives in the healthy pregnancy clinic and engaging pregnant women in helpful conversations about weight and nutrition in pregnancy and beyond.
"I am also a member of the Motivational Interviewing Network of Trainers (MINT) and I bring motivational interviewing to all conversations, as well as helping colleagues to develop their skills in this approach. My hope is that practitioners feel confident about approaching conversations about weight in a non-judgemental, compassionate and helpful way."
Award for New Ways of Working - Lucy Marland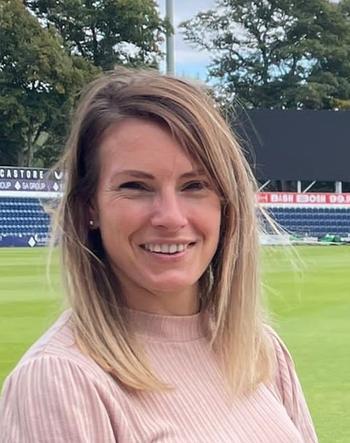 Lucy is a Dietitian and sports nutritionist. She has won an award as part of a group award for new ways of working. She said: "I am the Highly Specialised Care Home Lead for Cwm Taf Morgannwg Health Board.
"As part of my role I work with care facilities across the health board, building relationships and streamlining the service we provide in care homes post COVID-19, whilst providing care and health board staff with ongoing training around malnutrition awareness, screening and prevention.
"My role within the Integrated Care Home project, which has been shortlisted for an Advancing Healthcare Award, is to be part of the multidisciplinary team which also includes; Sheiladen Aquino, Clinical Lead (Speech & Language Therapist), Amber McCollum (Specialist Speech and Language Therapist) and Thomas Sauter, (Clinical Lead Pharmacist). We collectively provide joint assessments to care home residents to assess, advise and review their nutrition, swallow and pharmaceutical needs in one appointment.
"So far, we have found that this has reduced waiting times by up to 70%, by having a single point of access for all three disciplines. The process has enabled us to involve the patient in virtual consultations to assess, plan and implement integrated therapy care plans.
"The care home staff feedback suggests this process has improved staff wellbeing, and has increased confidence around malnutrition awareness, identification and screening, including safety around dysphagia and medicines management.
"Our vision is to scale this integrated-therapies approach to working across the health board, with the ambition of a national implementation in future, sharing the focus of helping care home residents live their best life possible.
"We are delighted to have won the Award for an Advancing Healthcare Award and look forward to hearing about all the amazing projects nominated this year."
Congratulations to Judyth, Orla and Lucy for winning these amazing awards.
If you or any of your dietetic colleagues have been shortlisted for or have won awards, please let us know. We want to celebrate all your achievements with our other members and encourage celebration of achievements in the dietetic industry.
Don't forget if you are based in England, you can still nominate yourself for an Advancing Healthcare Award too.