19 Jan 2022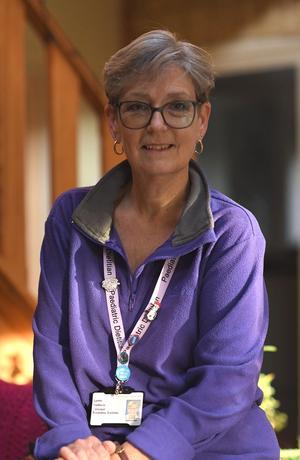 Dietitian and BDA member Lynne Radbone has been awarded an MBE in the 2022 New Year Honours List for her work in neonatal critical care.
Lynne, whose career in paediatric dietetics has spanned more than three decades, was nominated for work that included the standardisation of enteral and parenteral nutrition practices across all the neonatal units within the East of England.
Premature babies that have to be transferred across the region now receive the same enteral feeding and parental nutrition programme at any of the 16 units within the Eastern region.
Lynne said: "It's fairly innovative – at the time it was not happening anywhere else and has since been used as a model for standardising practice in a number of other areas of the country."
Lynne has worked as a Principal Paediatric Dietitian at Cambridge University Hospitals NHS Foundation Trust for 33 years and is now moving into a new role as Lead Neonatal Dietitian for the East of England Neonatal Operational Network.
She began her dietetics career in 1985 at Wycombe General Hospital and moved to Addenbrooke's Hospital in Cambridge in 1988 where she has remained ever since, working in a team that has grown to consist of more than 90 dietitians, including 24 paediatric dietitians.
During her time at Addenbrooke's, part of the Cambridge University Hospitals Trust, she was responsible for developing the paediatric team, before taking a step back from a day to day clinical role as the team grew.
Alongside her role at Addenbrooke's she started to work with the regional neonatal network, whilst the Trust enabled Lynne to get involved in a number of wider projects within neonatal critical care, including development of national neonatal standards and toolkits working with NICE, Department of Health and the British Association of Perinatal Medicine.
Lynne was also part of the core team that developed Neonatal Dietetic Workforce recommendations, Neonatal dietetic competencies which are hosted on the BDA website, and the Paediatric Module 5 for Neonatal Nutrition, co-leading the module between 2010 and 2018.
She says the MBE, which was awarded for "services to sick and premature babies", recognises the significance of neonatal dietetics and is a reward for a "core group of neonatal dietitians who have worked really hard over the last 20 years to bring it to the fore".
She added: "The award is acknowledgement of the importance of neonatal nutrition in the care of a pre-term baby. I don't see it as an individual thing, there's a whole group of people involved in this kind of work. I see that as recognition of what we've all done."
Lynne revealed that she thought she was being pranked when she received the letter informing her of the honour.
She said: "My husband had taken this soggy letter out of our letterbox and it had 'Cabinet Office' written on it. He asked what I had done wrong! I started reading it and thought someone was having a joke. I was dumbstruck.
"The letter arrived on 28 November so I had to keep it quiet for over a month. But I was overwhelmed by the number of messages I've received since it was made public. People have been fantastic. It's been quite surreal. My colleagues have been very gracious and congratulatory.
"I'm leaving my post after 33 years so it's a fitting end to my career in this role. The timing was perfect."
The award ceremony is set to take place later this year.
BDA Chief Executive Andy Burman said: "Lynne's inclusion in the New Year Honours list is testament to the incredible work she has done for services to sick and premature babies but is also great news for the profession.
"Dietitians deliver amazing and innovative work across the UK. Lynne's recognition is a sign that BDA members' work is increasingly being recognised and honoured nationally. We have been delighted to see dietitians in the National Honours in recent years and we hope that this is a positive sign of more to come."
An MBE is an order of the British Empire award (Member of the Order of the British Empire) and is awarded by the Queen for an outstanding achievement or service to the community.