17 Jul 2023

In our 2022 member survey, 90% of you told us that dietitians as nutritional experts play a crucial role in providing practical, qualified nutritional education on social media. You identified that this was essential to counteract the growing 'noise' made on social media by so-called 'nutrition experts' and unqualified influencers.
Further exploration and a detailed training needs assessment, told us that dietitians wanted help to 'get noticed', specifically on Instagram, a visual-centric social media platform with more than 2 billion active monthly users.
"Would be good to have more reliable people on Instagram"
"I like Instagram and want to do more"
"We can redress the balance on Instagram and it doesn't take a lot of time"
Programme design
From 20 March – 4 May, a group of 42 members completed our brand new course "Getting noticed on Instagram", which was specifically designed to support our members to become more comfortable with this channel. The development and delivery of this course was supported by partners The Akkermansia Company
Dietitians attended six 90-minute training session and were offered six 60-minute facilitated peer group session on topics such as:
Making Instagram easy for dietitians
Building confidence on Instagram
Keeping it professional
Trends and topics on social media
Building a following and engagement
Pathways to success on Instagram
An independent expert social media trainer Sam Flynn, took the group back to basics with a combination of learning, activities and group work in each live session.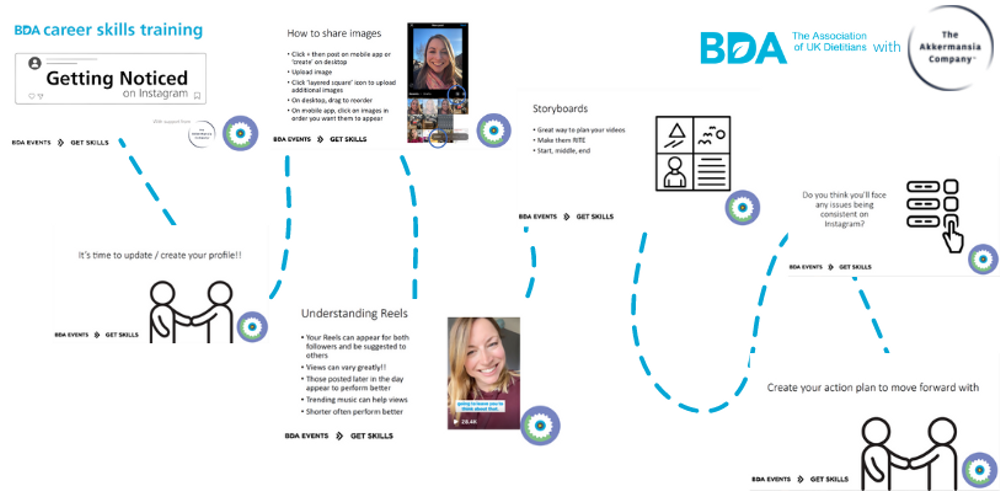 During week three, we were joined by Rosemary Flowers-Wanjie and Maheshi De Silva from the policy team at the HCPC spoke to participants about professionalism on social media and shared their recommendations on how to ensure content is 'fair and true'.
Trainer Sam Flynn said: "It's been a really meaningful course to have been involved with. Dietitians are such an important part of our healthcare system, and they have a huge opportunity to further educate and influence the nation's health. There is so much content on food, diet and wellness and having experts with the ability to create engaging posts, reels and stories on this content will really help in encouraging healthier eating. I've really enjoyed working with the BDA and Akkermansia Company team on this series."
Each weekly peer group session was led by Azmina Govindji, who will be well known to many of you as a longstanding presence for dietetics on social media. Azmina is also working as a consultant for the Akkermansia Company, and was instrumental in bringing them on board to develop more dietitians on social media. The participants were able to share learnings and posts from that week for feedback, and then in small groups, discussion tasks were offered to consolidate and broaden the themes from the training session.
Azmina said: "It's crucially important that dietitians have a voice on social media platforms like Instagram, where there is so much incorrect and confusing nutrition information. The BDA knows I'm passionate about this, and it was so fulfilling to be able to bring this course to fruition in record time and with such success. I enjoyed seeing the posts from our first cohort and look forward to seeing the participants develop and flourish their online accounts further with the tricks and tools from the course."
Results
The impact of this initial course has been very positive:
Satisfaction
100% of attendees who completed it would recommend this course to other dietitians.
Skills and experience increase
Before the course, the majority of respondents rated their skill and experience as 'starter' level across a range of dimensions including regulatory compliance, creating engaging content, responding to trends, coping with negative feedback and inclusivity considerations. Following the training, this moved to an intermediate level rating.
Confidence increases
The key concerns from our original assessment group were finding time to post and doing something that may call into question HCPC fitness to practise. After the course, the majority of attendees regarded themselves as more confident / really confident in these aspects.
BDA Director of Partnerships, Jo Lewis said: "These results are really positive and it's great to see how the creative format and design of this course has delivered results for our community. It's even more encouraging to see the Instagram posts, reels and stories from our participants which were really noticeable across Mental Health Awareness Week and Dietitians Week. Our BDA social media team do a fantastic job of getting the word out about the great work and impact the whole dietetic workforce has, and being joined by a new cohort of members gives them – and the public – a new group of voices to hear across diabetes care, cancer, paediatrics, workplace health and gastro. We're so grateful to the Akkermansia Company and Azmina for supporting the development and delivery of this pilot."
What's next?
We have funding for one further group of BDA volunteers to go through this course which will start on 11 September. Find out more here.
In the future, we hope to develop it into our calendar of classroom courses so that any member or department wishing to 'Get Started with Instagram' has access to this important training resource.
Melissa Sheridan from our partners on this project said: "At the Akkermansia company, our passion is to allow people to take back control of their health. Social media has become a powerful tool for health education due to its widespread usage and ability to disseminate information quickly. We are delighted to partner with the BDA on this professional training, which will equip members with the tools and confidence to use Instagram to promote healthy nutrition education, that the public can trust"
Finally, hear from Jemma Jones, The Wellbeing Dietitian, who participated in the pilot: