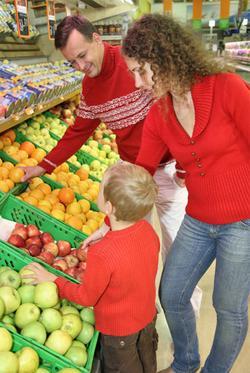 Supermarket shopping can be a stressful experience if you don't have the right strategy in place before you get there. If you don't have a plan of attack, you may be tempted to throw any old thing in your trolley.
Here are some top tips:
Plan your meals and make a list before you go shopping. Remember what you've already got in which needs using up, and stick to your list
Go shopping with a friend so you can split bulk-buy discounts between you – you'll save the money but won't end up wasting anything
Don't shop for food when you are hungry
Check sell-by dates. Supermarkets reduce prices on products that are close to their sell by date and this can be a great way of picking up bargains. But before you fill your trolley, be sure you'll use everything you buy before it goes off.
Loose fruit and vegetables can be as little as half the price of pre-packaged items
Frozen and dried products are often cheaper than fresh varieties – and just as good for us
Stock up when there's a good deal on storecupboard ingredients that last – like cans of pulses and tomatoes or packets of pasta, rice and cereals.