12 Jul 2022

The first in-person BDA Awards since 2019 took place last week as the Dietetic community celebrated BDA members' great successes and achievements within Dietetics over the past year.
The Awards, overseen by BDA Chair Caroline Bovey BEM, were hosted in Birmingham on Tuesday 5 July with more than one hundred people in attendance to watch the awards and honours be presented.
View all the photos from the night here:
Extraordinary Circumstances Award - COVID-19 Pandemic Response
The first award of the evening, the Extraordinary Circumstances Award - COVID-19 Pandemic Response, was presented to Nutrition & Clinical Dietetics - NHS Fife for the whole service of six clinical teams:
Acute - Clare McLeish, Clinical Lead
Diabetes & Adult Weight Management - Katie Duncan, Clinical Lead
Infant Nutrition, Paediatric & Child Healthy Weight - Alison Macleod Clinical Lead
Mental Health & Learning Disabilities - Elspeth Ryan, Clinical Lead
Nutritional Support - Margy Thomson, Clinical Lead
Older People - Caroline Berry, Acting Clinical Lead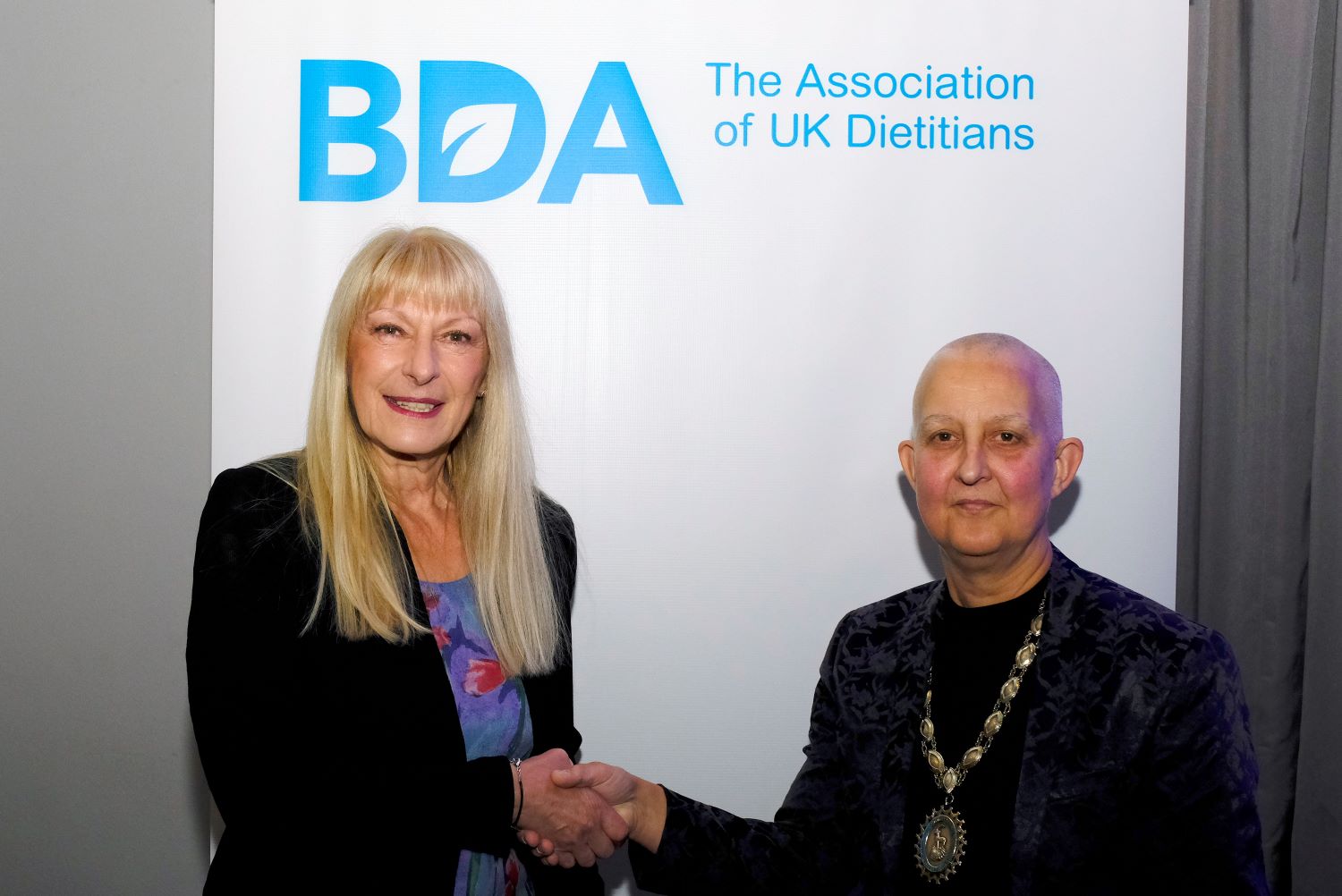 During the pandemic the teams worked together on their improvement plans - taking advantage of the new technology allowing the delivery of service to be rolled out quickly rather than over a longer period of time. They worked on new resources, systems, education and training. This work highlights the role of dietitians, support they give to each other and the contribution made to patient care.
Media Spokesperson of the Year
Media Spokesperson of the Year recognises spokespeople who have gone above and beyond in their role in representing the profession. This year the award was presented to joint winners Bahee Van De Bor & Marcela Fiuza. They are two media spokespeople who have excelled in positively representing the dietetic profession using their expertise across a wide variety of high-profile media platforms, often under pressure and at very short notice.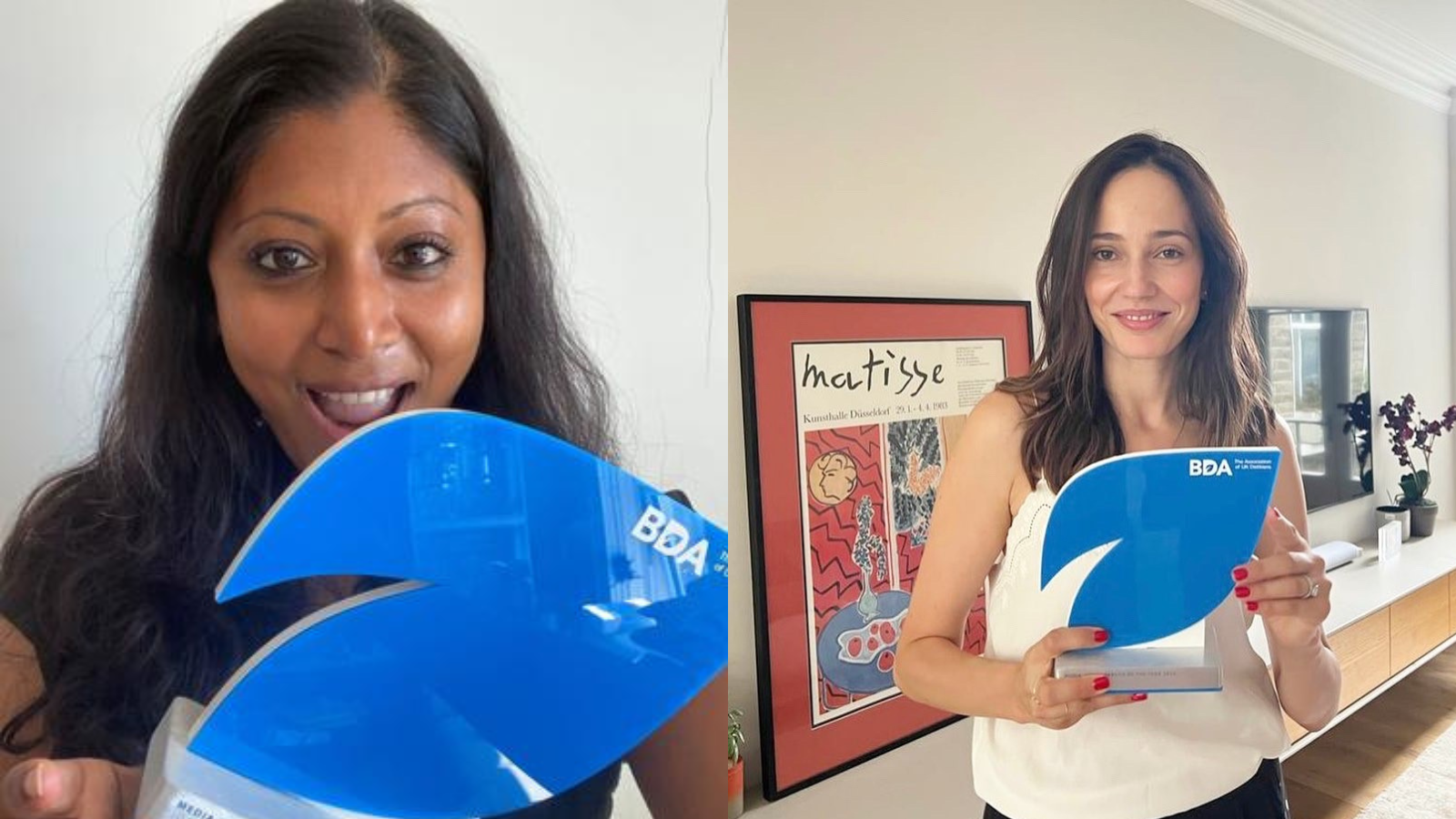 Mary Turner Award
The Mary Turner Award is presented to a representative who has demonstrated the qualities of excellence and commitment. This year's winner was Christine Christie, a BDA Trade Union rep for well over 20 years in NHS Forth Valley.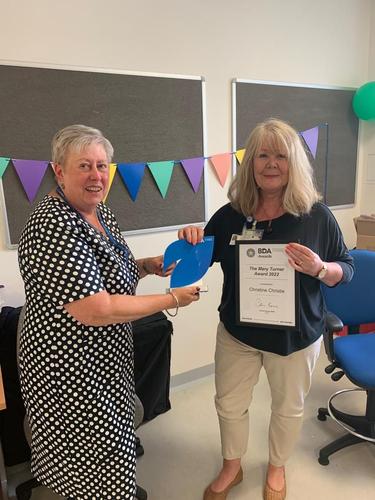 Branch of the Year Award
The shortlisted branches for Branch of the Year Award were Glasgow and West of Scotland & South East England, with South East England taking this year's award.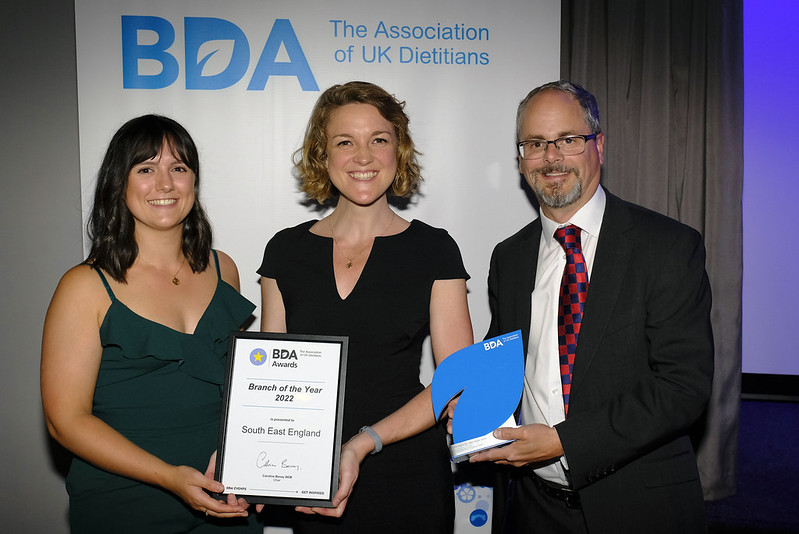 The South East Branch take a considered approach to their membership needs, listening to feedback and providing education that provokes thought and impacts everyday dietetic practice. They have used innovative platforms and an online presence to reach a wider audience, consistently increasing their reach and engagement.
Specialist Group of the Year
The shortlisted specialist groups were Oncology, Renal Nutrition, Paediatric and Parenteral & Enteral Nutrition. The Oncology and Renal Nutrition groups were named as joint winners.
The Oncology Specialist Group has worked extensively with internal and external stakeholders to create meaningful and timely education for dietitians encountering oncology patients. They have thought about the patient experience, using knowledge to create resources, education and messaging to inform dietitians to elevate practice.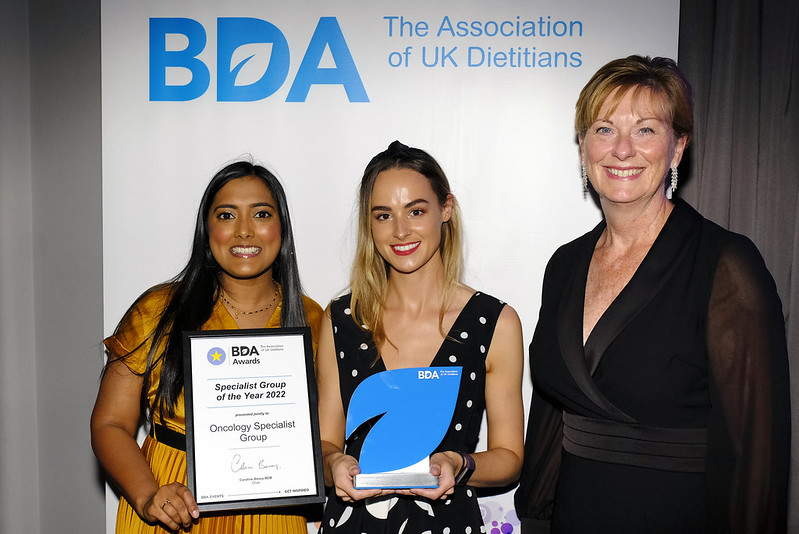 The Renal Nutrition Specialist Group have worked extensively to build strong and lasting partnerships in order to promote the role of dietitians in kidney patient care. They have worked to develop, influence and improve the quality of patient-focused kidney resources, making them as accessible and user-friendly.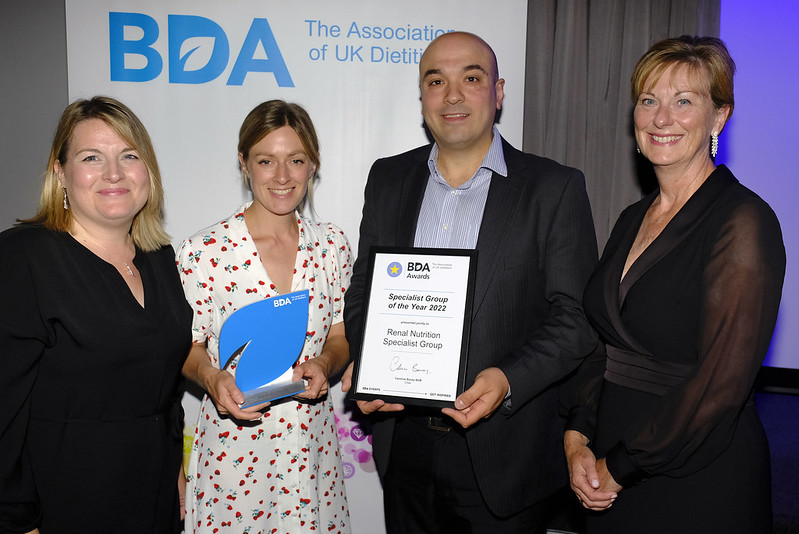 Digital Innovation Award
The Digital Innovation Award recognises outstanding achievements in integrating technology into dietetic practice. Dietitians are Digital - NHS Greater Glasgow and Clyde (NHS GGC) were announced as the winners.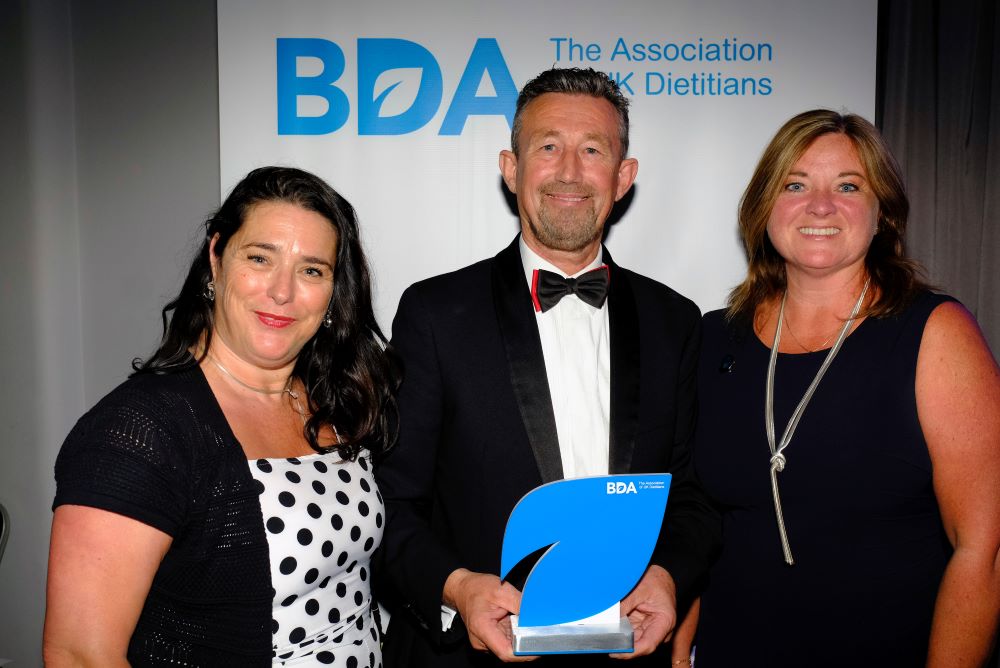 Members involved in the work included
Michele Wardrop, dietetic manager, community
Anna Julian, advanced practitioner, gastroenterology
Nicole Mcdonald, advanced practitioner, community
The renal team, led by Angela Doherty and Yuko Ishida
The oncology team led by CaroleAnne Fleming
Outstanding Achiever Award
The Outstanding Achiever Award recognises one member who has created significant impact in the profession throughout their career. Tanya Haffner won this year's award. Tanya has been an active BDA member since being a student, volunteering through many committees and acting as a BDA spokesperson for a number of years promoting the industry.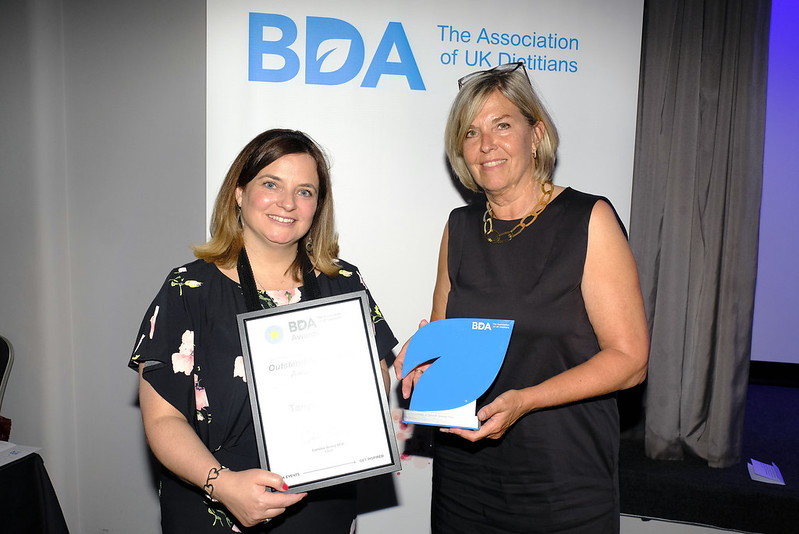 Rising Star Award
The Rising Star Award was awarded to Laura Caley, a BDA member who has created significant impact in the profession in the early stages of their career. Laura has championed dietetics in both clinical and research and we look forward to following the career path of this engaged and passionate dietitian.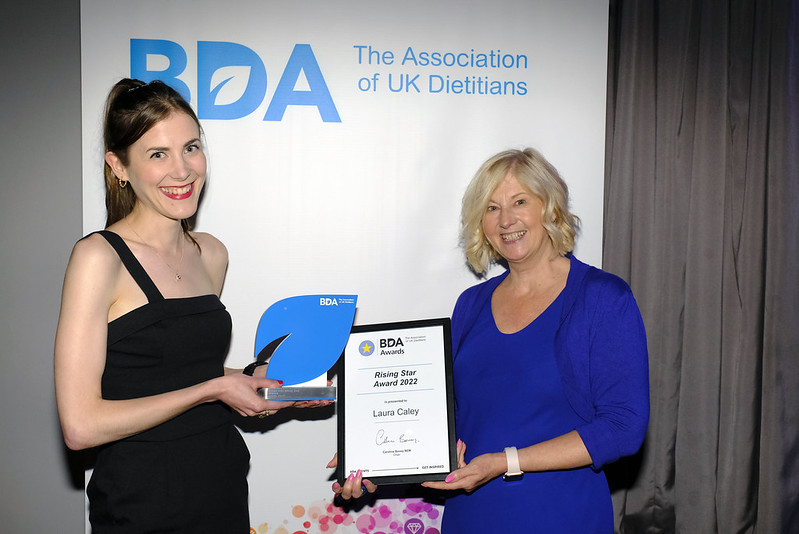 Social Media Influencer of the Year Award
The Social Media Influencer of the Year Award celebrates influential activity on social media. The shortlist contained BDA Critical Care Specialist Group, Fareeha Jay and Ro Huntriss.
Ro Huntriss was announced as the winner. Ro set up the @fertility.dietitian.uk Instagram page less than two-and-a-half years ago. The account has more than 8,000 followers, made up of women trying to conceive or considering doing so in the near future, dietitians, nutritionists and students looking to improve their knowledge on the topic.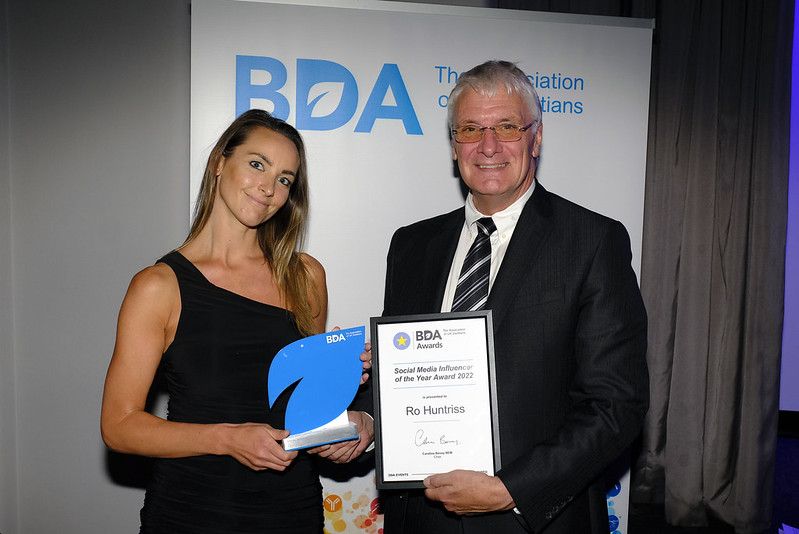 Student Champion Award sponsored by Yakult
The Student Champion Award sponsored by Yakult celebrates our dietetic students who have contributed over and above the requirements of their course to promote the dietetic profession. The shortlisted candidates were Eleanor Claxton (Leeds Beckett University) Lucy Walton (Teeside University) and Marta Buczkowska (Newcastle University).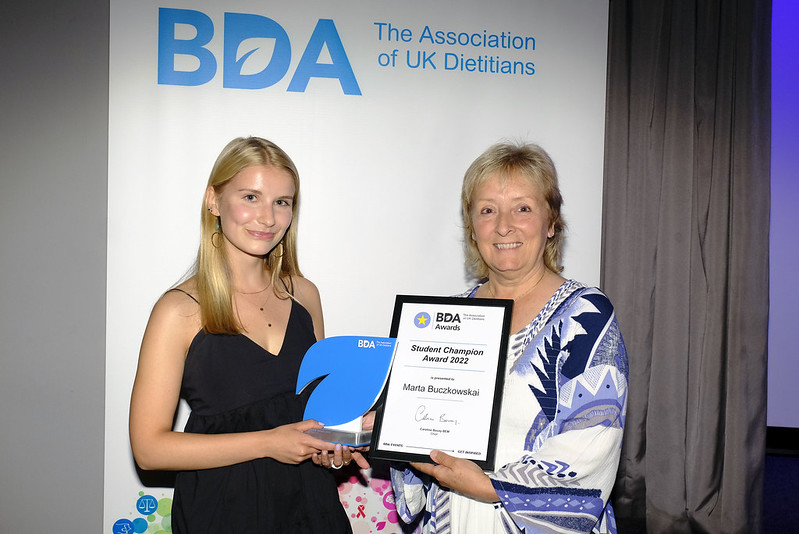 The winner was Marta Buczkowska. Marta is a second year student on the MDiet programme at Newcastle University. As a non-native English speaker, Marta has challenged herself to develop confidence in her communication and seek leadership opportunities. In 2021 she founded Dietitiansaid.co.uk, where dietetic students and qualified specialists can share their experience, highlight the diversity of career opportunities, and spread awareness about the importance of dietitians within our society. She has enthused her peers and professionals alike.
BDA General Education Trust - Rose Simmonds Award
The Rose Simmonds Award is the BDA's most prestigious award and is given for a dietitian's original research publication published in a peer-reviewed journal during the previous two years.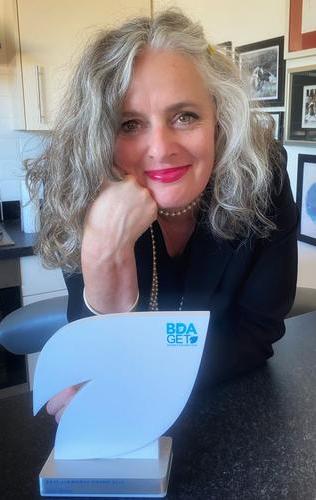 The winner was Luise Marino for Pedi-R-MAPP: The development of a nutritional awareness tool for use in remote paediatric consultations using a modified Delphi consensus.
BDA General Education Trust - Elizabeth Washington Award
The Elizabeth Washington Award is for a dietitian's published/presented educations work in the previous year.
The winning work was Nutrition and COVID-19 Recovery Knowledge Hub submitted by Mary Hickson, Gary Frost, Anna Julian and Jane Murphy.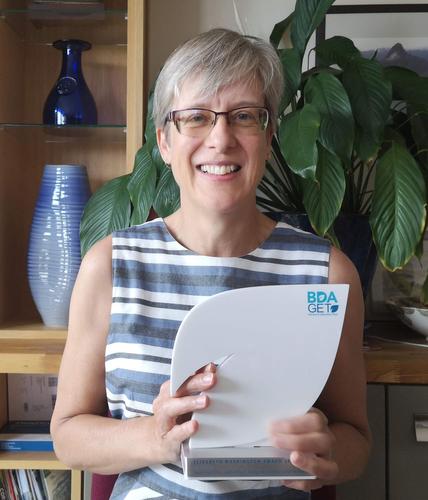 BDA Honours
Four members were awarded with an Ibex this year:
Gillian Regan: Gill was a former Welsh Athlete and worked as a sports dietitian at the Olympic Games. She worked as a dedicated Paediatric Dietitian at the Royal Gwent Hospital in Newport for most of her 40-year dietetic career. Her specific area of interest was paediatric diabetes. Gill was actively involved in the BDA Diabetes Paediatric Sub Group for several years. Sadly this honour is presented posthumously.
Janie Gordon: Janie has shown personal commitment and significant contributions to the profession demonstrated by the huge development of the local workforce, being a transformational change manager to benefit dietetics. Janie actively participated in the BDA Education committee and represented dietetics in Scotland and nationally.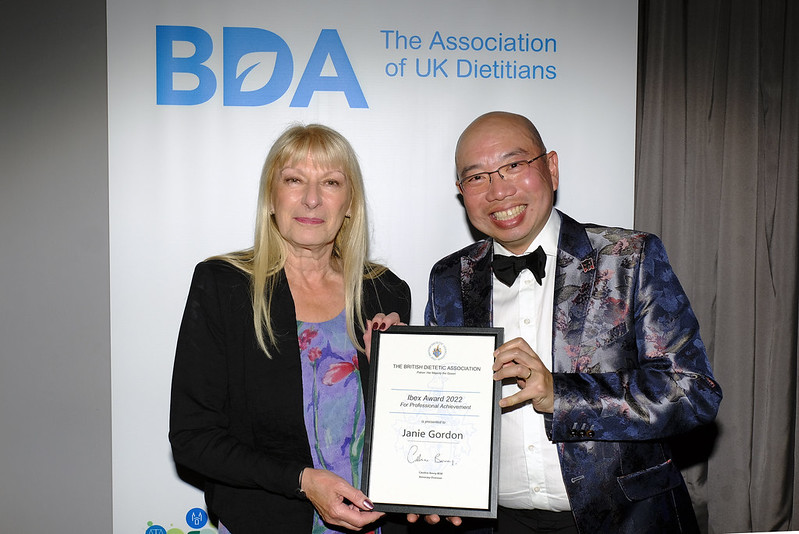 Lauren Bowen: Lauren has worked as a dietitian in the UK since 2000 after qualifying in New Zealand in the 1990s. Lauren has worked in Food Service Dietetics for over 20 years. She joined the Food Services Specialist Group committee back in 2014 and has played an active role in raising the profile of food services nationally and offering guidance to the BDA and other organistaions.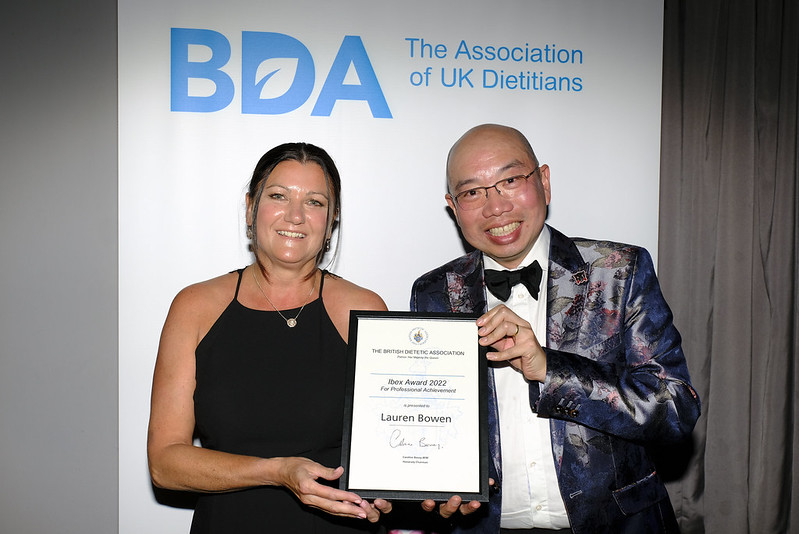 Ruth Wood-Martin: Ruth is the Irish Rugby Football Union Performance Nutritionist, a position she has held for 16 years. Alongside this role she is known publicly for, she has over 20 years of experience in the field of clinical nutrition and dietetics, having maintained dual registration as a Registered Dietitian and Sports and Exercise Nutritionist (SENR).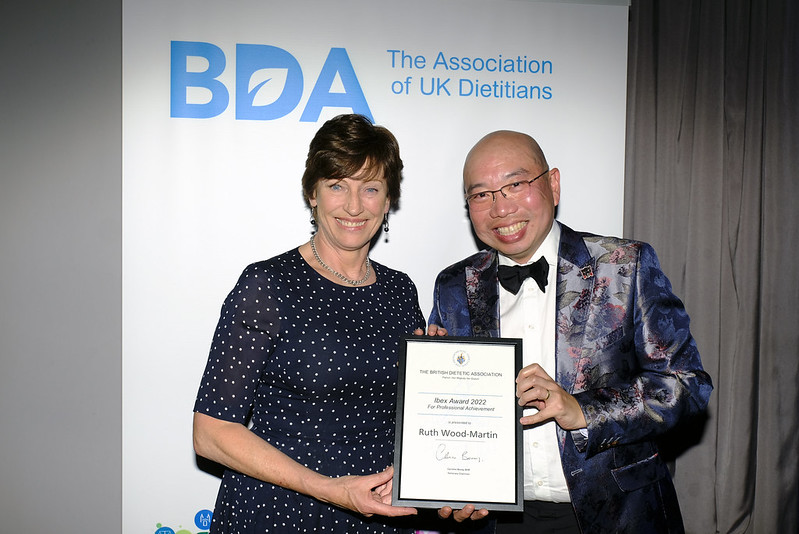 This year three Fellowships were awarded:
Dr Elizabeth Weekes: Elizabeth set up the first home enteral feeding delivery service in the country in Cambridge and has undertaken a PhD and an NIHR clinical lectureship. Liz has always been at the forefront of the advancement of knowledge and clinical practice in nutrition support through research including supporting the development of the guidelines as part of the PENG Pocket Guide to clinical practice.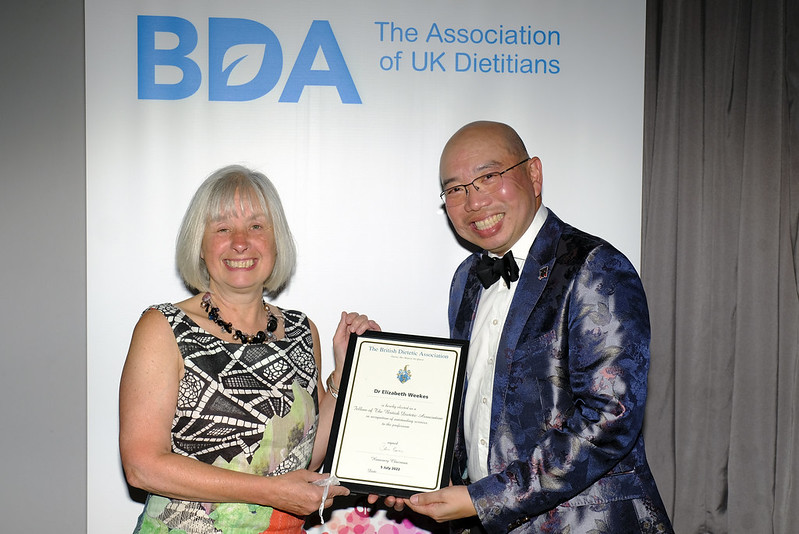 Fiona Huffer: As a leader of dietetics Fiona has represented the profession as part of national work with the Scottish Government and was innovative in developing the asynchronous model of dietetic practice to support the management of malnutrition in NHS Lothian. She has remained an active member of the BDA holding various roles including on the Investigatory and Disciplinary Committee and working alongside the Scottish Board.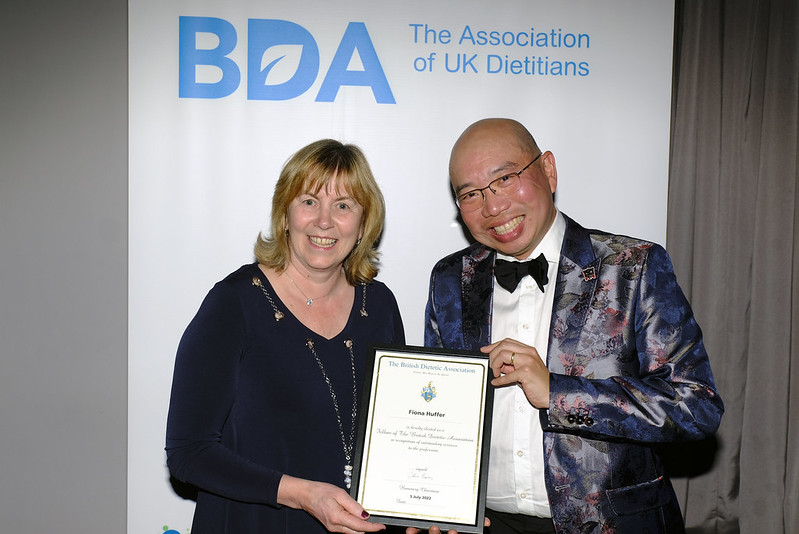 Dr Julie Lanigan: Julie has over 18 years of involvement with the BDA including key work within the BDA Paediatric Specialist Group (PSG) committee where she has been an exemplary Chair, stepping down to Vice Chair. In the early stages of the COVID-19 pandemic, Julie bridged the gap to support PSG members experiencing new ways of working.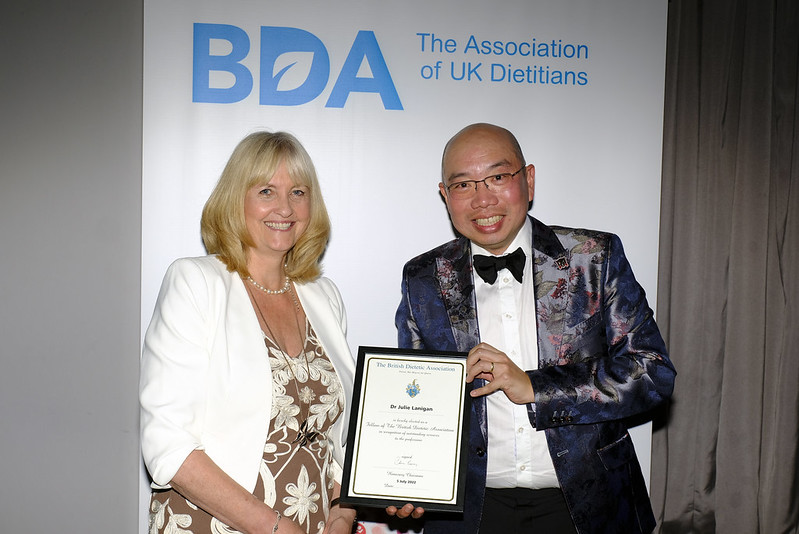 We also honoured the Ibex and Fellowship recipients in attendance who had been presented during our virtual awards in 2020 and 2021. Find out more about these past winners here.
The final award for the evening was a brand new award – the Chair's Lifetime Achievement Award - with three inaugural winners.
The award is presented at the discretion of the Chair to honour an individual who has spent the vast majority of their career promoting the profession, having had a major and enduring contribution.
Carole Middleton: Carole has worked as a Dietetic Services Manager at the John Radcliffe Hospital and was Chair of the BDA from 1991 to 1993. Carole has also represented the profession internationally; for many years Carole was our representative on the European Federation of Associations of Dietetics as well as being a Director of the International Confederation of Dietetic Associations. She has long acted as a BDA representative with many external organisations and has ensured there are strong links between them and the BDA Board of Directors. Carole received a Fellowship in 1993 and was also a founding trustee of the European Foundation of Dietetics and Nutrition.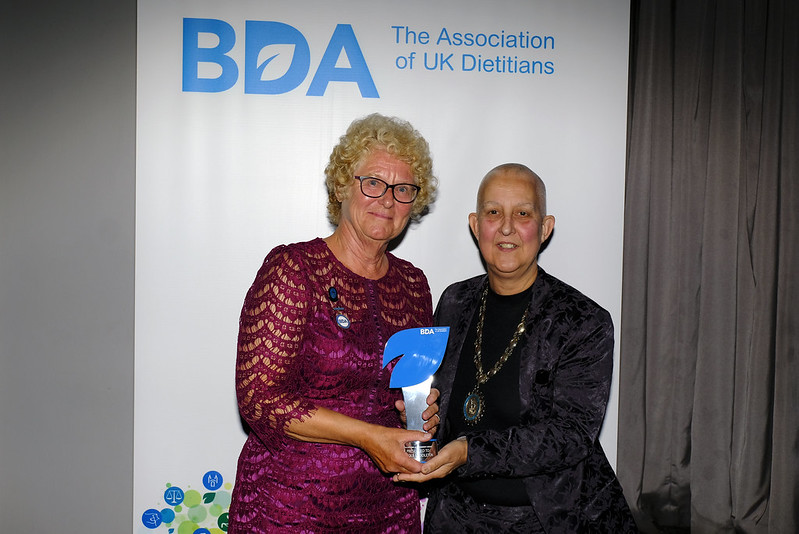 Dr Joan Gandy: Dr Joan Gandy has led the BDA's research and publishing profile over many years. After her initial clinical career she moved to the Medical Research Council to work alongside Professor John Garrow. Since then she has pioneered research and publishing, having authored over 80 published papers, been appointed editor of the Journal of Human Nutrition and Dietetics in 2006 and is the outgoing editor of the Manual of Dietetic Practice. She has acted as a consultant for the Department of Health as well as being a previous member of the BDA Research Committee.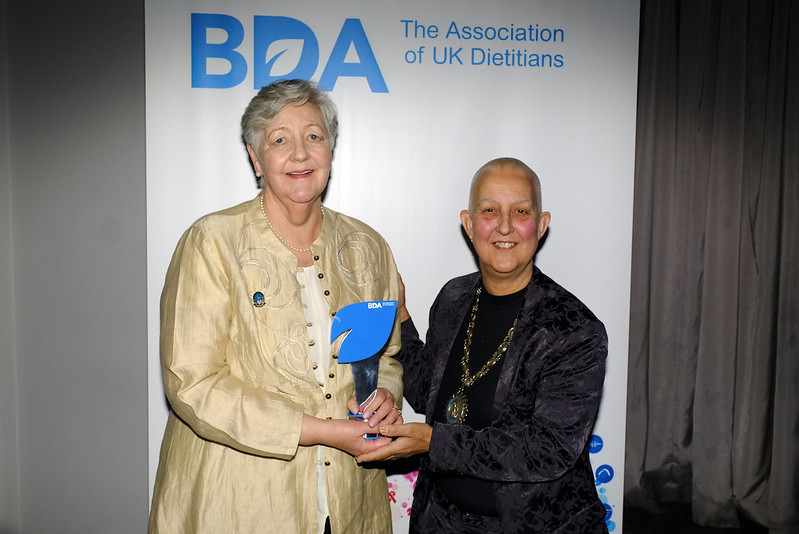 Andy Burman: After more than 19 years as Chief Executive of the BDA, Andy has decided to retire from the role to focus on his external Board and consultancy work. During his time at the BDA, Andy has made a significant contribution to the dietetic profession and to the BDA as a professional body and Trade Union.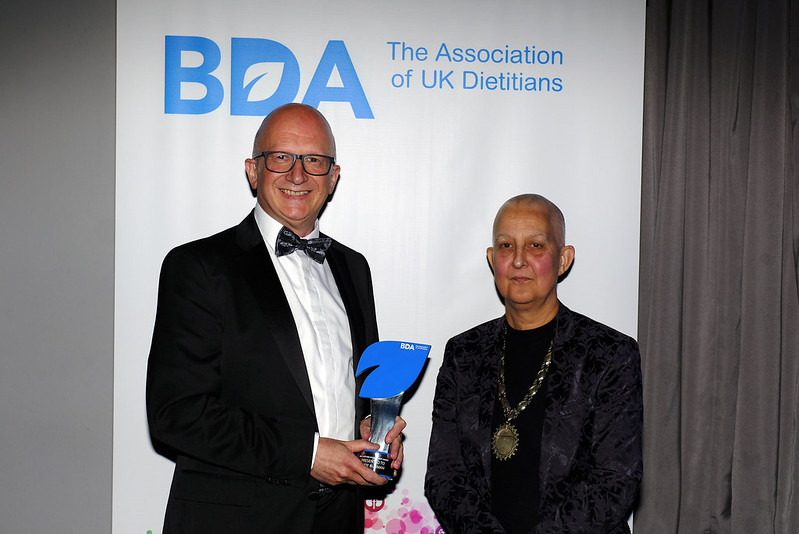 BDA Chair Caroline Bovey closed the evening and thanked everyone involved in the awards and honours including those who nominated or applied for awards, the judges, the honours committee and those who presented awards on the evening. We look forward to our next awards evening, applications for the 2023 awards will open early next year.