07 Nov 2022

People from Black African origin ethnic groups are three to five times more likely than white Europeans to develop type 2 diabetes mellitus. Ellouise Simpson explains how dietitians can improve outcomes.
Type 2 diabetes mellitus (T2DM) is a chronic metabolic condition, characterised by insulin resistance.
T2DM can affect anyone. However, research identifies people from Black African origin ethnic groups to be more than three to five times more likely to develop this condition compared with white Europeans (Goff, 2019) and on average develop the condition 10 years earlier (Paul et al., 2017). While genetics plays a role in disease aetiology, wider health and social determinants that affect health disparities are also known to have a significant impact on disease prevalence. Therefore, in addition to tailored and culturally appropriate nutrition advice, a holistic approach is needed in the management of T2DM within Black African and Caribbean people.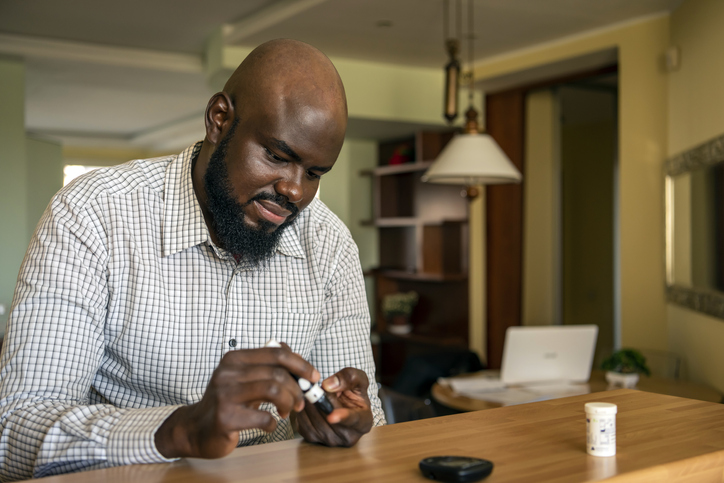 Black communities in the UK report healthcare professionals lack cultural understanding – advice provided has limited cultural relevance or is poorly adapted. On the other hand, many dietitians also feel unequipped to provide nutrition counselling that is culturally appropriate. Black African and Caribbean people are underrepresented in nutrition and dietetics. The HCPC diversity data report in 2021 states that 2% of dietitians identify as Black.
How can dietitians add value and help improve outcomes?
People living with T2DM need to be empowered, listened to and understood, without judgement, stereotyping, bias and assumption. As registered dietitians the care we provide should be holistic – the aim is not to focus on the medical model but rather treat the whole person. Using an upstream approach with diabetes care helps us to address the root cause and not treat the symptoms standalone. For that reason, it is important we acknowledge and respect differences and authentically seek to learn more about the whole person. Black communities are vibrant and energetic and the culture is often scaffolding for their tradition, religion and culinary choices, all of which are handed down from generation to generation.
Food is typically at the core of many Black families and, as we are aware, nutrition and lifestyle choices are vital to the management of T2DM. Therefore, all dietitians must seek to learn more about Black African and Caribbean culture and cuisine as this will provide insight and support culturally appropriate dietetic care and improved outcomes.
Patient empowerment is defined as "a process through which people gain greater control over decisions and actions affecting their health". The journey begins with building a genuine rapport with your patient, then you can share meaningful education, shine a light on less desirable nutritional and lifestyle choices which aren't supporting their diabetes management and then empower them to make better decisions which fit within their culture. In turn, this will be self-empowering, acting as a positive feedback loop.
Improving type 2 diabetes outcomes from an institutional level
Increased racial diversity in dietetics is important as it is linked to improved outcomes for many conditions. To improve representation, the conversation must be started to introduce a strategy to ensure underrepresented groups are represented.
We could improve the exposure of the dietetic profession to minority ethnic students by visiting schools for career events in diverse communities
Ensure recruitment teams at universities are diverse and, once students are on the course, clinical placements are inclusive
Invite people from Black African and Caribbean communities to facilitate practical cooking sessions to create authentic meals and share their lived experiences
The power of working together
The goal is not to replace someone's cultural food with other foods but rather provide nutritional education and cooking choices to help improve overall health. The responsibility of improving care for Black people living with diabetes and improving representation does not solely lie in the hands of the dietetic profession as underrepresentation occurs in many healthcare professions. Therefore, let's do our part and learn more about the cultures we care for. Ultimately the aim is for the workforce to be reflective of the population they serve.
Make it practical
| | | |
| --- | --- | --- |
| Typical dish | Meal description | Healthy tip |
| Ackee and saltfish | Ackee and saltfish is Jamaica's national dish. Ackee is a fruit and is grown in abundance in Jamaica, and served with salted codfish sautéed with vegetables, ground provisions, herbs and spices. Ackee and saltfish is eaten as a favourite for breakfast, brunch, lunch and dinner. | Once your saltfish has boiled and the salty water drained off (on average twice) the saltfish is now mostly cooked. Use a good quality non-stick pan and measure out your oil (you can also use a spoon to do this). Over time, aim to cut down the amount of oil you use for this dish. |
| Curry goat | Curry goat or mutton is a popular Jamaican dish. The meat is sealed off in oil and then ingredients such as garlic, onion, ginger, hot peppers and herbs are tossed in. As all the ingredients infuse together, the meat is slowly cooked until tender. Potatoes are commonly added and this increases the thickness of the sauce. Typically served with rice and peas, and coleslaw. | Cook your meat first, then add the onions and spices. If the meat begins to catch on the pan, add some water, turn down the heat and use a lid. The steam will help to cook the meat and you will have benefited from using less oil overall. |
| Saturday soup | As the name implies this soup is mainly enjoyed on Saturdays. This is a hearty chicken or lamb soup full of flavour and is very filling. Pumpkin is used as the base with added vegetables and ground provisions such as yam, green banana, potatoes, carrots and corn on the cob. Additionally, dumplings made from plain flour, water and a pinch of salt is added to the soup. | Soup mix is often added to a Caribbean Saturday soup. On average, one sachet contains 5g of salt. Therefore, consider flavouring your soup with more herbs and spices – choose mixes which contain less salt and, overall, gradually reduce the amount of salt you add to your cooking daily. |
| Fried plantain | Plantains are a member of the banana family. They contain more starch than a regular banana and need to be cooked before eaten. Ripe plantains are sweet and, when fried, the surface becomes caramelised and moreish. Fried plantain is the most popular method of cooking but it can be roasted, steamed or boiled. Plantains are usually eaten as a side dish and accompany many Caribbean meals. | There are a variety of cooking methods available to cook plantains, such as steaming, boiling or roasting. These methods all have health benefits as there is less oil used. However, if you do want to fry your plantain, ensure you measure your oil, drain off any excess and even try using an air fryer. |
References
Goff, L.M. (2019). Ethnicity and Type 2 diabetes in the UK. Diabetic Medicine, 36(8), pp.927–938. doi:10.1111/dme.13895.
Paul, S.K., Owusu Adjah, E.S., Samanta, M., Patel, K., Bellary, S., Hanif, W. and Khunti, K. (2017). Comparison of body mass index at diagnosis of diabetes in a multiethnic population: A case-control study with matched non-diabetic controls. Diabetes, Obesity and Metabolism, 19(7), pp.1014–1023.doi:10.1111/dom.12915.
Author

Ellouise Simpson
Specialist Diabetes Dietitian