31 Aug 2023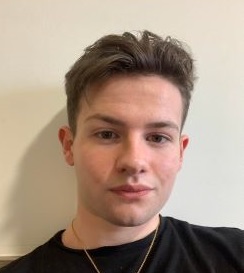 A big congratulations to Kyle Kennedy, who has been elected as the BDA Student Rep 2023/24. Kyle is an Undergraduate Human Nutrition and Dietetics student at Glasgow Caledonian University where he'll be going into third year this September.
We asked Kyle why he applied for the role and how he hopes to champion the voice of Dietetic students over the next year.
Could you introduce yourself?
I'm Kyle Kennedy. I'm from Wick, Caithness and I moved to Glasgow to study an Undergraduate in Human Nutrition and Dietetics at Glasgow Caledonian University, where I'll be going into my third year this September.
What made you want to be a Dietitian?
I've always been passionate about chemistry and biology and chemistry has always been my favourite subject. I also knew quite early on that I wanted a career in healthcare. So, my passion for chemistry and healthcare drew me to explore metabolic pathways and vitamins in relation to disease and that led me to nutrition.
More importantly, I wanted a career that helped others. So, I found dietetics which combined my passion for nutrition and helping others.
Are there any particular areas of dietetics that you want to specialise in?
Public health. That has always been my passion from the start of my second year. I decided that I wanted to work at the population level as well as one-to-one. Public health ethics and policy has always interested me.
I've also been leading a Healthy Eating Project for Glasgow and West of Scotland for the last two years, and that's only furthered my interest. I'm also really interested in the research element of nutrition.
Why did you apply for the Student Rep role?
Well, dietitians come from students. So it's crucial that students are supported appropriately and sufficiently to become the best dietitians they can be.
That's something I've always been really passionate about and therefore something I can really advocate for, which led me to apply to be the representative for students.
What do you hope to bring to the role?
I want to help make the student membership as beneficial for students as possible, I want to make sure that all students feel they can adequately become dietitians and that they feel supported in doing so - and if not, find out why.
I'm also hoping to facilitate student connections and experience-sharing across various universities and also be an excellent listener for students and communicating their comments back, which will likely be the most important thing I'll bring.
Why do you think it is important that the student voice is heard in this profession?
Students make dietitians. So, if the student voice isn't heard, we're not hearing the needs of what will become our new cohort of health professionals. Being a student is a really exciting time but it can also be quite a vulnerable time. It can be stressful.
So by listening to students, we should be able to address the barriers and stressors that are preventing students from becoming the best dietitians they can be.
Why should new students become members of the BDA?
There's many reasons. As a student member you get access to Dietetics Today, food fact sheets, PEN, and webinars. There are local branches you can join, which permit you to support and get involved in your local dietetic community.
There are specialist groups which allow you to join like-minded professionals and students and share the same professional interests, for example, the Public Health Specialist Group. There's even a student forum where you can talk with other students and there are also mental health resources you can access.
And if you're in first-year, that's all free and then discounted at 90% off for the remaining three years. So there's a lot to get involved in for a decent price!
Author

Kyle Kennedy
BDA Student Rep 23/24