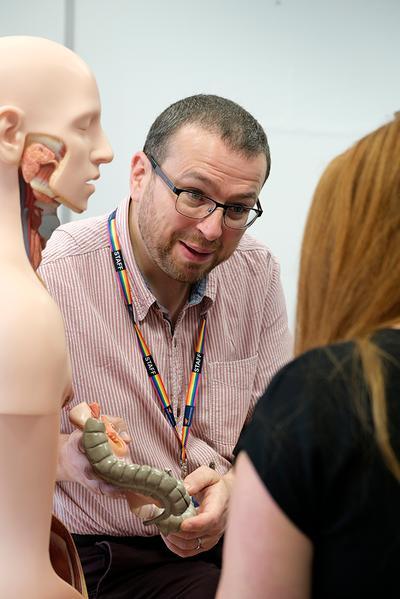 Specialist area:
Gastroenterology
What gastroenterology dietitians help with:
Gastroenterology dietitians can help you to eat the right food if you have a digestive disorder. They are the experts in the nutritional management of Irritable Bowel Syndrome (IBS).
Who do gastroenterology dietitians help?
If you have a condition(s) that affects your stomach, liver, pancreas, small intestine or colon, a gastroenterology dietitian could help you. For example, Crohn's Disease, Liver Disease, Pancreatitis or Coeliac Disease. These conditions can stop your body absorbing food properly and cause uncomfortable symptoms. Gastroenetrology dietitians can support you with both of these problems.
How do gastroenterology dietitians work?
Your gastroenterology dietitian will work with your doctors, nurses and other health professionals. They will help you understand the right food for you, taking your condition and preferences into account.
Where do gastroenterology dietitians work?
You are likely to see your gastroenterology dietitian in hospital, on the wards or in clinic. You may also see them closer to home in a community or GP setting.
If you are diagnosed with IBS, ask your GP for a referral to a community dietitian. You may not even need to set foot in a hospital to get the most appropriate support to help you manage your IBS.
You can also pay to see a gastroenterology dietitian privately.
Further info:
Never self-diagnose. If you have an uncomfortable tummy or have noticed a change in your toilet habits, please speak to your GP.
For more information on IBS please view our fact sheets:
Are you a BDA member dietitian working or interested in gastroenterology? Join our Gatstroenterology Specialist Group today!