Sustainable Diets Specialist Group Committee:
---
Chair -Tanya Haffner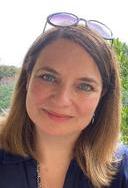 Tanya is an Irish born, UK trained dietitian. Tanya's mission is to support organisations and professionals to help individuals to eat well. She is founder and CEO of Nutrilicious Communications and MyNutriWeb.com. Nutrilicious is dedicated to empowering businesses and organisations to move the dial on health, nutrition and sustainability. MyNutriWeb.com supports and empowers all professionals with learning opportunities in food with nutrition matters. Tanya was one of the originators of BDA's OBD and on the OBD working group. She believes that all Dietitians can help with healthy sustainable eating wherever they work and is leading a new strategy with the BDA Sustainable Diets Group to help unleash the Dietetic Professions impact on sustainable eating.
LinkedIn Tanya Haffner
Vice Chair- Stela Chervenkova

Stela is a clinical lead dietitian at Oviva, a behaviour change digital provider. Stela believe that the dietetic profession should be leading the way in guiding people in making the right choices to promote planetary health. She has experience in the NHS, community and inpatient settings and believes there are opportunities to improve on sustainability in all those areas to drive positive change.
IG: stelacherrd
Twitter: stela_89
Secretary- Sarah Garland

Sarah is a Dietitian with a clinical background in community nutrition support. Sarah moved into an NHS quality improvement lead role after 17 years of clinical work and is one of the Chief Sustainability Officer's Clinical Fellow (22/23) working with Health Education England.
Twitter: @Sarahlougarland
LinkedIn: Sarah Garland
Treasurer - Beth Rougier

Beth is an NHS dietitian working in Bristol and freelancer with a special interest in plant-based nutrition. She is treasurer of the BDA Sustainable diets group.
(Also I've got one of those difficult to spell surnames! It's Rougier. I pronounce it rouge-i-er.)
Social Media Officer - Emily Latoy

Emily is a dietitian with a special interest in food systems and social determinants of health. She is presently studying for a Public Health MSc at the London School of Hygiene and Tropical Medicine. Previous roles have included gastroenterology and neurological dietetic specialisms at hospitals in Norfolk, England.
Overall, very keen to help empower dietitians to make a change!
LinkedIn: Emily Latoy
Instagram: emilylatoy
Events Officer - Natasha Guildford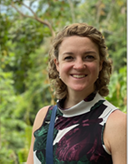 Natasha graduated from the University of Plymouth in 2011 and currently works as a Specialist Hepatopancreaticobiliary (HPB) Dietitian at the Churchill Hospital in Oxford. She is Chairperson of the BDA South East Branch committee where she was also the Treasurer for 4 years. She became vegetarian in 2015 for the reason of sustainability and is keen to implement sustainable living into her Dietetic practice too.
Education and Resource Officer -Damon Nicholls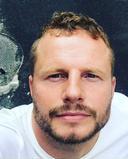 My name is Damon Nicholls and I am currently working as a Senior Specialist Dietitian combating malnutrition and promoting health and wellbeing in the community setting in London. I have worked in various NHS dietetic specialties including ITU, PN, Stroke, HIV, and Staff Wellbeing and Health Promotion. I have also worked in the charity sector creating an HIV dietetic service at The Food Chain.
I have joined the BDA Sustainable Diets Group as I believe Dietitians have a crucial part to play in helping protect our world. I believe by educating our patients and service users and influencing their food choices we can reduce the carbon footprint and environmental burden of food and agriculture.
Research Officer- Rosie Martin

Rosie is a zoologist turned registered dietitian. Her roles currently include Employee Health & Wellness Dietitian for her local NHS trust, and founder of Rosemary Nutrition & Dietetics. Rosie specialises in supporting dietary change for human, planetary and animal health and has worked as a consultant for several plant-based organisations and businesses. Rosie also sits on the advisory board for Plant-Based Health Professionals UK.
Student Committee Member - Marta Buczkowska

Marta is a third-year student dietitian at Newcastle University. She is a part of the advisory committee aiming to develop recommendations on how to embed the concept of environmental sustainability within the AHP curricula across the UK universities. She has an experience with the hospital catering sector, where she is involved in designing strategies aimed at aiding the company to achieve the NHS Net Zero targets. She is very passionate about raising awareness regarding the influence of the current food systems on our planet and promoting the benefits of plant-based diets.
Sponsorship Officer - Paula Hallam

Paula is a Specialist Paediatric Dietitian and the founder of Plant Based Kids, supporting families and children to "eat more plants". Paula has held many different paediatric roles within the NHS including Great Ormond Street Hospital, Evelina Children's Hospital and most recently at King's College London as part of the world-renowned allergy research team that was responsible for the LEAP study (learning early about peanuts), which has informed infant feeding guidelines around the world. Paula currently runs a freelance paediatric nutrition practice, supporting families of children with food allergies, presenting weaning workshops, working with food brands and promoting plant-based eating for children and families. Paula became vegetarian 3 years ago after being inspired by her daughter changing her diet.
PR Officer - Louise Kirkham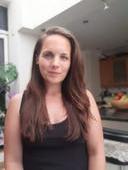 I am a registered Dietitian from a catering background, now working in the acute setting in Cardiff.
I am passionate about bringing sustainability into practice and improving processes to reduce the impact on the environment. I am starting a Fellowship in Sustainable Quality Improvement with the aim to reduce waste within Dietetic Practice and to support others in bringing sustainability within practice.
Insta: lkirkhamrd
Ordinary Member - Rosa Holt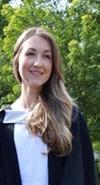 The food and farming dietitian. Rosa is a registered dietitian fascinated by nutritional science and agroecology. She sees this as the driving force for meaningful change to achieve sustainable dietary diversity, enhance biodiversity, mitigate climate change and improve public health. She focuses on nutritional quality, provenance and environmental sustainability to create positive change.
Ordinary Member - Louise Symington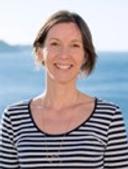 Louise is a Registered Dietitian with a Masters in Food Sustainability (Food Industry). Since gaining her Masters she has worked for a number of charities/ NGO s such as The National Trust and Sustain. She has also worked as food sustainability auditor for the Sustainable Restaurant Association. Louise believes there is a strong link between the health of the planet and human health and this needs to be reinforced by raising public knowledge and awareness.
Ordinary Member -Gizem Acar

Gizem is a dietitian and a PhD student at UCL School of Pharmacy, funded by UK Food Systems CDT. She has completed her MSc in Clinical and Public Health Nutrition. She is very passionate about health promotion through nutrition education, and she's a youth ambassador of the European Cancer Leagues. Her research interests include dietary interventions for better health outcomes, sustainable healthy diets, designing nutrition toolkits and improving nutrition services in primary healthcare settings.
Twitter: Dyt_GizemAcar