07 Jun 2021

A dietitian was named as the overall Allied Health Professionals (AHP) winner at the Advancing Healthcare Awards 2021 last month - along with a number of dietitians recognised for their talent and efforts.
Overall winner Joanne McKee was among four dietitians who won awards across the 14 categories, with a number of others named as finalists. AHPs from Northern Ireland were particularly celebrating, with two Rising Stars, 11 finalists, four category winners and the overall AHP winner from the country.
The AHA UK 2021 Awards celebrate the work of AHPs and healthcare scientists.
Leading the way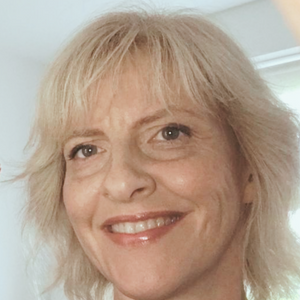 The overall AHP winner, Joanne McKee, is the AHP Lead at Whiteabbey Nightingale Regional Enhanced Nursing and AHP led Rehabilitation Unit near Belfast.
Joanne was the overall winner out of all category winners. She received the AHP Clinical Leadership Award for her role in rapidly setting up the unit for patients post-COVID and achieving a reputation for effective team working to help people recover.
The unit enabled more than 140 patients to receive seven-day AHP rehabilitation after opening in November 2020.
Joanne said: "I'm delighted to have won this prestigious award. I love building a strong team culture across different professions and would encourage others to take the plunge outside traditional dietetic roles.
"Key to the success of the unit has been a focus on patient-centred goal-setting and decisions, with multidisciplinary working, building confidence to think outside traditional professional boundaries."
The judges added: "Joanne's leadership and enthusiasm has helped establish a reputation across the region for excellence and improved patient outcomes."
Digital innovation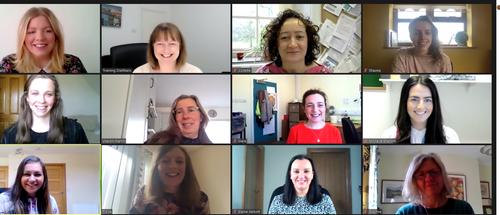 Jennifer McBratney and the Public Health Dietitians Group Northern Ireland won the Northern Ireland Government Award for Reform and Rebuild of Health and Social Care Services Post-COVID-19.
The pandemic added extra pressures on food choices, shopping, cooking and eating habits, increased reliance on snacking, ultra-processed foods, takeaways and food parcels and exacerbated food insecurity.
The Public Health Agency commissioned the group to develop an innovative series of webinars. Topics included:
Introduction to solids
Fussy eating
Feeding under-fives
Lunchbox and snack ideas
Healthy diet, healthier you
Food and mood
Feeding your family for less
Top tips for a healthier weight
Nutrition myth busting
Nutrition for teens
Eating well as you age
Virtual sessions enabled delivery of evidence-based nutrition information when face-to-face sessions had to stop. The video below (starts at 1:55), made by the team, explains what they managed to do.
The judges love the way the team completely dived into this innovative work, adding: "The collaborative leadership was outstanding in fully embracing digital working."
Rising Stars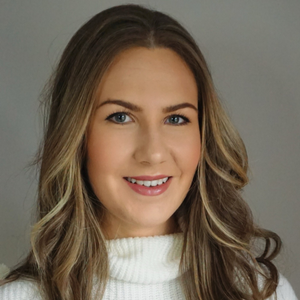 Jill Stewart and Sam Francis were also among those to receive the Rising Star Award this year.
Jill is a Cook it! and Health Improvement Dietitian for Northern Health and Social Care Trust in Northern Ireland.
In her nomination for the Award, staff said: "Jill was one of the first dietitians to get a Zoom licence. Jill devised training guides to assist staff and service users on Zoom and worked tirelessly in the development of regional dietetic-themed health and wellbeing webinars."
Jill said: "I am thrilled and honoured to have won - and also be part of the Public Health Dietitians Group Northern Ireland which also won an award.
"I took on the challenge of a new health improvement post in the midst of the COVID-19 pandemic. This has been a challenging year, adapting to a new virtual world and dealing with periods of redeployment to help clinical colleagues.
"Despite this, it has also been the most rewarding year of my career, using innovation to make evidence-based nutrition information more accessible to the public in a job I absolutely love!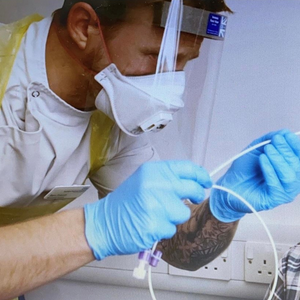 "It has been a privilege to work alongside amazing nutrition and dietetic colleagues across NI and I can't thank them enough."
Sam is a specialist dietitian at Bradford Teaching Hospitals NHS Foundation Trust.
He said: "To be recognised and nominated by my manager has been truly humbling and I am proud to be able to use this platform to promote a really exciting future for dietitians as we extend our roles and further prove our impact within the MDT, improving outcomes for patients."
Further recognition for dietitians
Congratulations also go to the winners of the Faculty of Public Health and Public Health England Award for Contributions to Public Health, 'Eating, drinking and swallowing difficulties (dysphagia) NI: an easier pill to swallow', from Public Health Agency, Northern Ireland.
This whole systems, integrated partnership includes dietetic teams and aims to increase knowledge of EDS difficulties and reduce the risk of choking.
Other dietitians were named as finalists, including:
The multicultural resources working party of the BDA Renal Nutrition Specialist Group in the Scottish Government Award for Improving Quality; Measuring and Demonstrating Impact category for producing diet sheets on how to reduce potassium while consuming an African-Caribbean, Eastern European, Far Eastern or South Asian diet and a set of webinars for dietitians to help advise BAME patients.

Specialist Gastroenterology Dietitians Sheila McVeigh and Julie McCaughern and Dietetic Assistant Practitioner Pamela McMullan from Northern Health and Social Care Trust in the Northern Ireland Government Award for Reform and Rebuild of Health and Social Care Services Post-COVID-19 category for reforming the dietetic led coeliac service in response to the pandemic.

An MDT from Belfast Health and Social Care Trust which included dietetics for their work: 'Empowering Patients Post Intensive Care (EPPIC)' in the Faculty of Public Health and Public Health England Award for Contributions to Public Health category
Find out more about the awards, including winners of the other categories, at www.ahawards.co.uk you can also watch videos of all the award winners.