24 Nov 2022

The Advancing Healthcare Awards in Northern Ireland took place last week, with Dietitians winning some amazing Awards.
The awards recognise and celebrate the work of allied health professionals, healthcare scientists and those who work alongside them in support roles, leading innovative healthcare practice across the UK.
Congratulations to Dietitians Lucy Hull and Monique Kritzinger from Belfast Health & Social Care Trust, Siobhan McCaffrey from Western Health and Social Care Trust, and Elizabeth Armstrong from Northern Health & Social Care Trust have won the Outstanding Leadership Category in the Advancing Healthcare Awards Northern Ireland 2022, for their work on Dietitian-led ordering of oral nutrition supplements for care home residents.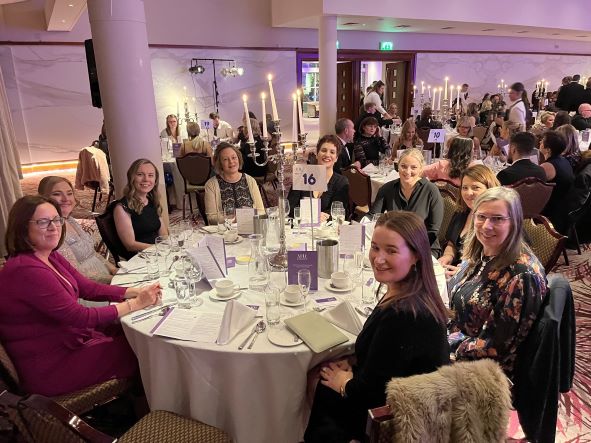 The project was supported by collaborative working involving a number of agencies including the Strategic Performance and Planning group at the Department of Health.
The project demonstrated positive outcomes for patients, care homes, GPs, community pharmacy, dietitians and an economic benefit to Health and Social Care (HSC).
Congratulations to the Dietetics Services Team - winners of the @kingsbridgehosp Award for Outstanding Leadership for their joint dietitian-led project on direct ordering of oral nutritional supplements for care home residents @NHSCTrust @WesternHSCTrust @BelfastTrust pic.twitter.com/4rzHsaZmZK

— AHAwards💙 (@AHAwards) November 24, 2022
Congratulations to Dietitian Ellen Moore, Northern Health & Social Care Trust, who won the Rising Star Award, and to Dietetic Assistant Practitioner Ellen Robinson, Northern Health & Social Care Trust who was shortlisted for an Award in Excellence in a Support Role.
The ceremony took place at Stormont Hotel, Belfast on Thursday 24 November.
If you or any of your dietetic colleagues have been shortlisted for or have won awards, please let us know. We want to celebrate all your achievements with our other members and encourage celebration of achievements in the dietetic industry.
Don't forget you can still nominate yourself for a UK Advancing Healthcare Award too.