28 Jul 2022

MSc Dietetics student, Caoimhe Lennon gives us an insight into her experiences as a dietetic student. She shares her thoughts about her 12-week placement and why she is passionate about becoming a fully-fledged dietitian.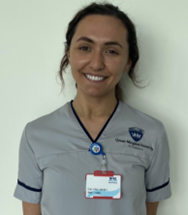 Hi, my name is Caoimhe Lennon. I'm currently doing my MSc in Dietetics. I am in the first year of my postgraduate degree and I've just finished my 12-week B placement in NHS Forth Valley. I moved from Ireland to Edinburgh in September to become a dietitian and I'm really happy that I made the transition to pursue my career in dietetics. It really is an exciting time to be studying in this growing profession and I am looking forward to seeing where it takes me!
I'm not sure where it comes from but when students, including me, think about starting their first placement, feelings of fear, anxiety and a lot of nerves come flooding in. If only I knew then, what I know now! I hope this blog will reassure some of you about the practicalities of starting placement and what to expect.
As a student on the verge of completing my B placement, I know I am lucky and privileged to have spent the last 11 weeks with this dietetic team – a group of individuals who are extremely passionate about their profession, inclusive and supportive towards us as students, and have a genuine interest in working together with patients to help reach their desired outcomes.
Placement B is a time for establishing the dietetic basics, building confidence, experiencing as much dietetic practice as possible, understanding your own techniques and essentially finding your feet in the dietetic world. I feel very fortunate knowing I have had many opportunities for this.
My placement began in the community dietetics setting, where I stayed for six weeks. I would've considered myself well prepared prior to commencing placement, however it wasn't long before I was humbled. It was not until my first two to three weeks in the community setting that I truly understood the variety and different areas that needed dietetic input (and at this point, I had only scratched the surface).
Weight management, nutrition support, IBS clinics, mental health, eating disorders, disordered eating, type 1 and type 2 diabetes, the importance of education in dietetics - the list really could go on. On top of this, the variety in the methods of delivering consultations was also an element of dietetics that I was very impressed by with face-to-face, telephone, video calls and home visits.
Although some of this may be accredited to COVID, it has really opened the field in terms of providing a patient-centered approach, allowing them to choose the most comfortable setting for their requirements. I'm not really sure if this is a good thing, but every new area I was introduced to, I was convinced that it was my new career pathway. That was until I tried something new the next day. To be afforded the luxury of exposure in all these areas so early on in my dietetic journey, really excited me for what is to come.
As I moved into the acute setting in Forth Valley Royal Hospital in week seven, I was somewhat nervous that any progression I had made prior to this would disappear or that I would have preferred community dietetics. I wouldn't say I was thrown into the deep end, but the increased patient contact and fast-paced nature of dietitians in hospitals didn't allow me any time to feel nervous (which really was a blessing in disguise).
I got the chance to build my confidence with speaking to patients, healthcare staff, patients' friends and families and also the dietitians in the department, whether it was providing a justification for my decisions or even just asking questions. The hospital wasn't short of variety either and I spoke to a plethora of patients helping with various different areas. This included those with kidney disease, liver disease, gestational diabetes, nutrition support, enteral nutrition, and parenteral nutrition.
I spent every Friday with the Learning Disability Dietetic team. In terms of learning, the range of dietetics I was exposed to has really helped my development. My aim, well, more so my desire to work in the majority of areas is increasing - I may never retire!
The dietetic teams I shadowed and worked with have really been incredible. It really speaks for itself, that in the 12 weeks (well, 11 so far), I have not heard one dietitian complain about what they do. I am fully aware that everybody has days when they are not feeling 100% or are tired, but those feelings can easily be detached from the profession. Every dietitian has spoken extremely highly and passionately about their job.
This can also be noticed in how dietitians interact with the students. Everybody in the department has put in extra effort to ensure my placement has been as beneficial as possible – whether that is answering questions (no matter how silly they might seem), asking me questions, or for my opinions on some situations and amending timetables/meetings to ensure I got to see any interesting events or sessions taking place in the hospital. It has probably been one of the most important elements of my B placement so far. Along with a big sigh of relief, it makes me feel reassured that I'll be happy to see myself doing this career for decades to come (and that's truly priceless in this day and age!)
When I think about my time at placement there is an overriding feeling of positivity, accomplishment and happiness towards it (but do ask me again at 6am Monday morning!) Placements as a student are never going to be a walk in the park. There are days when you may feel like it is all too much and that you are never going to know enough. I found it hard that I was always constantly trying to take in all the information I was reading or being told, and it was very seldom that I could switch off. And honestly, it is nobody's fault but my own, but as a student you always want to put your best foot forward by having that knowledge, so you don't feel silly without all the information.
In fact, upon reflection since starting to write this blog, not one dietitian had one negative thing to say to me, even if I didn't know the answer to something. What I have learned is that having an enthusiastic approach, wanting to learn and doing your best is all that anyone can ask for. It is really important not to be too hard on yourself and that you can always ask for support.
The thing I probably found the hardest throughout my 12 weeks was probably making lunches! And yes, I am aware that it is not just students that have to make lunches. I'll master that skill someday!
Above all, being a student on placement brings a range of feelings and emotions. Looking after yourself (both physically and mentally) and recognising when you may need that little bit of support from family, friends, tutors and practice educators is vital.
The positives that come with placement are extremely rewarding - whether it is helping someone overcome a nutritional problem they have, seeing family members relieved and seeing positive outcomes, and even the feelings of achievement within yourself.
Seeing this progression in yourself ignites feelings of satisfaction and accomplishment - and next comes the feeling of wanting to do more!