In this section
The BDA Critical Care Specialist Group provides a nationwide network of resources, education and forums for Dietitians working within Critical Care.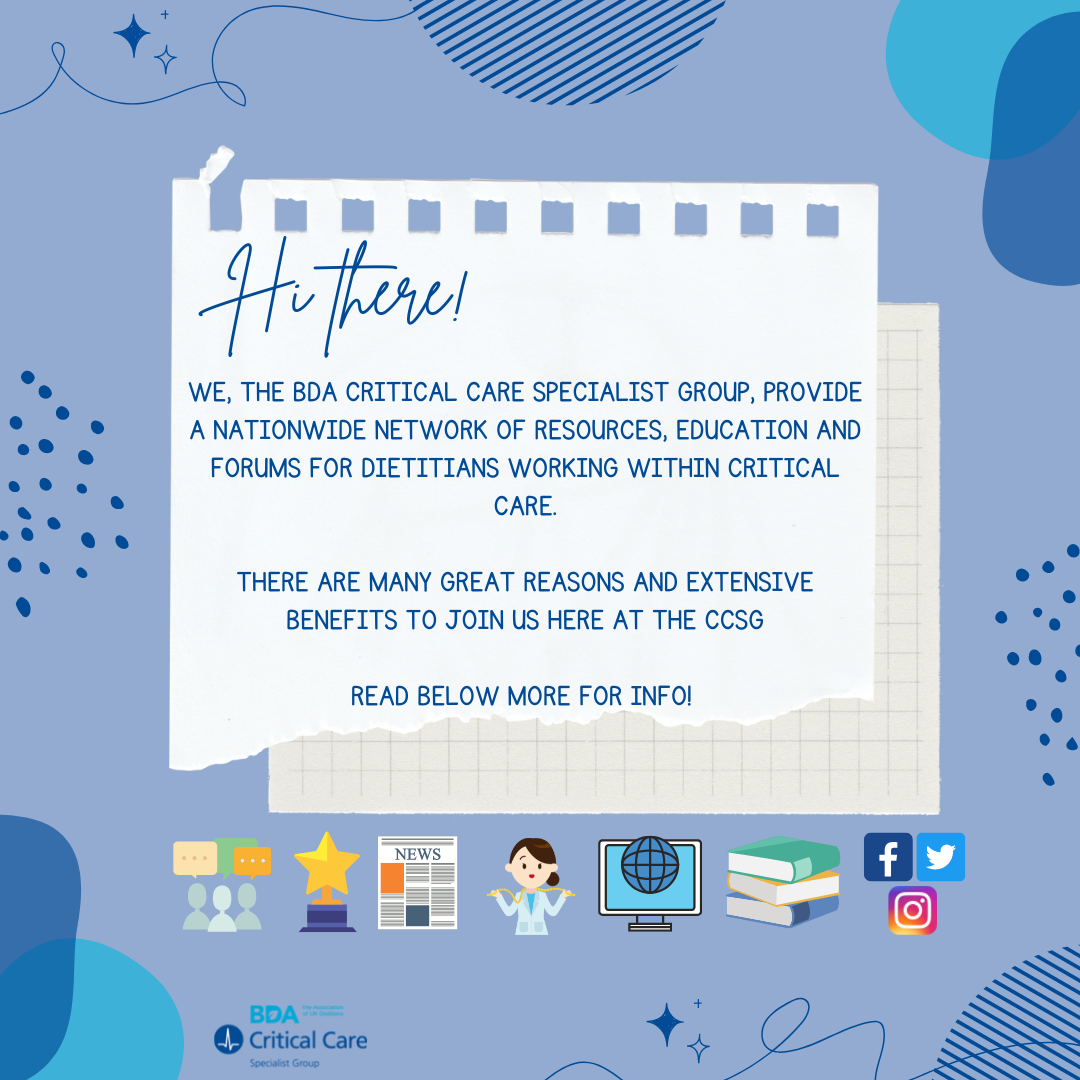 Membership costs £20 per year, or student BDA members can join two specialist groups for free. You can join us by visiting the Join a specialist group page. Please contact us at [email protected] if you have any questions about the group.
Benefits of joining the CCSG include:
Access to an online resource library containing links to key papers, webinars and podcasts, example protocols, and comprehensive COVID guidance
Discounted ticket to our annual study day, with experts presenting on different themes each year
Webinars and study events on specialist topics such as wellbeing and guided tube placement
A dedicated discussion forum, 'Basecamp', providing a safe space to ask questions of fellow Critical Care Dietitians, share ideas and discuss current challenges. There is also a separate NJT forum
A bi-monthly newsletter containing information about projects and updates
Regular blogs written by our members, with topics ranging from conference updates to using indirect calorimetry
Ability to join the Trauma sub-group for free, with its own forum, resources and events
Access to the guided tube placement image bank and novel tech assessments
Ability to submit an abstract to the Annual CCSG Award, with prizes including money to attend a conference and presenting at the BDA Research Symposium
Access to the Critical Care Dietetic outcomes tool to help you analyse your nutritional goals
We welcome membership from Student Dietitians and are aiming to produce dedicated resources to assist students experiencing critical care on placement. Please see our Student Membership page to find out more information on joining the CCSG as a student.
You can find out more about the CCSG committee on our Committee page, from learning why people love their role to discovering their favourite meal!