Looking for conferences or study days to attend over the coming year? Here are some ideas of events which may be of interest.
CCSG Study Day 2023
Our 2023 study will take place on 16th November 2023, running as a hybrid event.
The title of this year's event is 'Let's learn all a'bowel' it!', with a theme of intestinal failure - covering topics such as bowel obstruction, ileus, feed intolerances, PN and much more.
Please see Annual CCSG Study Day for more details as they are announced, as well as information on our previous study days.
Ketogenics in Critical Care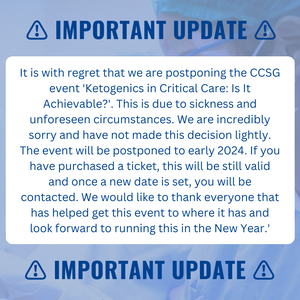 This half day virtual study morning on 5th September 2023, run by the CCSG, is looking at whether ketogenic diets are achievable and appropriate in the ICU.
The day will have experiences from dietitians who have attempted this in their units and the barriers that they faced. There will be Q&A sessions with experts so bring your questions. Confirmed speakers include Sue Wood and Dr Manny Bagary.
Add yourself to the interest list to be emailed when bookings re-open
Introduction to Critical Care Dietetics
The CCSG has developed the introduction to critical care dietetics to support foundational level learning. The course aims to improve your awareness of the dietetic and physiological principles that are essential to working in the critical care setting, whilst supporting you to develop the confidence required to autonomously work in this environment. The course will involve some pre-course learning hosted in the BDA Learning Zone followed by an interactive face-to-face study day where you will learn amongst peers as you work your way through a number of critical care scenarios, enabling you to practically apply the knowledge learnt in the pre-coursework and further develop your network of ICU colleagues.
The course is aimed at those new to working in critical care, especially those working in isolation without a team of critical care dietitians to support them. It is aimed primarily at band 6's and 7's who have just moved into the specialist of critical care or having to provide clinical cover to this area. They will be working in the area but not experienced.
See the BDA Event calendar for upcoming dates.
Please note that the waitlist for this course is currently closed due to unprecedented demand. Please see the Introduction to Critical Care Dietetics page for further information.
International conferences
Intensive Care Society State of the Art - Birmingham - 27th-29th June 2023
Intensive Care Society | SOA Homepage (ics.ac.uk)
ASPEN 2023 Nutrition Science & Practice Conference - Las Vegas, Nevada - 20th-23rd April 2023
https://www.nutritioncare.org/conference
ESPEN 45th Congress on Clinical Nutrition & Metabolism - Lyon, France - 11th-14th September 2023
ESICM 36th Annual Congress - Milan, Italy - 21st-25th October 2023