Looking after yourselves - wellbeing and self care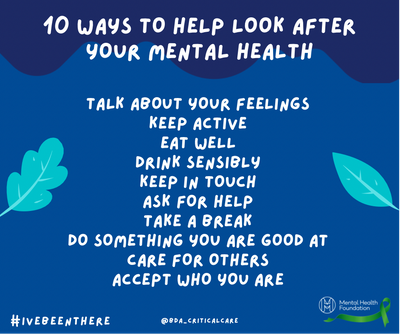 Looking after yourself is a key element of working successfully and sustainably within the NHS, and working within critical care can be particularly challenging. The COVID pandemic highlighed the importance of staff wellbeing and self care, and that this should always be a consideration within our daily working lives.
Dietitian Wellbeing
The Dietitian Cafe podcast have an episode on mental health within Dietetics and the workplace, which you can find here: http://open.spotify.com/episode/0VR7WF2F3MeqLhIGXE1hm5
The Mental Health Foundation have also produced a great resource for students on managing mental health and wellbeing whilst studying:

Student Guide to Loneliness
You can also access Frontline19 which is a FREE independent, confidential and UK based nationwide service delivering psychological support to people working on the frontline: https://www.frontline19.com/services-for-covid-19-workers/
ICU Staff Wellbeing
The ICS page on wellbeing has lots of resources specifically for staff looking at burnout, managing stress and traumatic events at work.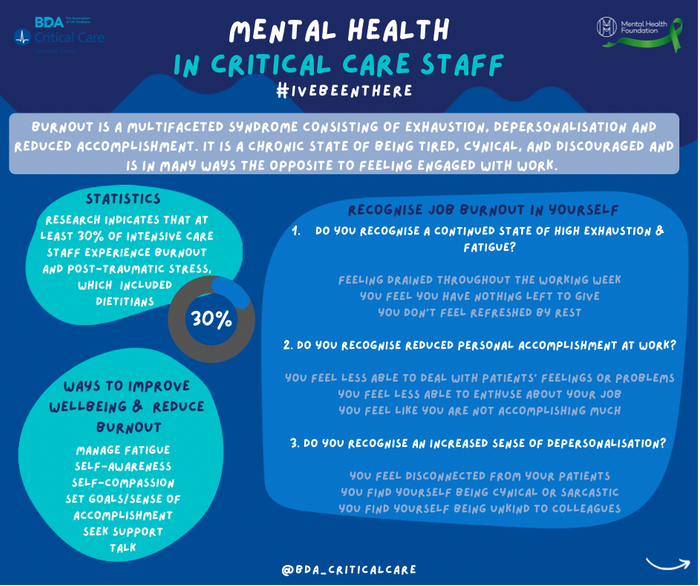 Jenny and Emma have written a piece about the CCSG wellbeing event that we held in 2021 - check it out here.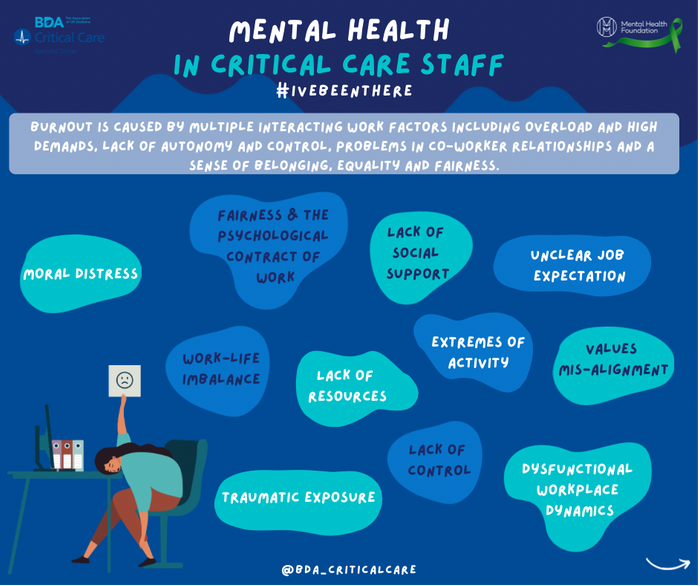 The ICS podcast series has several episodes around wellbeing, you can see all of their podcast episodes here: http://open.spotify.com/show/76Vri08GzQUqGyNkOBgm60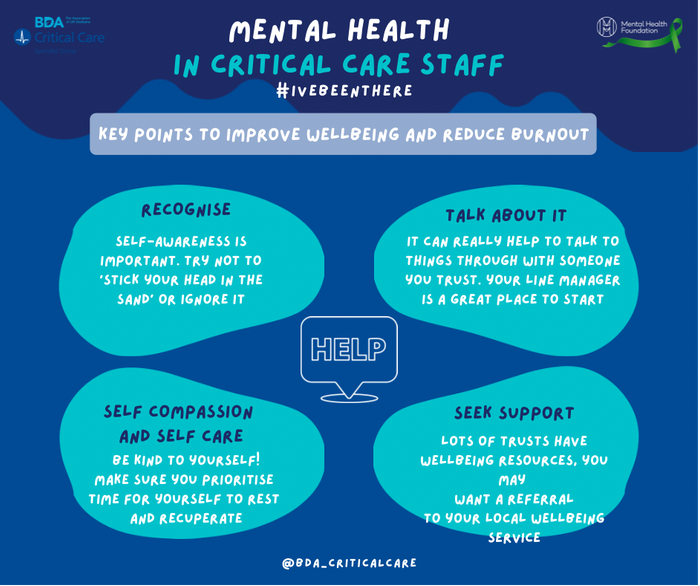 General Wellbeing Resources
It's not alway easy to talk about how you are feeling with your colleagues or family, but if you feel able to you might be surprised at what others are willing to share about their experiences and open conversations can help reduce feelings of stigma.
There are lots of apps to encourage healthy habits around sleep, mindfullness, meditation and breathing exercises if you are struggling with anxiety or low mood, such as Headspace, Sleepio and Unmind.
If you feel that you or a colleague would benefit from some more support, IAPT (improving Access to Psychological Therapies) offers a self referral service across England and can provide CBT (cognitive behavioural therapy), talking therapies, counselling and guide self help. In Wales and Northern Ireland you need a referral via your GP, in Scotland there is some variation across different regions for self referral but there is more information here.