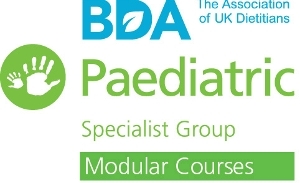 Our modular programme is designed for qualified dietitians to allow them to build on their existing knowledge of paediatric nutrition and dietetics. The programme provides a progressive path through paediatric training with the modular format allowing flexibility for dietitians who have differing levels of experience. The modules are of a very practical nature and learning is achieved through a mix of lectures, workshops, case studies, problem solving and informal discussion groups.
Each module is endorsed by the BDA upon completion of pre-course work and attendance at a four-day taught module. The modules are also incorporated into the MSc Advanced Professional Practice (Paediatric Dietetics) course, in partnership with the University of Plymouth. Each module has an award of 20 MSc credits attached, upon completion of pre- coursework, attendance at the four-day taught module and post-course assignment.
Cost
£820 per module - inclusive of lunch and refreshments over 4 days. Accommodation is not included.
Course Brochure
Click here to access the Course Brochure
Priority of places on all modules will be given to practising UK registered dietitians

Students must be registered with the Health and Care Professions Council

International applicants will be required to be Registered Dietitians in their own country. (Unfortunately, for the MSc programme, we are not able to accept application for the non-EU overseas students for this programme as it does not comply with the current Tier 4 VISA requirements)

Students must have funding in place prior to application

All places are allocated on a first come first served basis. When places have been allocated, a waiting list will be in operation (please note waiting lists do not overrun into the next module) Please direct any queries to Hayley Clarke sgevents@bda.uk.com
To provide a planned programme which complements the skills of Registered Dietitians, equipping the dietitian with additional expertise necessary for advanced, evidence-based practice in the field of paediatric dietetics.

To enable students to apply theoretical knowledge and practical skills to an increasingly complex caseload in order to provide the most appropriate advice for infants (including preterm infants), children and adolescents

To develop students' ability to analyse, interpret and synthesise new and emerging scientific knowledge in the field of paediatric nutrition and dietetics

To give students confidence in handling a variety of paediatric cases of increasing complexity as they progress through the five modules

To encourage effective communication of paediatric dietetics to patients, healthcare professionals and other groups

To support students to critically analyse and interpret their own work in order to advance their practice
Demonstrate an extended knowledge of nutritional principles, feeding, nutrient requirements and nutritional assessment in the field of paediatric dietetics

Demonstrate an appreciation of how psychosocial, financial and cultural factors affect families and children, and the importance of the multidisciplinary team in their management

Apply and synthesise theoretical knowledge in order to recommend the most appropriate and current dietary regimens for normal infants, children and adolescents, and those with particular needs, such as over and under nutrition and clinical conditions requiring a dietetic input.

Communicate their nutritional knowledge to groups or individuals and evaluate outcomes

Critically evaluate new scientific and other evidence which may impact on dietetic practice module content
Bursaries
The Vanessa Shaw award is made up of two separate awards up to £2,500 each. The award is to be used for an individual dietitian's research project undertaken as part of the MSc Advanced Professional Practice in Paediatric Dietetics, or other MSc, MRes or PhD. The award can be used to fund research related equipment and activities, input from a statistician or dietetic assistant, travel necessary to conduct the research, and attendance at a conference relevant to the research. The award should not be used for the payment of module fees.
To access the application criteria and application form, click here.