10 Oct 2022

Oluwatobi Orire has worked as a dietitian for five years and currently works as a Nutrition Support Dietitian at Dartford and Gravesham NHS Trust. She is extremely proud to be a Black Dietitian and as part of Black History Month she has written a piece to celebrate Black culture and diversity within the Dietetic workforce.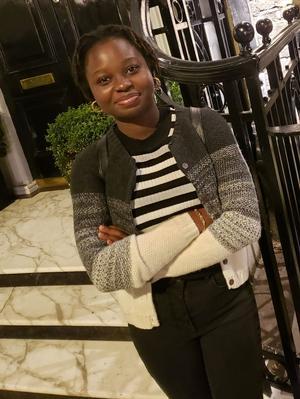 What does Black History Month mean to you?
To me as a Dietitian, Black History Month is a time to celebrate the culture, heritage, accomplishments, achievements and contributions of Black people who have carved, embodied, moulded and modelled the field of Dietetics.
No matter what you are, who you are, what you look like – your race or colour, or how the world perceives you, Black is phenomenal in all areas; 'Black is beautiful' according to Kwame Brathwaite.
Preconceived notions regarding Black people do not stop us from the determination, doggedness, willpower and inclination to do great things.
What would you like people not of Black heritage to know about Black history?
Those of different heritage should celebrate and appreciate the contributions from Black people in different parts of the world as well as different specialities, trades, arts and literature that will influence the future.
I am Black, making an impact as a Dietitian by promoting good dietary health and treating nutritional problems through practical advice about food choices and preferences. I am proud to be a Black and a Dietitian, being motivated by the success of renowned Black nutritionists and Dietitians.
What do you love most about being a Dietitian?
As a Black Dietitian in the UK, I love what I do. Everyone's ideas are welcomed and respected within a multidisciplinary health management team.
What advice would you give to someone considering a career as a Dietitian?
Being able to educate, relate, reach out and proffer satisfying solutions to the nutritional needs of a considerable number of people is one thing I love most about my role because really, food is medicine.
This is why I would like to encourage more Black people to take up Dietetics. There is an increasing number of people being managed for lifestyle diseases with obesity as an underlying cause that can be prevented through evidence-based nutrition education that can be provided by Dietitians.
Not forgetting to mention the tactful and persuasive communication skills; convincing, comprehensive and effective presentation skills needed to succeed as a Dietitian.
Who or what inspires you?
The desire to learn and explore new things. My late uncle always said to me, 'Know something about everything.' My partner inspires me, they always say I am the best at what I do even when I make mistakes, and that I should learn from them and push on.
This year's theme "Time for change: Action not words" is a call to make a move, to witness more advancements and achievements of the Black people amidst racism and biased judgment directed towards us.
Author

Oluwatobi Orire
Nutrition Support Dietitian, Dartford and Gravesham NHS Trust