17 Aug 2023

Dr Alan Kennedy spoke to dietitian James Moran about his work with the Norwegian Men's Cycling Team ahead of the UCI Cycling World Championships which took place this month.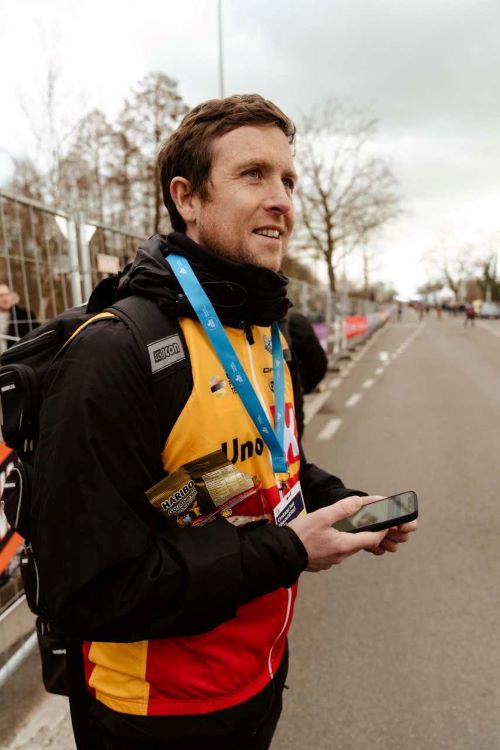 The UCI Cycling World Championships were held in Glasgow this month. Whilst this event is an annual highlight on the UCI calendar, these Championships are particularly special as they combine all the officially recognised UCI cycling disciplines into one action-packed event for the very first time.
Cycling fans were treated to the very best in road, track, mountain bike and BMX racing within the city of Glasgow, and across Scotland, over 11 thrilling days. As is tradition, the winner of each event in the men's and women's elite and underage categories are presented with the iconic rainbow jersey to wear with pride for the year.
Key to every rider's performance on race day is their fuelling strategy, with each athlete looking to carefully optimise food and drink intake before, during and after competition. As a consequence, the majority of competing nations have experienced sports nutritionists as part of their support teams.
James Moran, a registered dietitian and SENR Registrant, helped support the nutritional needs of his riders as they compete in the Elite Men's Road Race and Time Trial events at the Championships.
James is an established high-performance nutritionist with extensive experience in the sport of cycling, having previously worked with British Cycling and the English Institute of Sport, the INEOS Grenadiers World Tour Team, and with athletes at Olympic and Commonwealth Games.
He is currently Head of Nutrition at the Uno-X Pro Cycling Team, the first ever Norwegian trade team to compete at the Tour de France.
Alan Kennedy (AK): In elite, professional road cycling, the World Championships is the sole annual event where riders compete for their nations, as opposed to their usual trade teams. At this year's Championships, you will provide nutritional support to the Norwegian men's team. Can you explain how this scenario may provide challenges, or indeed opportunities, to the sports nutrition practitioner?
James Moran (JM): Having worked at a few major games (Worlds and Olympics) providing support to the Great Britain and Norwegian elite teams, the 2023 Worlds in Glasgow will be quite special as, like Yorkshire in 2018, I am able to attend in person! A lot of the work is done remotely and in advance – coordinating the staff on the ground and the logistics before to make sure everything gets to where it is needed and everyone is clear on what they need to do.
As you mention, there are only a few times in the calendar where road cyclists will compete for their nation, so a lot of my role as nutritionist is to coordinate with the riders that I haven't been working with and to contact their support teams. This is to try and get a sense of the nutrition products and practices they are using so things are familiar and consistent when they join up with the national team. With the riders that I am working with in my 'day job' with Uno-X, this is straightforward, as we just replicate the protocols and nutrition systems to the national team – they just wear a different kit!
AK: The Elite Men's Road Race is the first event your riders will compete in at the Championships. When will you begin your nutritional intervention with the riders in preparation for the event, and how will it look as the days progress?
JM: For Glasgow, there won't be too much travel stress compared to Australia last year where we did a protocol of adjusting wake/sleep times and nutritional strategies to mitigate travel fatigue and jet lag, so that is a good start! The riders I work with day-to-day already have established travel protocols relating to hand hygiene, mask wearing, taking food prepared from home, zinc and vitamin C supplementation, and hydration.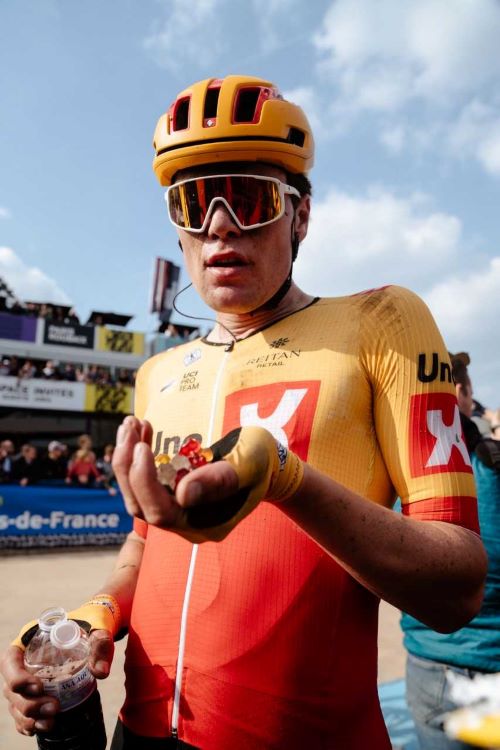 Once on the ground, I would usually start with the 24 hours before the road race with an individualised glycogen-loading plan. For such a long and tough race, this would typically be aiming for a carb intake of around 12-13 g/kg, low fibre, easily digestible carbohydrate, with extra snacks and some carbohydrate drinks/juices to hit the target. This can be more challenging with a national team, as quite often, they don't have the budget to provide a chef like we would with our trade team. It is a lot of food, but the riders know how essential it is if they want to be competitive in the last hour of the race.
AK: The race covers a distance of 271.1km, with a total elevation gain of 3,570m. The average speed will likely be above 45kph for the day. This represents an enormous physiological demand for the riders. Talk us through your strategy for meeting the riders' nutritional requirements for this performance.
JM: As I mentioned, we focus on the 24 hours pre-race to maximally load muscle glycogen stores. On race day, the riders will be given plans to try and hit 2.5-3g/kg at breakfast [three hours before race], plus a 0.5-1g/kg snack one hour pre-race. This is individual but will usually consist of rice, bircher muesli, porridge, bread, jams, honey, juices/smoothies and a small pancake.
In these situations, it depends on the individual, but we encourage them to prioritise carbohydrate and, if they want, high protein yoghurt or omelette is the usual protein source.
Depending on their morning weight, subjective markers and weather conditions, they may also be given some hydration suggestions pre-race, but typically the riders are good at managing their hydration day-to-day. For a day like today, starting with a 'full fuel tank' is essential – no matter how well the riders fuel on the bike, if they've not loaded well in the 24 hours prior, they won't be competing for medals.
On the bike, riders will be given an hour-by-hour plan to help them hit their fuelling targets. This will also be on a small template on their bike stem as a reminder. In races such as this, it can be easy to forget and miss one or two feeds, and then it is impossible to catch up. My strategy is to increase the amount of carbohydrate the riders ingest, starting with 80g/ hour in the first hour, progressing to 80-100 g/hour, then 100-120 g/hour in the last hours. Obviously, this depends on the individual as some riders aren't able to hit 120 g/hour. This is especially so for the riders I am not working with regularly, who might not have done 'gut training', so they are advised to not suddenly aim for an intake they haven't achieved in races or hard training before!
When the Worlds come, most riders will have done the Tour de France or completed seven months of the season, and so will have had lots of high carbohydrate exposure.
AK: For readers that follow pro cycling, we are used to images of race winners being supplied with hydrating fluids immediately on crossing the finish line. If that's the start of the riders' nutritional recovery protocol, what happens in the subsequent hours to further the process?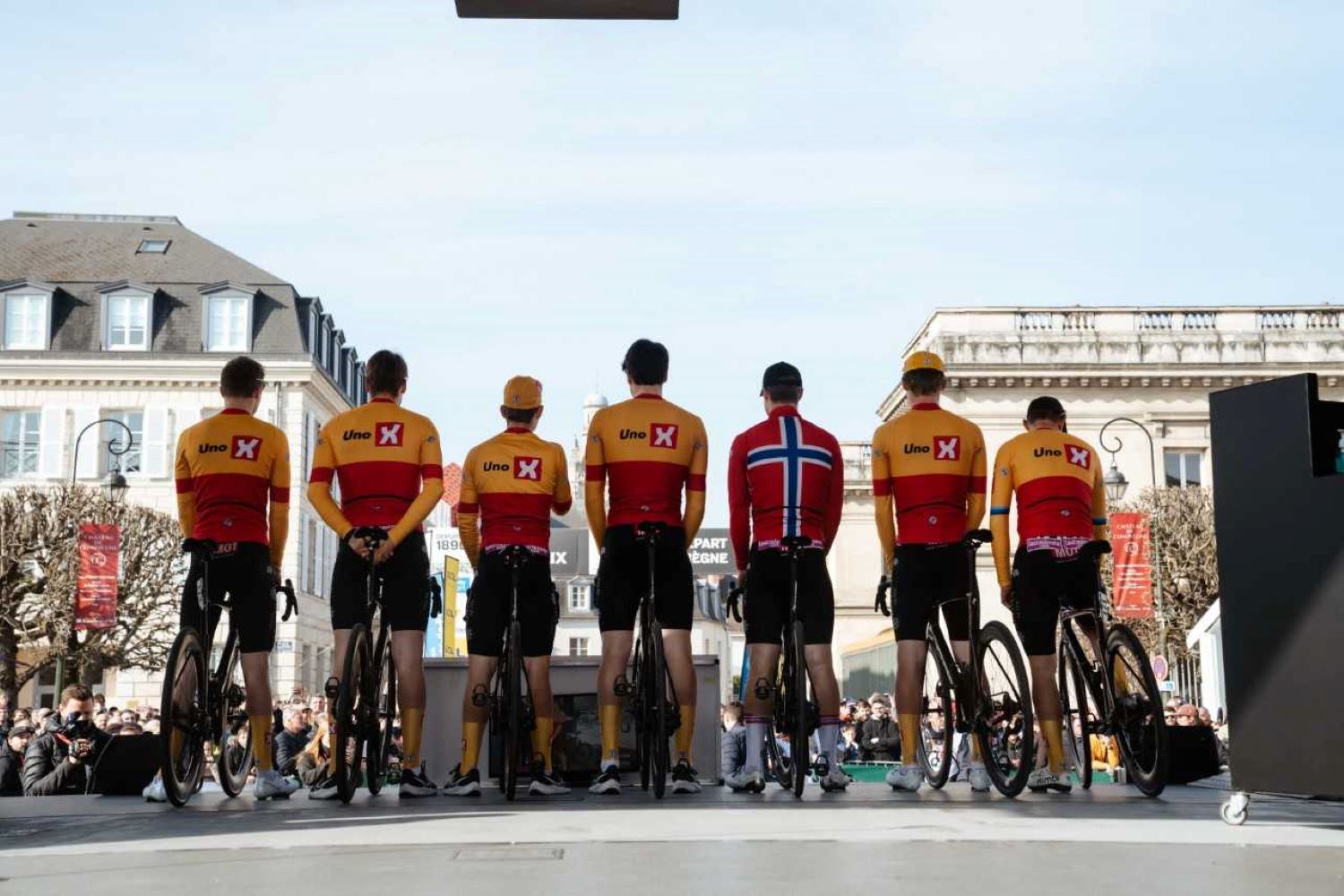 JM: With Uno-X, a big emphasis of race nutrition is glycogen repletion post-stage as, in my eyes, maximising the first few hours after a stage are crucial to recover for the next stage less than 24 hours later. We operate a sliding scale system, where for most races/stages, recovery is 3g/kg of carbohydrate. We would then add an additional 1-2g/kg in extreme, or back-to-back hard stages, to hit 4-4.5g/kg in the first four hours post-race.
Typically, this will look like rapidly digestible carbohydrates on crossing the line (candy), tart cherry concentrate [additional carbs with fructose to support liver glycogen repletion], and 500ml water. So, within five minutes of crossing the line, they have ingested 1g/kg and 1l of fluids, which is a good start! Then the rider will get to our team bus where they will do a cool down and have a recovery drink [40g protein and dual source carbohydrate]. After a shower, the riders will then have an individual meal portion – typically pasta, a rice dish, or bircher muesli – prepared by our chef.
Depending on the transfer to the hotel and how high we need to push recovery, the riders will also get a smoothie/cake/more candy. So, with a bit of thought and planning, it is quite easy to hit the targets. Sometimes we have to adjust based on how the rider is feeling and if their appetite is reduced.
AK: Five days following the road race, some of your riders will compete in the Elite Men's Individual Time Trial (TT), a solo effort against the clock over a distance of 47.8km, with an elevation gain of 352m. In this event, the duration of effort for the riders is much shorter but the intensity much higher. As a consequence, how does the preand in-race nutritional strategy differ from the road race?
JM: For the time trial, especially with quite a bit of elevation over the distance, it needs to be a balance. When holding the aerodynamic TT position, the riders need to feel comfortable in the gut and not too full or bloated. It is a short duration, but the intensity is ridden in the severe domain so glycogen-dominant and depleting. Typically, they will follow a low-residue diet for the 24 hours before such a race, with medium/high carbohydrate ~8-10g/kg in the 24 hours before. Meals on race day are quite plain and typically consist of rice and omelette/yoghurt.
We try and time caffeine and sodium bicarbonate ingestion pre-race, so the riders get the ergogenic peak during the hour. Often, a rider will have an energy gel tucked into their cycling short leg and a carbohydrate drink mix in their bottle as carbohydrate ingestion may have an effect even over a short duration, even if that is just from being sensed by the brain in the oral cavity.
It is a balance though, as the need to stay in an aerodynamic position to maintain power output and speed is crucial, and so coming out of this position to eat and drink would slow the rider down and end up increasing the overall energy cost. Time trialists will typically have a standard TT plan that they follow for all time trials, as they are very detail orientated and like to stick to a detailed nutrition and pacing plan that they can trust.
Author

Dr Alan Kennedy
Dr Alan Kennedy is Executive Support Consultant for SENR.