James Moran, a Registered Dietitian and SENR Graduate Registrant, is an established high-performance nutritionist with extensive experience in the sport of cycling. He has worked with British Cycling and the English Institute of Sport, and the Ineos Grenadiers World Tour Team, supporting athletes at Olympic Games and the major events of the professional cycling calendar. Currently, he is Head of Nutrition at the Uno-X Pro Cycling Team.
In November, James utilised his skills and knowledge for an altogether different purpose than helping pro cyclists to maximise their performance - he helped fuel Kevin Sinfield's "Ultra 7 in 7 Challenge". Kevin, the former Leeds Rhinos Captain, was running 7 ultra marathons in 7 days, as the next instalment of his ongoing campaign to raise awareness and funds for motor neurone disease (MND) charities in the UK. Starting at Murrayfield, Edinburgh, on Sunday 13 November, the aim was to run approximately 40 miles per day for 7 days, finishing in Old Trafford, Manchester, on Saturday 19 November, to coincide with the Men's Rugby League World Cup Final. A monumental undertaking that would require monumental endurance and monumental support.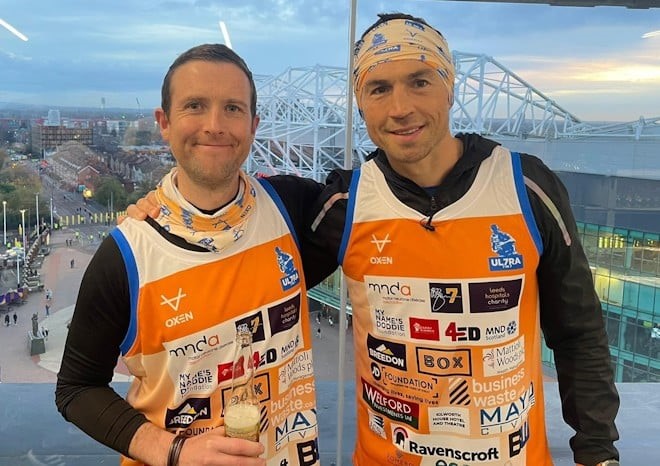 Pictured above are James (left) and Kevin (right) at Old Trafford following completion of the "Ultra 7 in 7 Challenge".
Alan Kennedy (AK): James, can you describe the daily routine for Kevin and the support team during the challenge?
James Moran (JM): Each day the team were usually awake between 4:30 to 5:00am, needing to be ready for BBC Breakfast at 6:30, and setting off at 06:57. While the guys were running, my day consisted of sitting in the support van with Dave O'Sullivan (Physiotherapist) and Pete MacKreth (Leeds Beckett – Navigation / Planning / OPS). We had 3 bikers who were responsible for ferrying food and fluids from the van into Kev's hands and reporting back to me what was consumed. I was then able to closely monitor Kev and the other runners and prompt hydration / fuelling if they were falling behind schedule. Also on our team were Dr Gemma Phillips (Medical Doctor RFL) and Prof Ben Jones (Leeds Beckett University). Both were key in making sure logistics / recovery and our monitoring / feedback were optimised across the week.
AK: Running for approximately 8 hours per day, what was Kevin's estimated energy expenditure and intake?
JM: We estimated energy expenditure at 8500 - 9200 kcal per day, and energy intake at 7500 - 8500 kcals per day.
AK: Tell us about the strategy employed for energy intake?
JM: Breakfast was tricky due to the early starts, media and physio commitments before each run. Often there was less than 60 minutes between breakfast and the run start time due to wanting to maximise sleep. As a result, we just focussed on easy to digest carbohydrates such as kids cereals, toast with jam, and fruit-juice containing maltodextrin. It was important to get the balance between topping up liver glycogen and avoiding upper GI issues when starting the run.
Whilst running, Kevin preferred Jaffa Cakes or flapjacks as solids, which we fed as 15 to 25g portions approximately every 5km. For hydration, we used a Maurten sports drink, which provided 60g of carbohydrate per 500ml. Using this feeding strategy, Kev consumed 75 to 110g of carbohydrate per hour. During breaks, Kev would typically have a bacon sandwich, a 20g carbohydrate/protein recovery drink, and a coffee or hot chocolate. The estimated average fluid intake was 8 - 9 litres per day.
AK: During multi-day endurance events, recovery protocols are paramount to success. What approach did you employ for daily post-run nutritional intake?
JM: Recovery protocols were similar to what I would use in pro cycling, aiming for 3 to 4g of carbohydrate per kilogram of body weight in the first 3 to 4 hours on finishing each run. This was a combination of a dual source recovery drink, hydration fruit-juice containing maltodextrin, small snacks, and usually a sandwich or savoury snack.
Dinner was difficult to control as I had very little input on where and what food was provided. Where meals were lower in carbs, we ensured extra portions of pasta, potatoes, bread, and dessert were provided.
AK: Did you adopt any forms of supportive nutrition?
JM: Yes, we applied a 2 to 3 week pre-'loading' with probiotic, prebiotic, omega 3, and multivitamin, and a 1 week pre-'loading' with New Zealand Blackcurrant Extract, which continued each day of the challenge. During the challenge, we provided 500mg of vitamin C each morning, and tart cherry after each run, as well as before bed, to aid sleep, and reduce inflammation and muscle soreness.
AK: Were there any GI issues during the challenge, or illness or injuries to contend with?
JM: Fortunately, there were no GI or URTI illness during the challenge. Weight was relatively stable each day. During the last 48 hours, there was visible fluid retention probably due to accumulated inflammation / damage, which resulted in a slight increase in weight. I opted to run the final 45km to Old Trafford, whilst still supporting Kev's nutrition and hydration, which involved a few shuttle runs back to the van to top them up!
AK: Thanks James for sharing this unique piece of sports nutrition practice with us.
JM: No problem. It was an amazing week that will live with me for a long time!
James and the team arrived to schedule at Old Trafford, walking onto the pitch at half-time to a rapturous reception from the crowd. Kevin provided an emotional interview to the BBC, which can be viewed here. The fundraising target for the Challenge was £777,777. Total donations so far have surpassed an incredible £2 million. To add to this total, you can visit the donation webpage here.