14 Sep 2022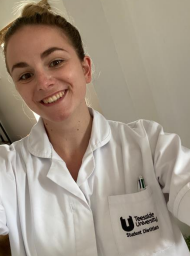 Hi, I'm Lucy, student member on the CCSG committee! I am currently studying MSc Dietetics at Teesside University and I started my role as student member in February 2022. Since then, I certainly haven't looked back!
What does my role involve?
My role as student member involves working with the committee to represent student members and provide my views and perspectives of student dietitians. I help to support successful delivery of projects, networking and education for group members. I also work with the wider committee of dietitians and promote the work of the committee to students for example promote events, resources and webinars
Why do I enjoy being a committee member?
I love being part of the CCSG committee as I get to ensure student voices are heard within the specialist group (and the BDA!) and work as part of a supportive and experienced team of dietitians. I have already learned so much from this role, and I'm only 6 months in!
Are there any benefits to the role?
While being a student member on the committee means I can be the voice for students and ensure we are heard, it also comes with so many benefits beyond that. I get to experience working in a team with experienced dietitians and learn from their knowledge and expertise. I am able to work on developing my communication skills and gain insight into critical care nutrition. I have an increased understanding of the role of a dietitian, including areas we may not experience on placement for example project development and research and have the opportunity to network with other professionals. I also get access to the BDA volunteer handbook and volunteer hub which provides a range of resources and guidance to help me in my role.
I would encourage any students out there to consider joining a BDA specialist group, and especially CCSG if you have an interest in critical care! Afterall, it is free! Being part of specialist groups will help to get more student specific resources, education and networking developed!
If you have any ideas you would like bringing to the CCSG, I am always open to hearing from students! Get in touch at criticalcare@bda.uk.com or drop into our DM's on Instagram! If you're interested in learning more about the CCSG check out this post or check out the CCSG website.